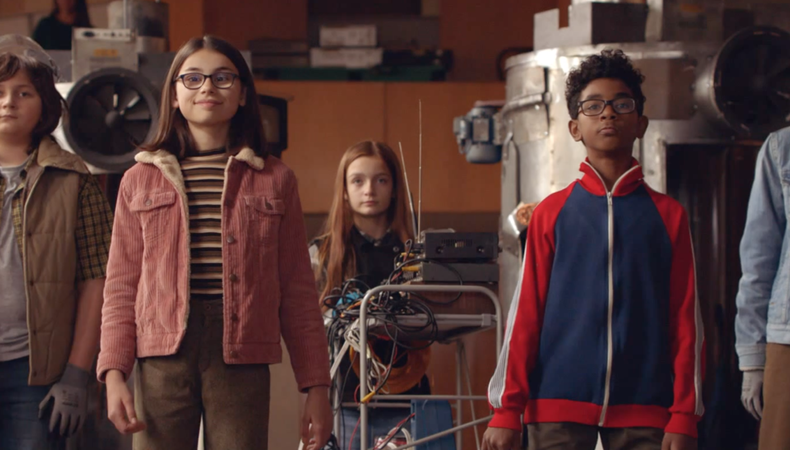 For the third year, the Casting Directors' Association is honouring its members with awards for excellence in casting across categories that range from feature and short films to music videos to single stills. The ceremony will take place in London on 15 May with stand up comedian Alexei Sayle hosting the event. CDA members work day and night to find the right talent for their projects and there's often little to no recognition for their efforts. While casting is a collaboration with an entire creative team, CDs work more closely with a large number of actors than anyone else in the process; their experience can be invaluable to performers who are hoping to get their big break or to book a job in a new genre. Here, six of this year's nominees share their advice for actors and explain why it's important for casting to be recognized.
What does award-worthy casting mean to you?
Thomas Adams (Best Casting, UK Commercial and Charity Commercial nominee): Casting that displays a passion for diversity—gender, ethnic, age, sexuality—that pushes the boundaries of what is expected and reveals a level of performance that surprises or even wrong foots the audience is always worth celebrating in my opinion.
Leanne Flinn (Best Casting, Online/Branded Content Commercial, Streetcasting, Online Non-Branded Content, Short Film, Music Video nominee): I think it is highly important to celebrate creative excellence. Not only is it great for business, but the hard work, time, and effort you put in is paid off when you get the recognition of an award.
Camilla Arthur (Best Casting, Single Still nominee): It means the "cool" jobs, the tricky jobs (which are fun), the jobs we don't get rich from in cash, but they are worth their weight in gold as those are the jobs that keep me going.
Emma Ashton (Best Casting, Feature Film nominee): Award worthy casting for me is where you can tell the casting director thought outside the box and pushed for a type of actor that maybe the production team hadn't thought of.
What should talent know about working in the medium you cast?
Thomas Adams: It's no secret that commercials are a nice payday. I love seeing actors I cast tell me years later that a commercial paid for an extension or bought his or her first family car. More creatively thinking, they can allow you to do the other projects you love like helping to subsidise the next fringe theatre run or short film project. The obvious monetary benefits aside, I believe that the experience itself and the people you work with can very much further an actor's career.
Leanne Flinn: Once you've checked who is casting it and made sure it is legit, you should go along to the casting and have a go. Often you have been cast because you have a unique look or there is something about you. Just be yourself and don't try to act. Trust what the casting director is saying. They are willing you to do well. Always remember that you should never have to pay to audition.
Camilla Arthur: You may think that stills don't require personality, but they do! You can see personality in a still campaign. It's why there is very little difference between stills and videos; you have to move well for videos, and it's the same for stills. If you move well, you take a good picture.
READ: Thinking About Moving to the UK? You'll Want to Read This First
What can different mediums add to an actor's skill set?
Thomas Adams: Everything. Commercials are so diverse these days in terms of performance. From deadpan comedy to tear-jerking drama, ads have it all. Plus, working with incredible directors and production teams an actor can experience the highest level of production value around.
Hannah Simons (Best Casting, Music Video nominee): Music videos are always great for actors because they are often very creative, so the roles are always varied. You get to hone lots of different skills.
Emma Ashton: Patience. There is a lot of sitting around waiting for your turn to be filmed on feature films. The other strength to have is focus so when it is finally your turn, you can deliver your best performance without being distracted or agitated by the long delays.
What can learn on set that you can't in drama school?
Hannah Simons: Music videos are great for new and up and coming actors. Nothing beats on-set experience, and music videos more than other platforms are about collaboration. Most crew and cast are not being paid huge amounts so it's all about passion.
Emma Ashton: You would need to ask an actor that really to get the full picture but I would assume the reality of working under pressure with a driven director determined to get their dream shot would be something they would need to learn to cope with and probably not something they would fully experience at drama school.
What's your go-to advice for performers?
Thomas Adams: Don't worry about what everyone else in the waiting room looks like—younger, taller, "better looking," etc. Step in the audition room and own it, do you. Audition slots are so competitive to get. Remember, you were selected from thousands for a reason so take confidence from that. You can't always get the role, no matter what you do, but you can leave everyone in the casting room with a positive opinion of you and your ability.
Hannah Simons: Act like you want to be there! It is so obvious when someone doesn't want to be there. You've made the effort to get to the casting so give yourself the best shot at getting the job.
Emma Ashton: Listen to what the casting director is saying; don't assume what they are going to ask you to do as it's quite possible they have had a phone call from the director whilst you were waiting outside suggesting we get you to do something completely different to the script you were sent over. Be prepared to be spontaneous and not fixed on how you want to do the audition.
Crocodile Casting (Best Children's Casting Nominee): First and foremost, enjoy what you do. The minute you stop enjoying it, STOP! When you go to auditions, make sure you have learnt your lines if you have been asked to do so and listen carefully to the directions you are being given. Don't be afraid to ask questions. Directors like to know that children can listen, concentrate, and take direction. Treat every audition as an opportunity to learn and don't get disheartened by rejection—it's part of an actor's life!
READ: How to Become an Actor in the UK
What shouldn't an actor do in your audition room?
Thomas Adams: Don't let nerves get the better of you. Prepare as best you can and do your research. Check out a director's previous work if possible, so you know their style. Most importantly, go in with an open mind, don't stick rigidly to what you may have prepared. Sometimes roles or scripts change at very short notice and the casting scenario changes accordingly, too. I've seen countless auditions where actors have practiced something so much that when the director throws something new at them, they can't run with it. Sometimes, you have to throw the script away and start again!
What makes talent memorable to you?
Leanne Flinn: Natural performances. If they've thought about the character and are not just reading the lines, you can really tell in a self tape. Personality and presence. Talent that stands out or takes a risk. Often those who listen and take direction will be the ones who get a job. They have the ability to adapt on the spot and give memorable performances.
Hannah Simons: Believability. I think you can feel when someone believes in themselves. It makes for a more confident, engaging performance.
Camilla Arthur: A happy, smiley personality is what makes all the difference.
It doesn't mean cheesy generic, but you can see if someone is a nice person who's prepared to work as hard as you are and whether or not they're authentic. For example, if you have to take someone away for two weeks, there may be 10 really pretty girls but the only one you want to spend time with is one who's nice, funny, has an easy, fun personality, and a great work ethic!
Why is it important for casting to be recognized in this way?
Thomas Adams: Casting is an integral part of what makes a production successful; the success of the storytelling can live or die with casting. Telling stories successfully is what it's all about, isn't it? Whether it be a tragic film or a funny ad, it's important to acknowledge the role the CD has on the creative realisation of a production.
Leanne Flinn: To make a film, a commercial, or tell a story, so many creative minds are involved. It doesn't matter what your craft is, you've made an input in that film and should be celebrated for it. All other crafts are awarded so I think casting should be, too.
Hannah Simons: Casting can make or break a film, and that goes from music videos to commercials to feature films. Casting can be easily overlooked; it is only noticed when it goes badly! Great performances are down to the right actor being selected for the right role, so it's rewarding to be recognised when it goes well.
Camilla Arthur: It certainly helps if you want to be taken seriously. Casting is integral because without a good cast your production is, er, screwed!
Emma Ashton: It's only recenly and with the hard work of the CDA that casting directors have been awarded in this country. It's very important because casting is such a central part of any film project. Casting directors are part of the creative process along with other members of the crew and production who have been awarded in the industry over the years so it's good that casting directors are now getting the same recognition.
Crocodile Casting: Good casting is intrinsic to any production, and yet so often the role of the casting director goes unrecognised. More and more, however, the industry is beginning to acknowledge the crucial input of the casting director. We need to continue to make our voices heard.