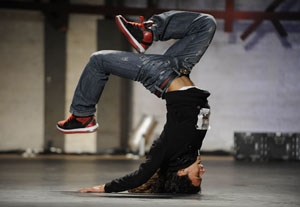 Extreme physicality is all the rage in dance today. Take a look at the high-flying antics in shows such as Broadway's "Spider-Man: Turn Off the Dark." Pushing the body to its limits—higher extensions, more turns, greater use of tricks, speed, acrobatics, and aerial work—characterizes much of the choreography currently seen in the commercial entertainment industry as well as on the concert dance stage. Sure, it can elevate the excitement level and visual interest of a performance, but extreme movement work can also take a toll on a dancer's health and career longevity.
And what about the aesthetic impact of this emphasis on physical prowess? Overextended positions that look more like contortions than harmoniously drawn lines, and young dancers who spend so much time on the physical aspects of training that they have no grasp of movement expressivity, may be seriously undermining the value of dance as an art form. Granted, dance artists who are willing to take risks and push beyond boundaries are typically the ones most in demand. But there's a difference between "playing it safe" and watching out for your safety and artistic integrity as a dancer. How can performers and choreographers embrace the extreme-dance trend while maintaining a sense of artistry and avoiding career-shortening injury?
"It really depends on the arena," says Broadway and ballet choreographer
Lynne Taylor-Corbett
. "I was at the L.A. Dance Awards, and these guys came out who were like gymnasts, but what they did was extreme dance and it was just mind-blazing. It was a joyful showing-off of their amazing prowess, and I really enjoyed it in that context. But in other arenas, in which artists are trying to express thought, this emphasis on physical extremes can be a big problem."
A Tony Award nominee for her direction and choreography of "Swing!," Taylor-Corbett also choreographed Broadway's "Chess" and "Titanic," as well as the film "Footloose," and is the principal guest choreographer for the
Carolina Ballet
, based in Raleigh, N.C. In March, the
Works & Process series
at New York's Guggenheim Museum presented a new ballet that Taylor-Corbett created for a program celebrating the music of composer David Del Tredici. Her latest work, "The Seven Deadly Sins," which was commissioned by the
New York City Ballet
and features Patti LuPone, will premiere May 11 at Lincoln Center.
"I recently saw a performance in which there was obviously a very deep message the choreographer intended to express," says Taylor-Corbett. "But the dance contained a movement where a very heavy man rolled over a tiny woman, and they did it over and over, probably for shock value. After a while I started to worry that the movement was hurting the dancers, and it got very uncomfortable to watch. For me, that extreme movement choice totally undermined the meaning of the work. In thoughtful, story-oriented pieces, if someone suddenly starts doing tricks, it makes the viewer go out of whatever the flow of the thought was and focus on the superficial, rather than the more deeply intentioned aspects of the choreography."
Raising the 'Wow'
Taylor-Corbett suggests that the proliferation of extreme dance on television and throughout the entertainment world may be influencing the emphasis on extreme physicality on the concert dance stage. "We may be subconsciously trying to get audiences back into the concert halls by raising the wow factor of our work, so that it more closely resembles the kind of dance that's seen in popular culture," she says. "But a trick is not helpful unless it's artfully woven into the intention of the story and flows naturally out of the characters. If it's just there to show that some wunderkind dancer can do nine turns to the left, then it's like sticking a bright red spot in the middle of an Impressionist painting."
To protect their bodies in this extreme climate, dancers must not be afraid to speak up, even at auditions. "In the adrenaline rush of an audition, dancers really just want to give everything with their bodies," Taylor-Corbett says, "but if asked to do something you consider too extreme—or don't want to do because the floor is too slippery or too hard or the ceiling's too low—you may need to say no. It won't be held against you. Ultimately, you will be respected for respecting your own body. As a choreographer, I certainly don't want to be part of someone else's injury."
Dancers often try obsessively hard to please the choreographers for whom they are auditioning or working, yet Taylor-Corbett advises performers not to "deify" the person at the front of the room: "It creates a better working atmosphere, I feel, when the dancers can express what they're thinking as knowledgeable participants in the experience. I'm certainly more comfortable in a room like that."
Not Just Tricks
A jazz dance instructor at the
Juilliard School
and
Steps on Broadway
,
Joe Lanteri
is the executive director of the
New York City Dance Alliance
, an education-oriented touring dance convention that travels to 23 cities nationwide to expose young dancers to dance trends and developments in New York. Over a two-day weekend, with seven different teachers, students get classes in jazz, tap, ballet, hip-hop, musical theater, and contemporary dance.
"Because of what I do," Lanteri says, "I've debated this topic with many people. I don't think you can make a generalization and say that kids who are training today to execute these extreme physical skills are just doing tricks. The students in my program, at least—some of whom have gone on to study at Juilliard or to dance with New York City Ballet, American Ballet Theatre, or the Alvin Ailey American Dance Theater—also take extra ballet classes and work really hard on their overall technique. Even with this emphasis on the extreme, we are continuing to produce many well-trained, technically proficient dancers who are beautiful artists as well."
Lanteri admits that in the competitive dance world, numerous performers insert astounding tricks into their routines solely in the hope of earning a higher score. "And of course I'm not an advocate of that," he says. "But it's not fair to say that this generation of dancers or the industry at large consists only of that." Lanteri harbors great appreciation for well-trained dancers who have pushed themselves to an extreme level of physical proficiency, and it's common today to see dancers who have done that.
"I don't want to say that dancers today are better trained than in the past," says Lanteri. "It's just that there are more better-trained dancers than there used to be. Twenty years ago, it was rare and extraordinary to see a dancer who could do the things that many dancers can do today. In every field—whether it be math, science, technology—every generation takes it to the next level. But as it's happening in dance, there's a cynicism now that's causing people to look at it as 'just tricks.' "
In terms of choreography, Lanteri sees the extreme trend as having pushed choreographers to take more risks and incorporate influences from different forms of dance. "Choreography today is not as predictable as it was 10 to 15 years ago," he says. "I think there's definitely been a growth and evolution."
For dancers auditioning to work with choreographers who may be interested in extreme movement, Lanteri offers what he calls a "bylaw" that dancers have proclaimed for years. "Even though the extreme quality of the movements may have increased," he says, "one thing that has not changed is: 'If you can't do it eight shows a week, don't show them that you can do it.' That's advice which has been passed down through generations of dancers. It's not uncommon, for the last few counts of eight of an audition combination or even at a rehearsal, for them to ask you to simply show them what else you can do. If you don't feel you can do it safely eight times a week, then don't show them that incredible tumbling pass or whatever it might be, because if they see it, they're going to want you to do it."
On the other hand, if you are auditioning or rehearsing for what you know to be a single-performance event, such as a live industrial, you may be able to safely offer more in the way of extreme movements than you would for a show with an extended run.

New Ideas Through Movement
"Choreographers are constantly searching for bold and inventive physical language to express new ideas through movement," says
André Tyson
, a contemporary-dance choreographer and former member of the
Alvin Ailey American Dance Theater
. He has appeared in music videos with Michael Jackson and other pop artists and is currently an assistant dean at the
California Institute of the Arts' School of Dance
. "Experimental and technically demanding movement which tests dancers' physical limits is a natural extension and progression of the art form, which has been evolving in this direction for some time now," he says. "The upside is that the body is an incredible instrument that is very resilient and capable of doing amazing things. Now is a very exciting time for dance!"
Tyson acknowledges, however, that today's extreme-dance trend can have dangerous consequences: "The downside to such rigorous physical movement is that it puts dancers at risk and jeopardizes the longevity of their careers." He describes the dancers who come to CalArts today as pre-loaded with freer facilities—180-degree turnout, superflexible backs and feet, etc.—and hard-wired with a grab bag of technical tricks. "This is par for the course," he says, "but doesn't necessarily correlate with proper training, good dancing, talent, or art." One of the dangers, as he sees it, is that some choreographers can't help but exploit those facilities and, over time, that extreme aesthetic becomes the norm. Younger dancers aspire to achieve it, and choreographers expect or demand it.
Yet dancers sometimes do not have enough training, physical information, or knowledge of the body to work in this extreme aesthetic without injuring themselves. "The training of young dancers is not as comprehensive as it was 20 or 30 years ago," Tyson says. "In our 'So You Think You Can Dance' zeitgeist, preparing a routine for performance or competition sometimes trumps diligent training. Young dancers don't completely learn or master a particular style or technique these days, but far too often they learn just enough to get through the audition or performance."
According to Tyson, the only way for a performer to safely navigate today's extreme-dance climate is to be thoroughly trained in both classical and contemporary idioms. For example, all the hurling and thrusting of the body to the floor—characteristic of much contemporary and hip-hop choreography—can be extremely harmful to the spine and knees if the dancer hasn't first learned how to safely lower his or her body to the floor, something that would be taught in a comprehensive course in a modern dance technique such as Martha Graham's.
Tyson advises dancers to find a ballet or contemporary instructor who understands the mind-body connection and works from a holistic viewpoint. "Dancers should always maintain an organic approach to the physical interpretation of any dance style," he says. "Dance is an art form, but there is a science to it and a healthy, biomechanically sound way to perform it. Supplementing dance classes with somatic practices such as yoga, Floor-Barre, Gyrotonics, or Pilates would be very beneficial. It is imperative that dancers develop a daily personal practice that will prepare them for these new grueling physical demands placed on the body. And that daily practice must incorporate a therapeutic and restorative component to offset a long day of intense physical activity."