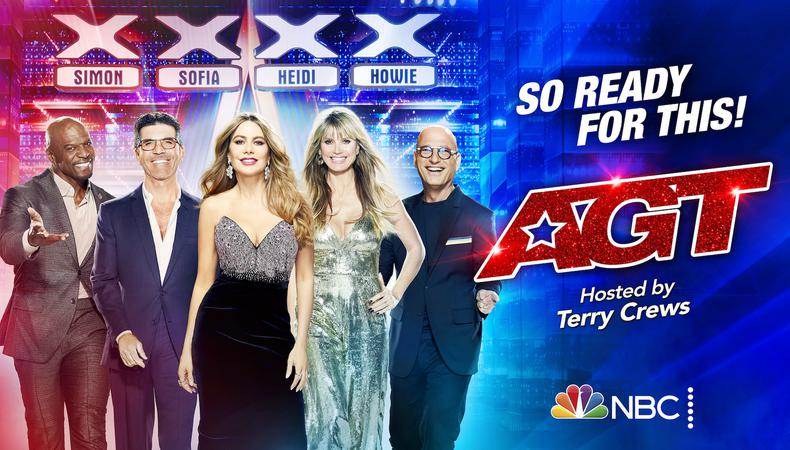 For 15 seasons, viewers have tuned into NBC's "America's Got Talent" to watch a wide range of performers—singers, dancers, comedians, magicians, animal wranglers, and a whole lot more—showcase their chops for a panel of judges for a chance at stardom. Despite some setbacks and COVID-19 adjustments, the current season is still going ahead and the series is already on a nationwide search for next year's top talents.
Since it first aired in 2006, the competition show has put a spotlight on talented—and not so talented—people of all ages and from all walks of life as they present an act of their choosing to judges (originally Piers Morgan, David Hasselhoff, and Brandy Norwood, currently Simon Cowell, Howie Mandel, Heidi Klum, and Sofia Vergara). Each participant is given up to 90 seconds to demonstrate their talent, which is evaluated by the judges, each of whom has a buzzer that's hit if he or she disapproves of the act. If all judges buzz the performer, the audition is over. At the end of each audition, judges give feedback and vote; based on majority vote, the auditioner is either eliminated or allowed to move on to the next round.
Many rounds of auditions are held across several cities in the United States, leading up to the stage of "Judges' Auditions." Performers who make it to the live rounds are divided up into groups and compete against each other. Relying on votes from the public, the eventual winner of the competition earns a cash prize and the opportunity to headline a show in Las Vegas.
"America's Got Talent" was created by Simon Cowell, who has remained its executive producer. The first episode of the current season aired on May 26, 2020, with the coronavirus pandemic having a big impact on the schedule and format of the series—which included the implementation of a virtual audience for the live rounds.
Although nothing official has been cemented for Season 16, a large amount of Season 15's judges' auditions were done online in accordance with pandemic guidelines, so it is expected that a similar approach may be pursued going forward. In its open call for contestants, the show encouraged any contestants who have been "honing a craft" during quarantine to throw their hat in the ring.
Although COVID-19 has eliminated the possibility for the usual process of standing in line at audition sites, "America's Got Talent" recently posted information about Season 16 auditions. According to the site, those with a talent to share can get a head start on the next season by signing up for audition alerts to stay on top of the latest AGT news. It's important to note that "If you created an account last season, you will need to create a new one for the 2020-2021 Season" and anybody under the age of 18 needs a parent to submit an account on their behalf.
Upon registration, those who wish to take their first steps toward stardom (solo or group acts alike) can submit an audition video. Because the show "has not announced any Open Call cities yet," the most convenient way to audition is to hit record and upload your talent for the producers to check out.
Some helpful tips from AGT's producers that you should be aware of before submitting:
"Shoot your video in a bright/well-lit setting. We want to be able to see you!"

"Do not use auto-tune apps like Smule or StarMaker."

"Do not submit GoogleDrive links, Dropbox links, iCloud links or links to Instagram videos."

"Check your video before submitting it and make sure the audio can be heard clearly."

"Keep it short—a two-minute video should do the trick!"

"You are welcome to sing with a backing track as long as we can hear your voice clearly."

"Do not submit a highly edited video, sizzle reel, or video with highly processed vocals."
It's also good to note that you don't have to be American to be on "America's Got Talent." "Talent comes from everywhere," said AGT supervising digital producer Adam Davis. "Talent is everywhere here in the States, and people come from everywhere here in the states, and as long as they have the right visa they can audition for 'America's Got Talent.' "
While there have been no official announcement regarding the status of returning names as of yet, this season's principal players are:
Terry Crews (host)

Simon Cowell (judge)

Heidi Klum (judge)

Howie Mandel (judge)

Sofia Vergara (judge)
Because "America's Got Talent" is a show centered around mining performers of all kinds from around the country by holding casting calls at large public venues across dozens of cities, there is not one primary casting director. For each season, casting is conducted by teams, agencies, and producers in search of prospective contestants. Over the course of the series, there have been dozens upon dozens of different casting associates, assistants, senior directors, and coordinators. However, a prominent figure behind the scenes has been senior casting producer John Piermarini, who lent his expertise for identifying and recruiting emerging talent to more than 70 episodes between 2011 and 2019.
Much like other talent competition shows ("The X Factor," "American Idol"), the preliminary auditions occur before judges or viewers see anything. Potential contestants begin their journey by showing their acts to production teams across the country, known as "producers' auditions." It's here that the independent group of behind-the-scenes producers decide who makes it to TV.
"There is no better platform than 'America's Got Talent' for discovering and showcasing the enormous diversity of talent our country has to offer," says executive producer Sam Donnelly. "There's nothing on TV that compares to AGT in terms of viewership numbers and life-changing ability. We not only showcase acts, we launch careers and change lives. I encourage anyone with a unique talent to come on out and audition for AGT."
Be confident: Davis wants auditioners "to believe in themselves. To not listen to the voices in their head that say, 'Hey, you're not good enough for AGT, you're not good enough to beat that act that you saw tonight, don't go audition.'" The highlight of his job has been "inspiring people and encouraging people who otherwise wouldn't audition for our show to audition."
Take advantage of online auditions: "If you mess up, you're not messing up sitting in front of a producer," Davis said. "You can press record again...We are not at the luxury of being able to go to every single state on our audition tour. We want people to feel like they have that chance, to take that chance, even if it's just them with their iPhone in their bathroom recording them singing. That's an audition that can happen...If someone is submitting that video but their talent is better than the person we saw in person, it comes down to the talent."
Showcase your talent on social media: "I live and breathe social media, and whatever we see [someone] that is starting to go viral, we'll take note of it, and we'll see if they register to audition, and then we'll reach out to see if they want to audition."
Be as prepared as possible: Grace VanderWaal, who took the judges by storm with her ukulele playing, singing, and songwriting in 2016 and went on to win the season, offered some pointers to fellow auditioners. "Wear an outfit that makes you feel confident...If I really like what I'm wearing, I do my best…. Listen to some pump-up music before you go on to get all motivated and excited. My third tip is to be with calm people…. Another tip is to warm up. If you play an instrument, play some scales. If you're a juggler, juggle a little bit, shake it out. My last tip is to have fun and make sure to be yourself. Don't try to be anything that you are not. It won't go well."
According to the AGT audition page, here are some words of wisdom specific for performer categories:
For variety acts: "Make sure you plan an act that would work on a stage in a theater filled with 1,000 people or more. If you have any acts that are not able to be performed in the audition room, please submit a video or video link of your act before the audition."
For dancers: "It is best if you perform to one or two songs for your audition rather than a mix or medley of songs which can be hard to clear for television. Make sure your choreography is tight and you bring lots of energy. Incorporating tricks and new, unique choreography is always a great way to stand out to the producers and judges. A good way to show your personality and unique style is through your wardrobe/costume. If you are a big group it's always a good idea to dress in your team uniform or another fun costume."
For singers: "You want to shine at your audition. You should have a verse and chorus prepared, so please start off with your strongest. Remember that you can choose any part of the song to perform, so pick the part that best shows off your vocals.
"Please have a cover song prepared as well if you choose to sing an original. Most singing auditions are a cappella but it's a good idea to bring a backing track should the producer request to hear you singing with a track.
"Please make sure you make your performance your own. We want you to stand out. Maybe it's your unique take on a well-known song. For example, a male auditioning by singing a song typically done by a female singer. It is always a good idea to have more than one song prepared, especially a few different genres or styles."
The audition process for "America's Got Talent" currently exists completely online, and those who wish to register in order to submit a video can do so here. And be sure to follow the show on Instagram and Twitter for any and all Season 16 updates!