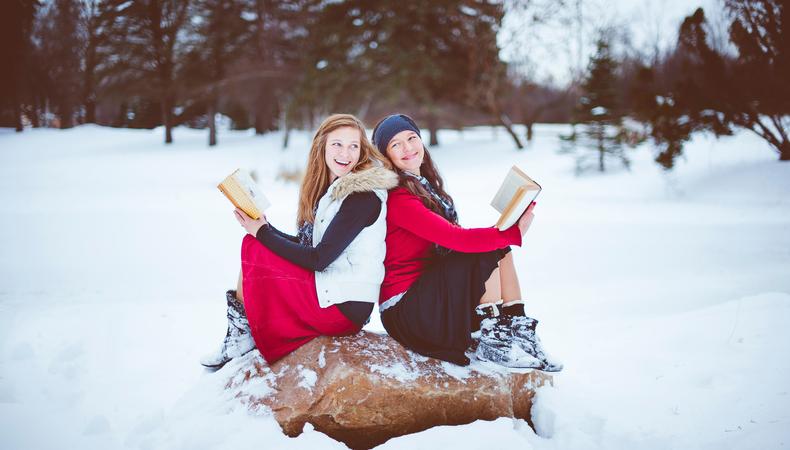 It's everyone's favorite time of year. Holidays, travel, family, food, chaos. It's what life's about. So what better place to learn about human behavior than at a large family gathering or traveling with Aunt Beth, Uncle Billy, and their three children? Perhaps you're stuck in the airport due to a weather delay and your flight is canceled. Turn lemons into lemonade this holiday season and work on developing new characters by people watching, try learning a new accent while waiting, tap into some newfound emotions, be observant, or just be thankful.
With a week to a month off for some, there's enough time to learn a new skill, get introspective with journaling, or give back with community service. Here are some ideas for how young performers can stay active and productive this holiday season.
1. Participate in community service.
Instead of receiving gifts this year, give the gift of service. Volunteer at a soup kitchen on Thanksgiving or Christmas, collect gifts for the needy, or participate in a cabaret or performance with a group at a nursing home or hospital. The best way to feel good about yourself is to do "feel good" things.
2. Go to a museum.
One of my favorite plays is Tina Howe's "Museum," an absurd comedy in which 40 characters react to several art exhibits. No matter where you live there are probably many different types of museums. Have fun watching how others react to art and each other while getting your own inspiration from another art form.
3. See theater.
With time off from work or school, it's a great time to catch up on live theater. You don't have to live in NYC to see a good play. Professional companies tour many cities across the country and there are plays being produced at your local regional or community theater. Here's a tip if you plan to visit New York. If you want reasonably priced seats to a sold out show, just go to the box office and ask. Seats are released daily and you might just get lucky and score a ticket to "Hamilton" without paying tourist surcharges.
5 Things You Can Do to Further Your Career During the Holidays
4. Catch up on movies.
Who doesn't like seeing a blockbuster movie? If you don't want to spend the money or just feel like hunkering down at home, I'm sure your streaming devices have an old flick playing you've never seen. Some of my favorite recommendations for young actors are "Paper Moon," "Whiplash," "Splash," and "Blast from the Past."
5. Read!
I have a stack of plays to read this holiday season. When reading new playwrights' work I often find great scenes and monologues to recommend to my students. Plays read much faster than novels so what are you waiting for!
6. Enjoy nature.
We all get bogged down by life's daily distractions. Embrace this opportunity as you take some quiet time for yourself or with your family. Whether hiking or cross country skiing, enjoy the outdoors and the beauty and solace it brings.
7. Do a puzzle.
Not only is doing a puzzle good for brain building, but it's a great way to bond with family and friends and get your mind off work.
8. Create a business action plan.
Acting is a business and like most successful businesses you need a strategic action plan to succeed. Make sure to check self-submission sites such as Backstage daily so you don't miss out on casting opportunities. Be current with your picture and résumé, and start work on your demo reel footage. Create lists of casting directors who accept headshots and résumés, and scour the internet for workshop and performance opportunities.
How to Manage Your Child Actor
9. Write a monologue.
Looking for the perfect monologue? Recall a funny or moving story in your life and take pen to paper and start writing. Remember truthful, honest, and real narratives will be the most powerful.
10. Write thank you notes.
It's not called Thanksgiving for nothing. Seize the opportunity to remind your child of how many people work to help them have a career.
11. Create a vision board.
Who says resolutions don't stick? With plenty of time to plan for the coming year, the holiday break can be a great opportunity to organize your ambitions and make sure you're ready for the next cycle of auditions and classes. Vision boards can really help motivate you for your work as an actor and remind you of your goals, making it more likely that you'll find success in whatever areas you decide to pursue. So what are you waiting for? Grab some scissors and get crafting!
The views expressed in this article are solely that of the individual(s) providing them,
and do not necessarily reflect the opinions of Backstage or its staff.