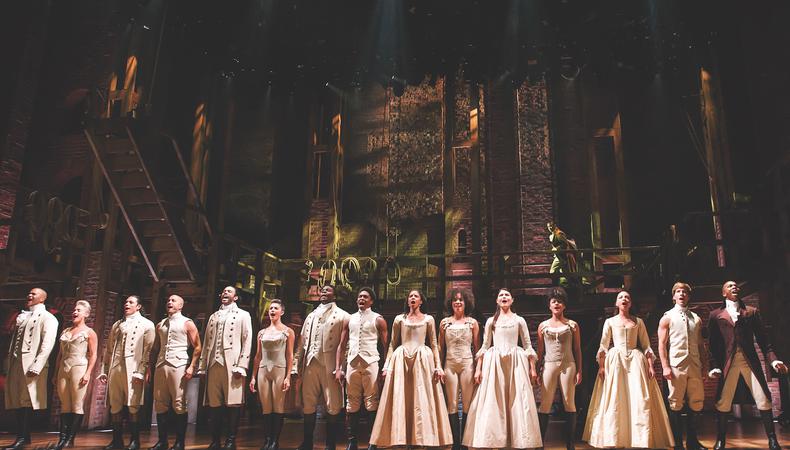 A Broadway cast made up almost entirely of nonwhite actors is a rarity. Rarer still is an original production with that same cast that doesn't have a famous screen actor at the forefront. Yet after a wildly successful run at the Public Theater, hip-hop musical "Hamilton" transferred to Broadway and garnered $30 million in advance ticket sales before its Aug. 6 opening.
While the show's star, book writer, and lyricist Lin-Manuel Miranda made a name for himself in 2008 with his Tony-winning "In the Heights," his latest work has drawn Meryl Streep, Queen Latifah, Hillary Clinton, Natalie Portman, President Barack Obama, and adulating critics into his audience. And the faces of "America now" were on the stage for them all.
"Lin described the cast as 'America now,' " explains Telsey + Company CD Bethany Knox, who also worked with Miranda on "In the Heights." "I loved that, because there was no role that had a specific look or type attached to it, so we were really able to see people for their talent, figure out who seemed right for these different characters, and who brought them to life."
To develop the musical from a single rap song meant to be the seed for a concept album (much like "Jesus Christ Superstar" and "Evita"), Miranda built characters around rappers of today whom he felt had parallels to the Founding Fathers. To play well-known figures including George Washington (played by Christopher Jackson, "Holler If Ya Hear Me"), Thomas Jefferson (newcomer Daveed Diggs), Aaron Burr (Leslie Odom Jr.), and King George (Jonathan Groff), actors were not limited by the usual physical demands.
Casting the musical meant an inevitable focus on vocal abilities, but "Hamilton" called for an additional skill set as well: the ability to rap. And not only to rap, but to do it well—intelligibly, quickly, on tempo, and with a torrent of dense material.
"I wanted to avoid actors failing, which is something not just unique to casting 'Hamilton'—it's how we feel whenever we're casting something," says Knox. "I wanted people to be as prepared as possible, so I would bring them in for me before they'd be seen by the team, and I'd coach them on the material and work with them for as long as we could to get them to the place where they were ready to go in front of the creative team."
Cast as Angelica Schuyler, Renée Elise Goldsberry ("The Color Purple") moves from belting operatic notes to rapping so fast it's a wonder. Diggs plays both Jefferson and French military genius Marquis de Lafayette, and numbers like "What'd I Miss" illustrate his ability to drop a fire verse and stay charismatic while doing it.
"We came from a place of trying to find all the people that we love and know in the musical theater world and seeing who of those people could rap," explains Knox. "And then going the other direction and finding the rappers and seeing who of the rappers could sing and act."
The use of hip-hop and a good dose of history, as well as the casting of actors of color to play long-dead white guys, puts a new spin on a story that deliberately highlights how much has and hasn't changed in the political petri dish of America. While revolutionary ideas are being discussed in congressional rap battles on Broadway, the rise of "Hamilton" proves the act of casting against "type" and the default perception has a solid place in mainstream New York theater.
Inspired by this post? Check out our theater audition listings!