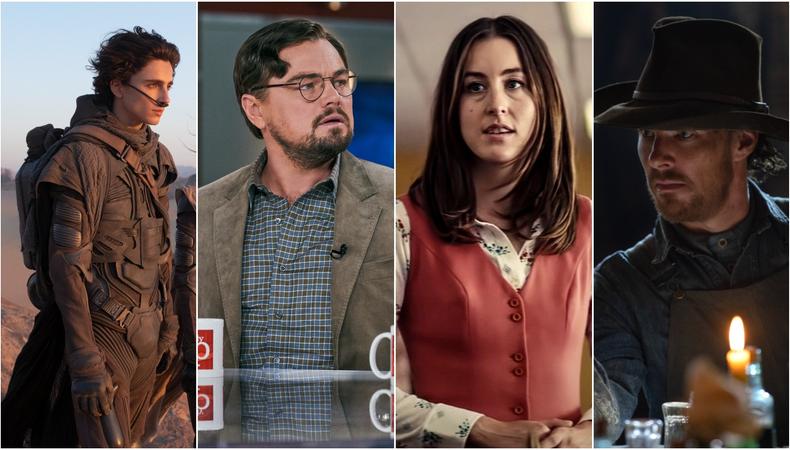 Three of Hollywood's biggest guilds, representing directors, writers, and producers, have announced their picks for the year's best movies and television programs. As always, the nomination lists from the Directors Guild (DGA), Writers Guild (WGA), and Producers Guild of America (PGA) are key indicators of future film prizes, since their respective memberships overlap significantly with that of the Academy Awards. What can their choices reveal about the awards race to come?
The DGA's top film category, outstanding directorial achievement in theatrical feature film, is a prime example of such overlap. Both last year and the year before, four of the five top DGA nominees repeated nominations at the Oscars. In this particularly competitive season for directors, five contenders have emerged: Paul Thomas Anderson for "Licorice Pizza," Kenneth Branagh for "Belfast," Jane Campion for "The Power of the Dog," Steven Spielberg for "West Side Story," and Denis Villeneuve for "Dune."
Worth noting, however, is the DGA's other award, which honors feature film directing debuts. Maggie Gyllenhaal for "The Lost Daughter," Rebecca Hall for "Passing," Tatiana Huezo for "Prayers for the Stolen," Michael Sarnoski for "Pig," Emma Seligman for "Shiva Baby," or Lin-Manuel Miranda for "Tick, Tick…Boom!" could stand to knock any of the above contenders out of a coveted directing Oscar slot come those Feb. 8 nominations. Since the creation of the guild's first-time filmmaker prize, only one honoree (Jordan Peele for "Get Out") has managed to go on to secure a directing Oscar nod.
Could such a feat be repeated in a year in which four out of six directing debut nominees are women? Considering that last year, the Academy doubled its number of female director winners from one to two, it's not as far-fetched a prediction as you might think.
Meanwhile, Hollywood's screenwriters have provided further clues. The Writers Guild of America, West (WGAW) and the Writers Guild of America, East (WGAE) together cast nominations for original screenplays "Being the Ricardos," "Don't Look Up," "The French Dispatch," "King Richard," and "Licorice Pizza," plus adapted works "CODA," "Dune," "Nightmare Alley," "West Side Story," and "Tick, Tick…Boom!"
It's important to remember that due to WGA rules (only members of the guild may be nominated, for example), certain titles—including "The Power of the Dog," "The Lost Daughter," "Passing," and foreign films like "Belfast," "Drive My Car," and "Parallel Mothers"—are ineligible.
However, one final puzzle piece has clarified this season's major film awards—and on the same day when Academy of Motion Picture Arts and Sciences (AMPAS) members can begin submitting nominations, no less. (Their window is Jan. 27–Feb. 1.) The PGA has revealed the season's most telling predictor of the best picture Oscar: the Darryl F. Zanuck Award for Outstanding Producer of Theatrical Motion Pictures, whose nominees include "Being the Ricardos," "Belfast," "CODA," "Don't Look Up," "Dune," "King Richard," "Licorice Pizza," "The Power of the Dog," "West Side Story," and "Tick, Tick…Boom!"
Since all of these contenders also achieved recognition from either the DGA or WGA or both, Oscar predictors may be ready to follow the trend and give any of the above titles frontrunner status. Many of these films also notched recognition from the Costume Designers Guild (CDG), Art Directors Guild (ADG), American Society of Cinematographers (ASC), Cinema Audio Society (CAS), and American Cinema Editors (ACE Eddies).
Given such strong overlaps, how likely is it that a movie missing from any of these lists will break through in the Academy's top categories? One element that could shake up the race has been increasingly at play in recent years: non-English-language films. Think of South Korea's "Parasite" sweeping in to dominate the Oscars in 2020, or Danish director Thomas Vinterberg's surprise inclusion among last year's nominees for "Another Round." A key part of the Academy's growth and diversification of its membership has been to include filmmakers from abroad.
So while Oscar winner Pedro Almodóvar's "Parallel Mothers" and Japan's shortlisted international Oscar entry "Drive My Car," directed by Ryûsuke Hamaguchi, may have missed the important PGA nomination, hope is not lost. Many other entries from countries outside the U.S. and U.K., including shortlist contenders "The Worst Person in the World," "A Hero," and "The Hand of God," premiered late in the season and have been gaining critical buzz.
Stay tuned for more coverage and analysis of this tumultuous film and guild awards season here, ahead of the 94th Academy Awards ceremony on March 27.