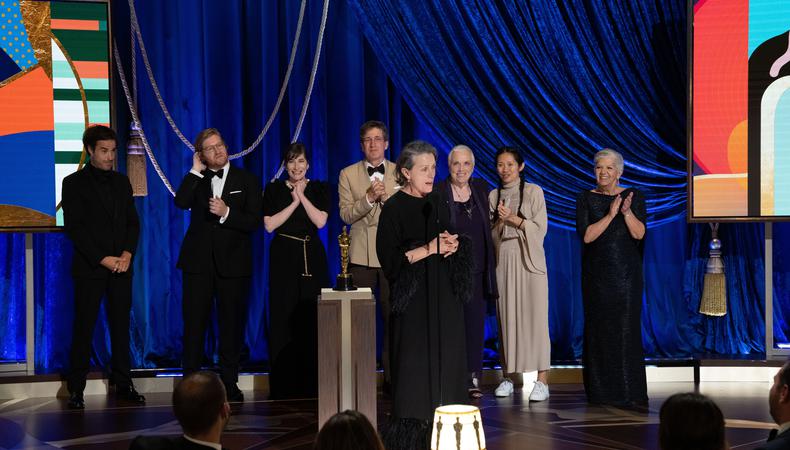 Want the inside scoop on all things awards? Welcome to Letter From the Awards Editor, our series in which Backstage's Jack Smart takes a look at the latest film and television news, industry trends, and awards projections that matter to today's working actor.
Dear Backstage reader,
What did we think of Sunday's 93rd Academy Awards? Where to even begin assessing or reacting to the first Oscars of the COVID-19 era? Like most of the preceding awards shows, these Oscars established its own particular brand of weirdness, this time with Los Angeles' Union Station the backdrop to that by-now-familiar ricocheting between recognizable ceremony traditions and bizarre glimpses into the yawning, existential abyss.
It speaks to our collective mental health, over a year into a world-upending pandemic, that it felt entirely fitting to watch Glenn Close's absurd "show and tell" on the history of E.U.'s "Da Butt" followed by Joaquin Phoenix awarding an absent Anthony Hopkins best actor. That category replaced the ending's usual best picture reveal, the speculation goes, so that a posthumous Chadwick Boseman win would mark this season's conclusion; instead, the show ended with almost as much abrupt confusion as the infamous "La La Land" and "Moonlight" mix-up of the 2017 Oscars.
The 2021 film awards season was always going to be remembered as the strangest in history regardless of how the Academy chose to produce its ceremony. But what may also be remembered is the strangeness of the results. With Chloé Zhao, we saw the second woman ever (and first woman of color) win the Oscar directing prize, a long-overdue inch forward in the industry's ongoing reckoning with gender parity. "Nomadland" joined the ranks of best picture winners to earn only a couple additional trophies, in this case directing and leading actress Frances McDormand, who broke a record as a winning producer-star; it also remains one of the only best picture winners to feature a lead female role.
That lead actress result, which had pundits and movie buffs and yours truly sweating throughout such an unusually long season, was going to be notable regardless of which contender triumphed, given how four of the five each took home a major precursor award. In the end, McDormand's BAFTA Film Award, the most recent of the precursors, proved the most prescient.
But much like the directing category's gender problem, the leading actress Oscar has a race problem. In what is now 93 years, only one non-white person, Halle Berry, has claimed the statue. McDormand earning her third acting Oscar meant yet another year of AMPAS voters passing over a woman of color—in fact, the second time Viola Davis has lost the leading actress prize to someone getting her third acting win, after Meryl Streep in 2012.
That, followed by a win from "The Father" lead Anthony Hopkins over Boseman for his acclaimed work in "Ma Rainey's Black Bottom," the last chance to honor a late, trailblazing star? That felt like a one-two punch of missed opportunity. It always pains me to assert such opinions, to bemoan, in this case, career-best work from two titans of cinema who deserve to be multi-Oscar winners. But Boseman and Davis, plus Andra Day of "The United States vs. Billie Holiday" and Steven Yeun of "Minari," inhabited characters with stories inextricably tied to their race and culture, ultimately falling to white actors—portraying stories perhaps deemed more universal. Despite the Academy's efforts to diversify their membership and contenders, April Reign's #OscarsSoWhite campaign remains, unfortunately, a vital part of Hollywood's conversations going forward.
Here's the part where I give you a peek into my little award-obsessed brain. For me, every award race has three distinct categories: will win, want to win, and should win.
"Will win" is straightforward: Who do you think will win based on the nominations? Entire platforms, from Gold Derby to Las Vegas bettors to good ol' Twitter, are dedicated to breaking down the odds of each contender based on precedent, industry buzz, and other data. Admittedly, predictions are my least favorite way of assessing awards.
"Want to win" is all about personal taste: Which nominee produced your favorite work? I change my mind constantly on this one, depending on rewatching a project, reading interviews with talent, or even interviewing talent themselves. I wanted Amanda Seyfried to win supporting actress for "Mank" because I was dazzled by her Marion Davies and wanted to hang out with such a charming character. But I also wanted Youn Yuh-jung of "Minari" or Glenn Close of "Hillbilly Elegy" to win because they met my own, personal, objective-but-really-subjective criteria for "best." To be clear, there is no scientific, quantifiable way to assess whether a performance, or a cinematographer's lighting, or a sound mixer's flourish, is objectively more worthy than another's. And that is inherently part of the fun.
"Should win" is the trickiest category, and can overlap with either of the above: Which contender deserves to win? This has less to do with the work itself and more to do with the context around the work. Harkening back to my different types of Oscar-bait performances, when a "long overdue" narrative accompanies someone's nomination, that inevitably factors into a voter's choices. Close, who has officially extended her record for most acting Oscar nods without a win, is the ultimate example. Anyone who has repeatedly missed out on Hollywood's highest honors is increasingly seen, regardless of "will win" and "want to win," as deserving of those honors.
Boseman in "Ma Rainey's" checked the boxes for "will win" (having won the Globe and SAG Awards), "want to win" (for that searing delivery of one of August Wilson's most powerful monologues), and, I would argue, "should win" because it was his final performance. Had his category not been announced last, lending the 2021 Oscars a bizarre anti-climax that will be remembered for years to come, that missed opportunity might not have stung as much.
But reader, before you know it, the 2022 Oscars will be heating up. And round and round awards season goes—we might as well embrace the absurdity, keep things in perspective, and congratulate worthy winners whose work has been recognized as a (rather than the) gold standard.
Sincerely,
Jack
Looking for remote work? Backstage has got you covered! Click here for auditions you can do from home!