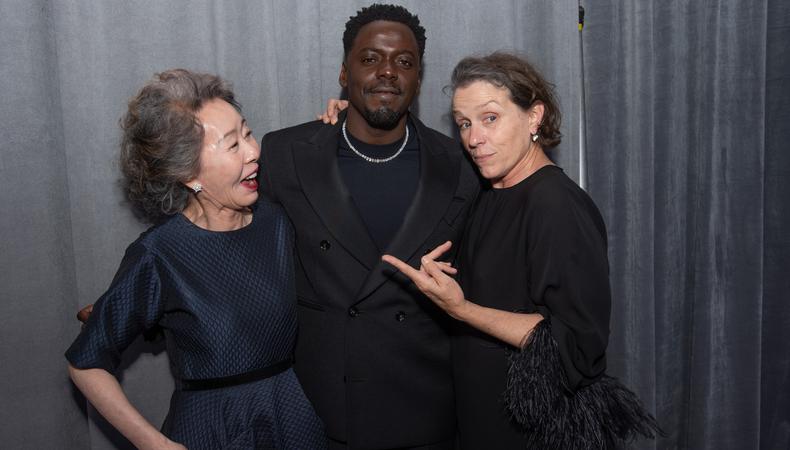 How can film and guilds awards season already be upon us, mere months after this spring's Oscars? Isn't there another half a year before the next one? And didn't we only just put the 2021 Emmys to rest?!
We at Backstage know these are your questions heading into fall; such is the nature of Hollywood's awards industry—packing the calendars of hardworking artists (and reporters, for that matter) year-round. And something as inconvenient as a deadly pandemic isn't going to deter an industry that loves filmmaking artistry almost as much as it loves celebrating that artistry—or keep Frances McDormand from devastating us onscreen, then attending awards ceremonies exuding nonchalance, yet again.
After last year's tumultuous season reacting to the realities of COVID-19, the 2021–22 awards schedule is more or less back on track. The Academy's Governors Awards have thankfully been restored to the calendar, and we're finally getting the 2020 Tony Awards, albeit on Sept. 26, 2021. Worth noting is the apparent absence of the Golden Globes ceremony, which, in the wake of the Hollywood Foreign Press Association's well-publicized scandals, has been pulled from NBC's programming. The Critics' Choice Awards have instead taken the Globes' usual weekend, kicking off the exciting nominations announcements of January and February. And the Film Independent Spirit Awards, which already shook things up last year by including TV in their honors, will for the first time take place more than 24 hours before the Academy unveils its winners and concludes the season.
Backstage is here to guide movie buffs, TV lovers, and awards pundits alike through the SAG Awards, Oscars, and more. Stay tuned for coverage of the projects and performances in contention, and keep checking back for the up-to-date information you need!
October 2021
Oct. 21 – Gotham Awards nominations announcement 
November 2021
Nov. 29 – 31st annual Gotham Awards ceremony
December 2021
Dec. 6–Jan. 9 – Screen Actors Guild Awards nominating phase
Dec. 6 – Critics' Choice Awards TV nominations announcement
Dec. 13 – Critics' Choice Awards film nominations announcement
Dec. 14 – Film Independent Spirit Awards nominations announcement
Dec. 21 – Academy Awards shortlist announcement
Dec. 21 – Annie Awards nominations announcement
January 2022
Jan. 9 – 27th annual Critics' Choice Awards ceremony
Jan. 11 – National Board of Review Awards ceremony
Jan. 12 – SAG Awards nominations announcement
Jan. 13 – Writers Guild of America Awards TV nominations announcement
Jan. 15 – Governors Awards
Jan. 19–Feb. 25 – SAG Awards voting phase
Jan. 26–27 – Directors Guild of America Awards nominations announcements
Jan. 27–Feb. 1 – Academy Awards nominating phase
Jan. 27 – Writers Guild of America Awards film nominations announcement
Jan. 27 – Producers Guild of America Awards nominations announcement
February 2022
TBA – 24th annual British Independent Film Awards ceremony
Feb. 3 – BAFTA Film Awards nominations announcement
Feb. 8 – Academy Awards nominations announcement
Feb. 26 – 33rd annual PGA Awards
Feb. 26 – 49th annual Annie Awards ceremony
Feb. 26 – 72nd annual American Cinema Editors (ACE) Eddie Awards
Feb. 27 – 28th annual SAG Awards ceremony
March 2022
March 6 – 37th annual Film Independent Spirit Awards ceremony
March 12 – 74rd annual DGA Awards ceremony
March 13 – 75th annual BAFTA Film Awards ceremony
March 17–22 – Academy Awards voting phase
March 20 – 74th annual Writers Guild of America Awards ceremony
March 27 – 94th Academy Awards ceremony
This calendar has been updated as of Sept. 21, 2021. Please check back for updates.