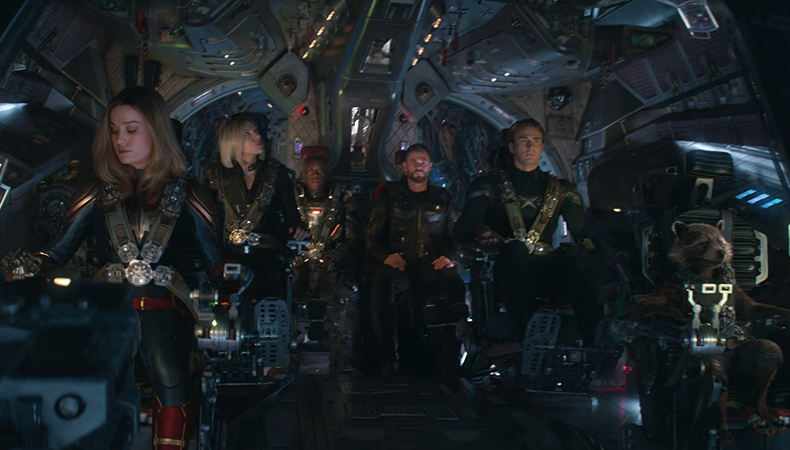 The following was adapted from an interview with Kristen Saia, hairstylist for "The Suicide Squad," "Once Upon a Time...in Hollywood," "Avengers: Endgame," and more.
For hair and makeup, you'll typically arrive two hours before the rest of the crew. I'm up before dawn and heading into work anywhere between 5 or 6 a.m., maybe 7 a.m. You have to be prepared to wake up early. I get there early, make a cup of coffee, and wrap my head around what we're doing before all of the chaos begins and all of the people start coming in. I definitely like to plan how the day is going to go. It helps me feel comfortable and prepared.
Halfway through the day before, you get a preliminary schedule of everything you are going to shoot the following day. You plan out how many people you'll have come help you or what materials you need. Then, the morning of, there should be the actual call sheet of the official day in front of you.
Every day and every project can be drastically different. So you're there before everyone else and the actors slowly start to trickle in. Hair and makeup split a trailer. You're working every day with the same actors so you build a relationship with them throughout the project. It's a lot of fun in the trailer. A lot of good energy. Then [the actors] leave and get called to set to do a rehearsal. That's the small amount of time we have to go get breakfast. If we can't get breakfast, the PA will bring it to us. Mornings are usually very high energy and very busy. You really have to be a morning person in this industry. You really have to have high energy.
Then everyone will get to set. You have a basecamp person who is in charge of the entire camp that includes actors, hair and makeup, [and] costume[s], and will make sure everyone in the trailers is ready and dressed. We grab our bags with whatever we need for the day and then we go to set with the actors. That's where the day gets quiet for us. You're just watching your actor, taking photos for continuity, taking notes, observing, and engaging throughout the day.
[On your first day on set] look down and watch where you are walking. There are cords and wires everywhere. I remember my first day on set and it was for "American Horror Story." I remember walking onto the set and tripping because I was in awe of the set I was looking up, but I didn't realize all of the stuff on the ground. It's more than you think. Really be aware of your surroundings and be quiet. Try to take it in and learn.
Typically, for these bigger movies like "Avengers" or "Suicide Squad," we do rolling lunches for two or two and a half hours. The crew doesn't break altogether, you'll break individually for half an hour throughout that time period. Whenever you have a chance you run and grab food, but I have had many days where I don't get to eat because it's so busy. Sometimes I watch three or four actors at once and if they don't go for a break, I don't either. [Usually], the department head will match the energy of the stylist [to an] actor and try it out for a bit. Sometimes if different skills match up they will switch it around but usually, you try to be with specific people to build a relationship and trust, and know what their character is. It's harder when you're bouncing around to other people so they try to limit it. I think on one project I just had four actors for the whole time and it was fantastic.
Once the day is wrapped that's again when the trailer is chaos because everyone wants to get everything off and get out of there. Typically we are the last ones out. You have to make sure everything is properly taken off. It's a lot. It's a long day where you can work from 10–18 hours. You [have to] plan to live in that trailer. You wake up, go to work, go home and go to sleep, and go back to work.
To be a hairstylist in film, you have to be in a union. There are two unions: 706 which is Los Angeles county and then 798 which covers a significant part of the east coast. Through that, you'll get production reports emailed to you, be part of a website, get membership, and get a list of every project filming throughout the United States and even the world. You can apply to them or reach out to projects, but for the most part, word of mouth is how you are going to get work. Typically, I work with the same group of people. You find your group and support each other. You want to hold onto people you can trust.
We put wigs on, we establish characters, we create the mood. At the same time, we are confidants and therapists. We are so close to the actors. We have to be talented and creative but also a major part of your role is to help that person in your chair feel confident and feel ready to conquer the project. I think people underestimate the time and devotion that it takes to be in this industry. It's not like you work behind the chair in a salon where you have normal hours. It's almost like you're married to this job.
Even people I've known for years still don't understand what I do and why I am not available to go to their bar mitzvah, or why I'm just gone or exhausted on the weekends and I don't want to talk to anybody. It isn't an understatement to say that it will consume you and if you are not in it 100 percent and it is not really what you want to do maybe pursue other things because it will take over your life, in a really good way! It is really fun but you have to love it. That is the key.
Want to learn more about working on a film crew? Visit Backstage's crew hub!