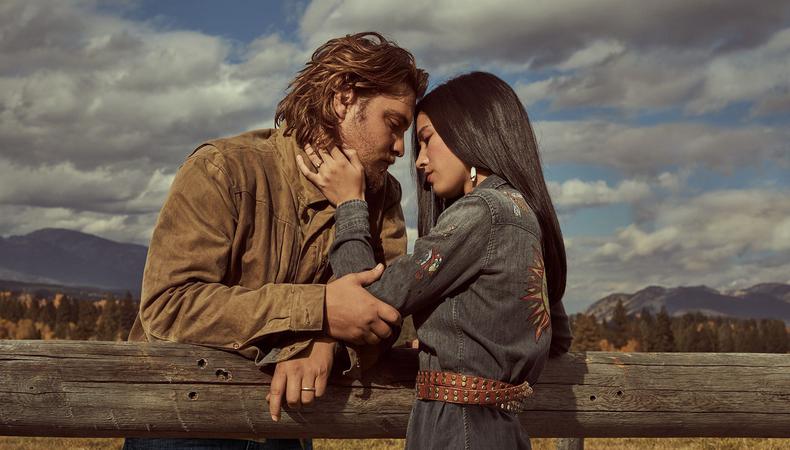 Whether it's an elaborate period wig or a simple ponytail, every single strand of hair captured on film is painstakingly planned out by a team of hairstylists on a production crew. Leading this group of hair gurus is the hair department head (aka key hair stylist), who not only oversees the stylists on set every day as they craft the coifs of characters and background actors but who also spends much of pre-production coming up with every look—a process steeped in research and collaboration.
On Seasons 1 and 2 of Paramount Network's "Yellowstone," it was Tim Muir's skilled hands—and mind—behind the hairstyles sported by the ranchers, Native Americans, and land developers at the center of the drama.
Talking to Backstage, Muir explains what a typical day on set is like, why continuity in hair is so important, and exactly what it takes to get production work.
Describe the job of a hair department head.
The hair department heads are in charge of the entire hair department. A department head hairstylist starts working full-time on designs long before other hairstylists join the crew and are on set every day for the duration of the shoot. Once they've done their work designing, their onset responsibilities include supervising a team of hairstylists and delegating design responsibilities, keeping a budget and making sure we have a stock of all products and items needed to execute the looks, keeping track of schedules and continuity, executing the hairstyling for one or two principal actors themselves, and working with the department head makeup artist in maintaining an organized and professional hair and makeup trailer.
How did you get into this kind of work? What was your first job?
Taylor Sheridan gave me my first job in film. During my time as an independent hairdresser and salon owner, I had opportunities to work in editorial and be a part of Hollywood for red carpet and press. Taylor Sheridan and his wife Nicole have been friends and clients of mine for years. Taylor had seen my work and dedication to the projects I've been a part of and offered me a job [as the hair designer] on a film he was directing, "Wind River."
What type of training does someone need to get into this kind of work?
I went to school for two years and 2,000 hours to receive my cosmetology license as well as several years of extensive training in continuing education for coloring, wig making, extensions, and hair design.
Everyone trying to get into this business needs a cosmetology license. I would also always recommend continuing education classes for all these subjects. The more you know, the more valuable you are.
What's your role during pre-production? What departments do you have to work with to come up with final hair looks?
My role is to come up with hair designs based on each character's time period, way of life, personality, occupation, genetics, face shape, skin tone, etc. I work closely with the design team, director, makeup department, and costume department for the characters' overall looks.
Walk us through what a day in your life on set is like.
When production starts, the on-set schedule usually consists of 10 or more hours shooting with the exception of an hour lunch and the breaks in between switching camera frames and scenes. I always start my day 30 minutes before call time just to get myself ready and in the mindset. I go over the schedule and the scenes for the day. I get my station ready with all products and items needed. Once my team gets in, we go over the schedule and I decide what task to assign them to. Then the fun begins: cast starts to show up and we start transforming them into their characters.
On "Yellowstone," I take care of all of the upkeep, colors, and cuts for the Dutton family, Rip, and Rainwater. My team takes care of the secondary cast and the background. Once cast are finished with hair, makeup, and clothing, we get set bags with all the items we will need to maintain their styles for each scene.
I arrive on set with the main cast after we finish their looks. I work with the cast, director, script supervisor, and my hair team on location to keep continuity, and to make sure everything looks good on camera. The whole day is usually a 12 or more hour day from start to finish with prep, getting everyone ready, shooting, and clean up.
How do you find jobs now? Are you applying for things you're interested in? Getting approached?
The jobs I get now are usually people I've worked with before or I have been referred to.
When you're hiring for your team, what do you look for?
When I'm hiring a team, I check to make sure their licensing is up-to-date, references, experience, how well they work with others, organization, and what they can bring to the team.
What advice would you give an aspiring hairstylist that you wish you'd had when you were first starting?
I would say probably that the job is what you make it. It's a lot of hours and hard work. So I suggest you know what you're getting into. Research before you dive in. Your attitude speaks; positivity will take you anywhere. And pick a good team because you become a family and you're spending a lot of time together—surround yourself with people that believe in a team and that will build each other up. Seek good mentors, and always keep up with what's new, take as many classes as you can. This business is ever-changing, so keep it exciting!
What are some of your favorite moments of great hair designer? Any projects you're particularly inspired by in your work?
I love period piece films. One specific film that stands out for great hair design is "Mary Queen of Scots." I also love the hair design on "Game of Thrones." Lifestyle tends to inspire my work. Projects such as "Fury," "Pulp Fiction," "Hell or High Water," "The Color Purple," "Dances with Wolves"—to name a few—are all projects that tell a story about who, why, and where a character has been.
For more on how to get work on a film crew, visit Backstage's crew hub!