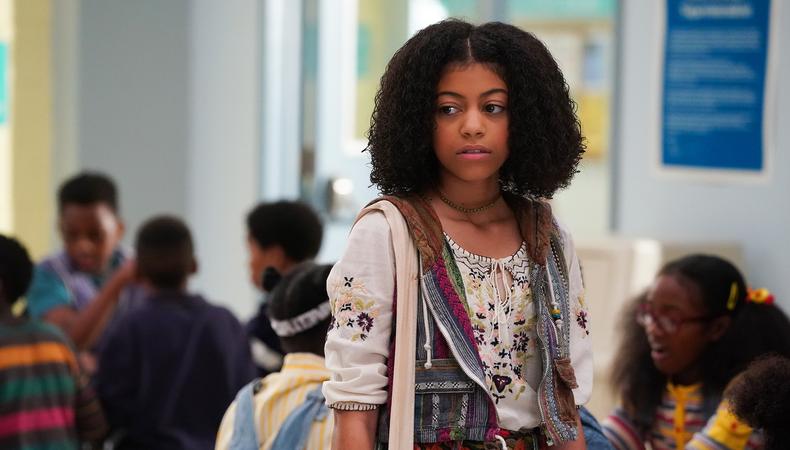 Karin Gist is a television force to be reckoned with—her producing credits include series as wide-ranging as "Girlfriends," "House of Lies," "Grey's Anatomy," "Revenge," and "Star" (on which she served as showrunner). Gist can next be seen putting her power behind ABC's "Black-ish" spinoff prequel, "Mixed-ish," for which she's showrunner and executive producer with fellow EPs Tracee Ellis Ross and Kenya Barris. The series follows Ross' "Black-ish" character, Rainbow, as a preteen.
Gist describes being equal parts happy, nervous, and honored to be tapped to sit in the captain's chair on "Mixed-ish." The series reunites her with franchise creator Barris and "Black-ish" star–turned–"Mixed-ish" narrator Ross, who also starred on Gist's "Girlfriends" on UPN and the CW. Fittingly, the opportunity came just as her and Lee Daniels' musical drama "Star" was bowing on Fox after its third season.
"I was really excited about coming back to comedy because I'd just finished over on 'Star,' which had comedic elements, but for the most part was a drama," Gist says. "The idea of coming over to a network comedy was super scary, but once I looked at the pilot, within a couple of minutes, I knew it was really special and had a clear point of view. And then reuniting with Kenya and Tracee was super exciting, just to kind of get back to my roots. That was great."
READ: 'Black-ish' Creator Kenya Barris on Dramatizing Comedy + Art Imitating Life
Of her role as showrunner, Gist adds that the job is markedly different from those of writing and producing.
"You really don't understand the fullness of the job until you're actually in the seat," she explains. "There's so much more to it, and being in the writers' room is ultimately about 30 or 40 percent of the job. There's a bigger picture around it, but I enjoy it."
Being on set is now second nature to Gist, but the Spelman College graduate came to Los Angeles as a family lawyer, following the path encouraged by her parents. Ultimately, though, the work "just wasn't satisfying my soul in a way, and I just knew I didn't have the passion for practicing law, and I started to think about other things to do. Writing has always been something that I love."
Considering her career's arc, Gist reminisces about "Girlfriends," which ran for eight seasons and was the breakthrough she needed. She likens it to a "romantic comedy," as it marked her meet-cute with all things TV. Her instincts for the craft going into "Mixed-ish" have, of course, sharpened since those early days, and they've guided her along her way. While many spinoffs often remain in the shadow of their source material, that hasn't been the case for Freeform's "Grown-ish," the first "Black-ish" spinoff, and the upcoming ABC prequel promises a similar success. Its heart is its hero: a biracial 12-year-old girl navigating life in 1980s suburbia.
READ: Why Tracee Ellis Ross Loves Auditioning
"I think, universally, people will be able to watch the show and relate to being 12 and not knowing how to fit in or where to fit in and just finding your way through that," Gist says. And actors Arica Himmel, Tika Sumpter, Mark-Paul Gosselaar, and Gary Cole are already inspiring the writers to make good on Gist's vision. "They have clear comedic voices," she says. "The actors bring that, and so we're able to see what they do well and write to that."
Reflecting on her next steps, the NAACP Image Award–nominated storyteller hopes to use her visibility and platform—particularly as a woman of color—to open the door for other women in the entertainment industry.
"I feel like it's part of my job to continue to make sure that I'm always looking for younger voices and looking to pull people up," Gist says. "It's an honor to be successful or seen as successful, but I think it's my job to not close the door behind me."
This story originally appeared in the Sept. 26 issue of Backstage Magazine. Subscribe here.