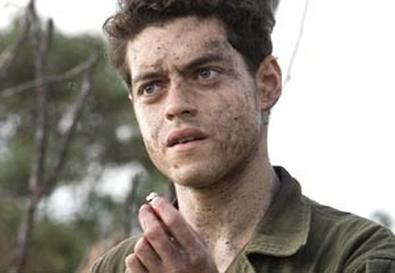 It's quite a feat to stand out in an immense cast of talented young men in HBO's "The Pacific," but newcomer Rami Malek did just that as real-life Louisiana Pfc. Merriell "Snafu" Shelton.
In the 10-part miniseries, which ends May 16, Malek steals the show with his authentic portrayal of a lost soldier faced with the brutality of war. Malek plays the kind of morally ambiguous soldier who looks after his fellow Marines as easily as he tosses pebbles into a corpse's hollowed head. It earned him major respect from his boss, executive producer Tom Hanks.
"I remember when I came home from 'The Pacific,' he gave me a hug and he said, 'I can't wait until I'm in a movie with you.' I was laughing and I was astonished, and when he said that, I was like, 'Yeah, we'll see if that ever happens,' " Malek says from the set of "Larry Crowne," the new film written, produced, and directed by and starring Hanks. "But here I am. He's a man of his word."
A couple of years ago Malek dressed up like Forrest Gump for Halloween, and now he's playing one of the students the middle-aged Larry Crowne (Hanks) encounters when he returns to college. "It was my birthday yesterday, and he made sure that he got me a cake with some candles that wouldn't blow out," Malek says, laughing. "He's very kind and generous as a director and as a person. He's probably the biggest movie star we've ever had, and for being as humble as he is I find that quite an accomplishment."
Malek, who is reminiscent of Peter Lorre and Michael Shannon, has had only a handful of roles—Ahkmenrah in the "Night at the Museum" films and recurring roles on "24" and "The War at Home"—but he's one to watch. Here the L.A. native discusses how he went from bit parts to the big-time.
Back Stage
: How did you get your first break?
Rami Malek
: Mara Casey gave me my first job. I saw something online, and it was for a part in a "Gilmore Girls" episode, and I thought I was right for it. So I sent in my picture and résumé, and she called me and said, "I got your stuff, but I can't find your agent." I said, "Well, I don't have one, but maybe you could help me with that." She starts laughing, and she goes, "Well, we'll bring you in when you get an agent. Are you SAG?" I said, "No, maybe you could help me out with that too." She said, "We'll bring you in when you got one or the other." And I said, "It's a small part. It's only going to take a few minutes of your time. I'm already making you laugh." She took a few beats and said, "Why not?" I went in. It was my first job.
Back Stage
: Do you have an acting coach?
Malek
: I study with a woman named Saxon Trainor.
Back Stage
: How did you get cast in "The Pacific"?
Malek
: I was working on a show called "The War at Home," and I met a man named Kirk Saduski who works at the Playtone Co. He came in to visit someone on the show, and we just got along. He said, "We're working on this thing. You might be right for one of the parts." So he did me a solid, and I got in there. Meg Liberman had cast me before, so she goes, "Oh, okay, sure, bring him in." So I tried to get the material as soon as possible, and I read the book "With the Old Breed" by Eugene Sledge [on which "The Pacific" was partly based], and I just started to hammer away at it. I got in the room and did my best, and I think it went pretty well. They kept bringing me back and bringing me back. When you walk in, you think there's going to be some person just starting out behind the camera, and it was [Steven Spielberg] holding a little camcorder, videotaping the audition. That was thrilling.
Back Stage
: How many auditions were there?
Malek
: I think it was about four. I was the first person cast, though.
Back Stage
: Did the nine-day boot camp give you the chance to properly bond with your frequent scene partner Joe Mazzello, who plays Eugene Sledge?
Malek
: Joe and I were at different ones, but the majority of the K Company guys were in mine. We were scattered in two different sessions, so when I saw Joe it was good because I was glad we weren't in the same boot camp. I didn't want him to see me in a state where I was really just trying to pick this stuff up. I wanted him to see me fresh and battle-hardened.
Back Stage
: It's interesting that in the same scene you give Sledge your open tin can, because he was having trouble opening his, and then you casually go over to a dead Japanese soldier and start pulling gold teeth.
Malek
: The biggest challenge was balancing. How much morality do I have left with this war? Just how desensitized have I become? So I was always trying to find the line between being the guy who has given up [and] the guy who still has a heart left down there somewhere.
Back Stage
: Your acts of kindness rounded out the character.
Malek
: I kept asking for a few more of those every once in a while.
Back Stage
: After the grueling 10-month shoot, I hear this role put you in a depression. Learning to shake off roles can be an occupational hazard for actors.
Malek
: I was hoping the performance was going well, but of course taking yourself to this place where you can authentically represent what's happening, it has an effect on me. Day in and day out, just getting and rising to that place at 4 o'clock in the morning, it's not a good place to be. But I really thought it had to be done to portray him authentically. We were all together out there having a great time and the worst time. You get used to a different life. I can only imagine what it must be like for the real men. It must be incredibly difficult to try to become a regular human being again.
Back Stage
: What helped you through it?
Malek
: The camaraderie was great, but we had a great leader out there: Tim Van Patten. He was my favorite director on the series, and he gave me a documentary [John Huston's "Let There Be Light"] to watch and said, "Pass it along to whoever who wants; this might help." It's about post-traumatic stress when these guys came back, how difficult it was. He made showing up on those really brutal episodes—seven and nine for me—things that I really, really looked forward to, and he's still someone who I look to as a father figure who I love to go see when I'm in New York. Kirk's been great in that respect too, and Tom Hanks and Gary Goetzman too. I have to say, they've all been looking out for me. It makes me feel very special to have all these great figures watching my back.
Back Stage
: Did you get to meet with Merriell Shelton's family?
Malek
: I have just had a phone call with his son, Allen Shelton. He sent me such a nice email regarding what he thought about the depiction of his father. It really affected him, and it really affected me when he passed it on.