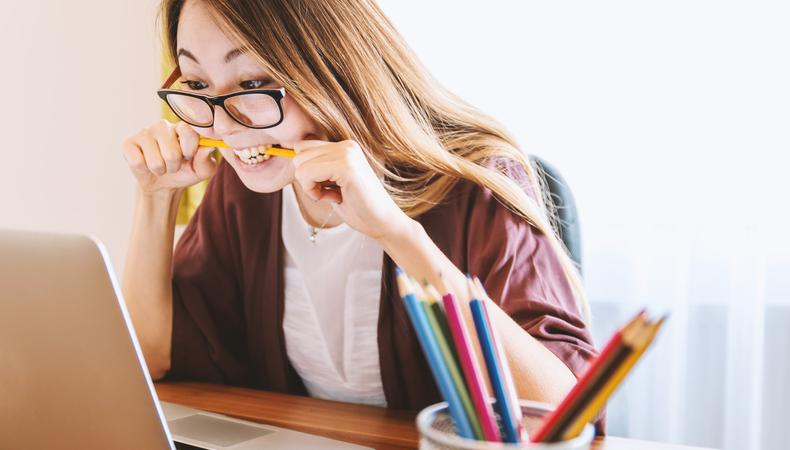 Acting is reacting—even if there's a lag. Since colleges, universities, and just about every other institution have shut down due to COVID-19, acting teachers and students have found creative ways to continue practicing their craft, despite performing their scenes in social isolation. So, a couple weeks in, what's the verdict?
"It's much better than I thought it would be," Boston College acting professor Patricia Riggin says of Zoom, the video conferencing app that many instructors are now using to teach and observe scenework. The Boston College theater department set up a large screen in its mainstage theater so that, instead of squinting on a laptop, Riggin can more clearly see her dozen students all at once. "I have the capability of taking away everyone's video except the person working on a monologue, or a person I'm giving advice to, so everyone else can watch," she notes.
Still, alterations have of course been made. "One scene had a lot of physical comedy between the two students, so we got rid of that," Riggin says of her curriculum. "But what is really kind of fun is you have a closeup of students' reaction shots all the time, so while they're talking you're watching the screen and if you see no reaction, you know they're not listening. It tells you a lot."
Boston College senior Nicole Hayes sees another benefit to the technology. "It allows actors to easily block out the distraction of an onlooking audience, and I still felt very connected to everyone," she explains. "I think that it's important to experiment with different techniques and styles, so I think that working in this digital medium can only be enlightening [for] our learning process."
In New York, Atlantic Acting School student Tom Mezger echoes that optimistic sentiment, citing the potential to use this period as an opportunity to experiment with self-tapes and other audition means that are not in-person. "This will be good practice for how to be effective and do well in those scenarios," he says. "Even in the most practical sense: figuring out lighting and acoustics in your room, learning how to be as physically expressive while sitting down or in a small space—working in this way will get us a lot of reps."
Many other schools, just now concluding their spring breaks, are only starting to anticipate what the obstacles of this new learning format may be. Casper College has extended their spring break by a week to give its community more time to prepare and adjust. There, musical theater and voice instructor Cameron Michal Fehring had his accompanist "prerecord the students' pieces on tracks that will be played on their end to avoid any issues with delays," he says. "It's not ideal by any means, but it can also help teach the valuable skills of singing with a track, as so many theaters are using them these days."
While it's one thing to sing in front of your computer, it is a whole other challenge to dance. "Choreography will be filmed and simplified," Fehring says, adding that "everything will be streamlined so that if we get the opportunity to perform this year, it can easily be put together."
At Northwestern University, meanwhile, Professor Cindy Gold is toggling between multiple apps during the shutdown, including Zoom, Canvas, Google Docs, and one other common tool she now considers vital from an acting standpoint. "I still haven't found an app that will allow actors to look each other directly in the eye, except FaceTime," she says. That app "wouldn't allow for me to see them," she notes, however it could still make for a functional rehearsal tool. "Stanislavsky's ideas about communion and being present with each other will be tested," Gold adds.
READ: All the Industry Resources Actors Need to Get Through Coronavirus
While there's certainly a "show must go on" mentality around digital learning, there is no denying that some in-the-room practices simply cannot be replicated online, particularly when it comes to the body. "I think the biggest thing that will be lost is our movement training," said Gunnar Manchester, a second-year student in Brown/Trinity Rep's MFA program. "We can't get together with our Alexander Technique practitioners because there's a lot of hands-on work there, but I expect that our voice classes won't be that [affected] since it's just going to be a lot of one-on-one dialect time."
Despite these changes, Manchester does have the benefit of collaborating directly with his peers, even during this period of social distancing. "I live with two of my classmates, so we're going to be holed up in our apartment and working on things together," he said. "We asked if we could [film] a group scene in our apartment."
Manchester's efforts seem to reflect those of countless students and teachers across the country; more important than the ability to perfectly execute the technology at hand is the instinct to continue to work and nourish artistic impulses.
"Art is so incredibly important in these times of strife, heartache, and uncertainty," Fehring insists. "It is our duty as artists, performers, and entertainers to keep going. We are a vital part of society and our shared humanity depends on it."