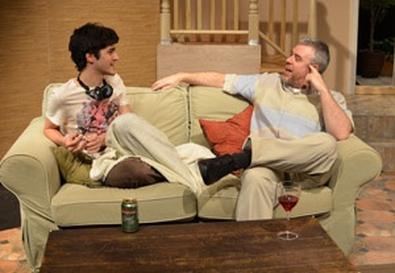 Set a few years after the first successful manned mission to Mars, Mac Rogers' play "Advance Man" represents the first chapter in his "Honeycomb Trilogy," a cycle of plays set within the same fictional universe. All three will be presented at the Secret Theatre this year, and this effectual first part thrives in its persuasive entangling of science fiction with straightforward domestic drama.
It seems that astronaut Bill Cooke (Sean Williams) returned from Mars a changed man; he's been a nonentity at home for three years, working late hours and refusing to disclose what he's cooking up with his former Mars mission crew. His wife, Amelia, played soulfully by Kristen Vaughan, suspects the worst. Imagine her relief when she learns that her husband has only been terraforming, not cheating.
Yet some of the jargon Bill and his colleagues use is positively apocalyptic. Bill is preparing for some worldwide environmental flashpoint that will occur soon. Amelia digs a little deeper, and Rogers slowly, deftly untangles the mystery of what happened to Bill and his crew on Mars that left one member dead and another, played to heartbreaking perfection by Jason Howard, severely brain damaged.
And while this interstellar enigma carries the play briskly toward its celestial conclusion, it is the surprising tenderness and humor with which Rogers renders Bill, Amelia, and their children that keeps the action absorbing. Driven but pleasant, Williams' Bill exhibits a palpable familial connection with his wife; their son, Abbie (David Rosenblatt); and their daughter, Ronnie (Becky Byers). Rosenblatt and Byers are both fine young performers who excel in the play's most charming scene, a jeering but authentic discussion of the 17-year-old Ronnie's pre-sexual antics.
Set designer Sandy Yaklin's naturalistic living room nicely accents director Jordana Williams' grounded production, which only falters in the staging of two key moments. One of them is a fight scene, perhaps too loosely choreographed by Joe Mathers, and the other involves the climactic but clumsy flipping of an alleged doomsday switch.
Presented by Gideon Productions as part of the BFG Collective Residency at the Secret Theatre, 4402 23rd St., Long Island City, N.Y. Jan. 12–29. Thu.–Sat., 8 p.m. Sun., 3 p.m. (Additional performances Wed., Jan. 18, and Mon., Jan. 23, 8 p.m. (212) 352-3101, (866) 811-4111, or www.bfgcollective.com.