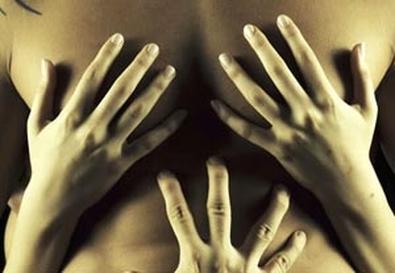 The press release for Joe Marshall's "Dirty Secrets" claims that the 90-minute one-act is a "smart, gender-bent thriller that pokes fun at brainless gay stereotypes." What it actually does is present those clichés without satire or irony. As for the "thriller" aspects, the play is far less suspenseful than your average episode of "Law & Order."
After discovering his lover Karl has been unfaithful, 40ish Tom crashes at the apartment of Nick and Shane. It's gradually revealed that Shane, a 20-something twink, was the other man, and Tom is out for revenge. Using a surveillance tape of Shane visiting Karl in the middle of the afternoon, Tom plans to blackmail Shane into having sex with him. Meanwhile, Tom also seduces the fragile and lonely Nick, who feels Shane is more interested in sex than romance and commitment. The whole convoluted mess ends with a violent, melodramatic, and totally unbelievable finish.
Marshall, who also plays Tom and co-directs with Jason Romas, who plays Nick, has taken on two jobs too many. As author, he does offer a few insightful observations on gay men of a certain age. In one of the play's few credible moments, Tom expresses the pain of walking into a bar and no longer turning heads. But this is a rare spot of honest emotion in an overwrought and contrived script. There are also numerous clichéd and dated references, including a joke about Staten Island so old that I remember it from "Laugh-In" in the late 1960s. As an actor, Marshall simply isn't up to the task of conveying the motivations behind Tom's complex manipulations, nor is he convincingly charismatic enough to make us believe Nick would be tempted to cheat on Shane with Tom.
The other brief instance of verisimilitude is provided by Matthew Link as Shane, when the character tries to confess his infidelity to his partner. We can see the conflict on Link's downturned face as Shane struggles to admit his mistake but just can't bring himself to do it. Link demonstrates promise here, but for too much of the performance he mumbles, so that even in the intimate Barrow Group Theatre it's difficult to understand all his lines. One can hear Romas clearly, and he does his best to make sense of Marshall's silly plot, but he can't perform miracles.
Presented by Alternative Theatre Company as part of the Fresh Fruit Festival at the Barrow Group Theatre, 312 W. 36th St., 3rd floor, NYC. July 13–17. Remaining performances: Sat., July 16, 6 p.m.; Sun., July 17, 4 p.m. (212) 868-4444 or www.smarttix.com.