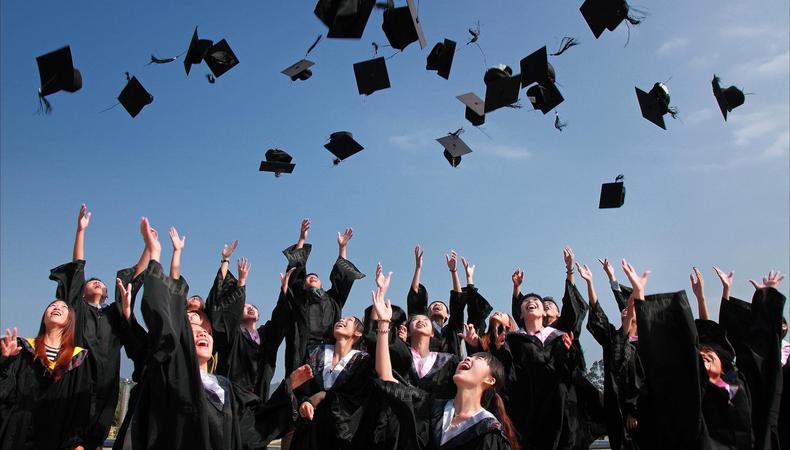 The time has come. You've finished your last year at a Conservatory and now it's graduation. When you complete your training, you may be desperate to get out of school or you may feel nervous about leaving. Either way, stay focused and energized right through the last day of class. Believe me, a year from now you'll be missing the chance to work on your craft every day!
So what are you going to do now? Maybe you've decided to stay in school and transfer to a four-year college. If you did, that's awesome. But if you still know that you want to be an actor, I recommend you spend at least a year working. That means unless you're independently wealthy, you'll need to support yourself while looking for acting opportunities. Get a job in whatever you want, but make sure it has decent flexibility. A 9–5 job can be tough unless they understand you'll need to rush out for auditions and bookings. We all know that many actors survive in NYC and L.A. by working in restaurants and bars. The money can be good, the flexibility is good, and the networking opportunities are amazing. Your goal is to stay in the game.
As you've probably heard acting is a marathon, not a sprint. Stabilize yourself. Make sure you have a good living situation, a tolerable and tolerant job, and a routine to stay emotionally and physically healthy. Keep practicing the habits you learned in school. Show up on time and prepared, and submit yourself for auditions. I don't recommend long term internships. You probably can't afford to work for free so don't. Sometimes you can get stuck being viewed as an intern too. Do a few internships, volunteer to be a reader, but remember, you're going to be an actor. Focus on that. Also, don't pay for representation. There are companies that will offer to submit you for work and "represent" you for a monthly fee. Don't accept these offers.
READ: An Actor's Guide to Life After Graduation
Since you've decided to become an actor, get the best headshots you can afford and use a headshot photographer. Headshots have a particular look that portrait photographers and wedding photographers can't always achieve no matter how good they are. Make sure you don't look for excuses to not get out there either. Don't wait until you have the right audition piece, the right headshots, or an updated resume. Submit yourself and get out there. This business is full of stories of actors who got lucky because they showed up!
I'd also recommend you don't take classes. You've been in school for years. You know how muscles grow when you're resting. Well, acting muscles do too. Take some time off from class. Put yourself out there and see how you do. After a year of auditioning, you'll know what you need to work on and then you can find a new teacher with whom to study. If you have student loans, stay on top of them. Make your payments and if you can't, your school will do what it can to help you explore options that will save your credit rating.
You did it. You graduated. So don't try to hide from the realities of life. You're out of the nest now and although you have plenty of people rooting for you to succeed, it's time to show the world that you're ready to be taken seriously as an artist and human being.
The views expressed in this article are solely that of the individual(s) providing them,
and do not necessarily reflect the opinions of Backstage or its staff.