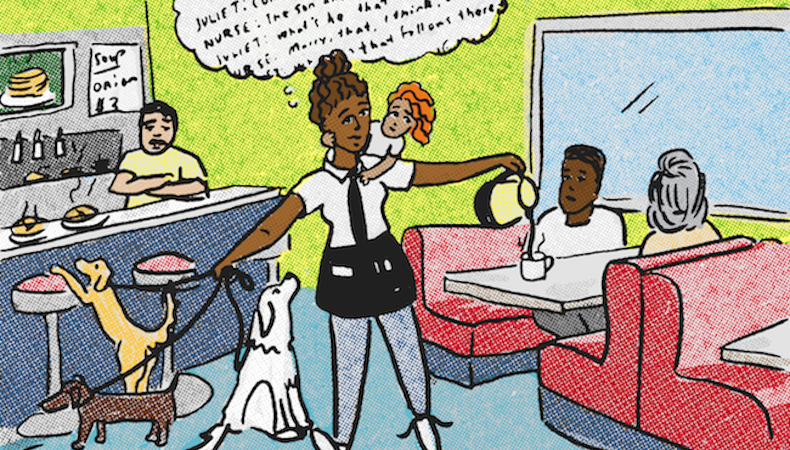 After years of long rehearsals, memorizing too many lines to count, studying the likes of Stanislavsky, Hagen, and Shakespeare, creating lifelong friendships and collaboration partners, and perhaps even acting in or writing a thesis, you're about to graduate with an acting degree. Congratulations! But now what?
Before you freak about the prospect of being thrust out into the "real world" without a helping hand, here's a step-by-step guide to inform the way you navigate this exciting but also overwhelming time in your career.
One year before you're set to graduate, be sure that you're on track with all of the correct classes and credits you need to finish on time. If you don't already have built-in meetings with your advisors, reach out to them before the end of your penultimate year and ask for a meeting to review where you stand. It isn't unheard of to find an overlooked requirement that could push back your graduation, and you definitely don't want to be in that situation if it can be avoided. Also, be sure to get their opinion on elective courses you want to take in your final year and/or possible thesis topics.
Here are a few questions you should be considering:
1. Are you considering an MFA in acting? While many graduate programs these days prefer that you work for a year or two before applying, in order to gain real-world experience, some students opt to go straight after undergrad. It can also take a few attempts to get accepted to graduate programs—some students start applying to MFAs with the assumption that they may participate in several rounds of applications until they get into their dream school
With this said, it's definitely not in your best interest to audition unless you're fully prepared and confident in your material, know exactly why you want to go to graduate school and what you hope to get out of it, as well as being sure you're willing and able to take a spot if offered.
2. Where will you move after graduation? if you are planning to jump straight into auditioning, start thinking about where you want to live. Are you considering heading right to a big city like New York, Los Angeles, or Chicago? If so, be sure to go over the pros and cons of different places. If NYC has been calling to you, check out this guide about what to consider before making the leap. If you're interested in L.A., here are 11 reasons that might push you over the edge.
Big city not your style? Consider a smaller, regional market close to where you grew up or have connections. You'll likely be able to save some money by living at home while you pursue auditions and roles, all while building your résumé.
3. Do you have any professional connections in the acting world? Start reaching out to all of your professional connections. Whether it's colleagues you've worked with as part of a summer internship or even family friends, it's important to touch base and see if they have the power to hire you in some capacity after graduation. Even if they're not currently able to give you work, keeping the lines of communication open can help you stay at the top of their mind.
Once you are about a semester away from graduation, it's time to put together your "actor kit," which comprises all the professional materials you'll need as soon as you start auditioning. This includes items like your headshots, résumé, acting reel, professional social media profiles, and casting breakdown profiles.
Headshots: Your headshot is your calling card and the first impression casting directors will have of you. Unfortunately, a photo taken by your friend won't be competitive with what's out there in the professional acting world, so it's definitely worth the investment to hire a great headshot photographer. Ask professors, alumni, or any connections you might have for recommendations and then carefully look over each photographer's work until you find a product that gels with what you want to exude as an actor. Some photographers even have special student rates, so it may be in your best interest to get these done before you graduate.
Acting Résumé: A professional, well-formatted résumé can help you stand out at an audition. As you're just graduating from acting school, you may not have any professional credits—which is totally fine. If you do, be sure to list them first. Then add all of your school credits, like theater department productions and student films. Additionally, list any relevant summer programs or internships you may have been a part of underneath the education/training section. Lastly, create a special skills section at the end.
Demo Reel: The sooner you can get a reel together to showcase your acting, the better. Casting profiles with acting reels often get sorted to the top of a casting director's list on casting sites. You don't need to have professional work on your reel at the beginning—high-quality student films are fine. However, including monologues or class exercises is not a good idea unless they're made to look like real films, not just video of you in a classroom.
Social Media: You've probably heard this already, but before you graduate, it's good to take a hard look at your social media and see what can be cleaned up. While the acting industry may be more lax than, say, the corporate world, on this sort of issue, you still want to be sure that what people see is the impression you're hoping to give off. Besides pruning your own personal social media accounts, it's also helpful to create accounts specifically for your professional work (and then increase the privacy settings on your private ones). A website is also absolutely necessary so casting directors can easily see your headshot, résumé, and reel (at minimum). Additionally, it can be helpful in terms of marketing yourself to maintain a Facebook page, Twitter, LinkedIn, and Instagram.
Finally, if your school has a showcase, start prepping as soon as possible. Once you know the guidelines and who your group/partner is, research possible material as quickly as you can. Avoid scenes that are popular or overdone; instead, look for material from up-and-coming playwrights or unpublished work. Don't be afraid to piece together material from a longer scene to create one that fits your needs. Be sure to know the type you're trying to market yourself as, and use material that fits while playing to your strengths. Make sure the scene has range and is active. Also, try to avoid scenes with memories or stories.
WATCH:
Once you've compiled all the elements necessary for your actor's kit, you can start putting your casting profiles together. This way, you can get familiar with online casting platforms like Backstage, and be ready to submit as soon as your schedule allows. This is something that can be done closer to graduation so that you're not paying for the months you're not using the services.
Start your agent research. Ask yourself what you're looking for in an agent and research agents and agencies that might be a good fit. Create a list and send postcards with all of the information for your showcase on it. Educate yourself on how meetings with agents work, what questions are important to ask, and how agent contracts work. Recognize that it often takes more than one showcase to sign with an agent, and this is the beginning of what can be a long process.
Finally, ask professors you've worked closely with if you can use them as references or if they'd be willing to write letters of recommendation down the road. These may not be immediately necessary, but it's good to get confirmation, as you never know when you might need one in a pinch and can call on them to help you out.
When you make your way into the "real world," it's important to remember that this is a difficult transition for everybody, regardless of what you majored in in school, and that you're not alone in any frustrations or feelings of being overwhelmed. There are so many things you have to deal with now that are new: not living in dorms, being self-sufficient, living in a new city, being away from friends and family, etc. Not to mention the stress of finding a day job and getting into the swing of auditioning.
In terms of where to move, it's important to really go with your gut; you don't necessarily have to base your choice on your showcase, as two minutes of your life shouldn't dictate the rest of it. It's important to live in an area you connect with, and if it has some sort of support system available to you (friends in the area, a place to get a day job, nearby family, etc.), that's an added bonus.
Moving can also be quite expensive, so a good option might be to spend some time living at home to save up money. There are a lot of costs incurred with being out of school and possibly in a new city—if you plan to rent, expect to pay first month's rent, security, a broker's fee, and maybe even second month's rent up front before you even get the keys.
READ: Moving to NYC: Your First Week
Next, find a flexible, tolerable day job—also known as a "survival job"—as soon as possible. You won't be able to fully focus on acting if you're biting your nails about making rent. While there are many classic types of day jobs that only require working for one company at a time (e.g., server, bartender, dog walker, tutor, babysitter), actor and director Jamie Irvine also suggests the idea of finding three different sources of income.
When you do start auditioning, remember that it might take a while to book your first gig. "This will be true for most graduates regardless of talent, beauty, or effort," Irvine says. "Everyone's different, of course, but many well-known actors, directors, and creative people have taken a while to get off the ground after graduation. There isn't a lot of work out there, and others have had years to build their careers and the inside running that often goes along with that. Start creating your own work as soon as you can, and get to know people. Who do you want to collaborate with? What are you passionate about?"
Once you have the important things set up (i.e., apartment, survival job, acting materials, etc.), especially while you may be waiting for your first gig to come along, keep fresh with classes. Yes, even if you just graduated from school, you need to keep taking classes if for no other reason than to network. Always remember, you are never done learning and growing as an actor!
You've been putting your nose to the grindstone for six months. Maybe you've booked your first professional gig or are getting close. Maybe you've been to too many callbacks to count with nothing to show for it and are wondering, What should I be auditioning for? Should I be selective at this point?
If you didn't have any professional work under your belt before you graduated, be aware that a lot of the nonunion work at the beginning of your career will be unpaid or travel stipend–based. Additionally, some of the projects you work on might not even feel up to the production level of what you were used to in your acting program due to budgets that aren't funded by an institution of higher learning. For the most part, it's good to do as many projects you can get your hands on at the beginning to gain experience and build your résumé.
However, always remember that the main type of agency you have as an actor is the power to say no. If for any reason you feel uncomfortable or do not think that a certain production will be beneficial, use your veto power to decline an invitation to participate. As the years go by, you can be more selective in your work as you try to climb up the ladder. This process of when to stop doing certain kinds of work is unique for everyone (based on things like union membership, time commitments, grad school, etc.), so it's not worth it to compare your journey to someone else's.
At the six-month mark, be sure you are maintaining your connections. Update your social media, send out postcards and e-blasts when you have shows, support your friends' work, and follow up on all connections and opportunities.
It's also good at certain intervals to really take stock of how far you've come and create goals for moving forward. This business can be really frustrating, to say the least, so it's always good to take into account all you have accomplished. While well-intentioned acquaintances might try to be nice by saying they can't wait to see you on the silver screen or Broadway stage, keep in mind that most people don't reach the pinnacle of their careers at 22. Relish the small victories as you go along. And remember, it's only been half a year since you were a full-time student!
It usually takes a year to start getting used to a new city and routine, so be sure to give yourself at least this long to get a feel for the place you've chosen. Similarly, it sometimes takes years to get the traction you're looking for in your career. This industry is anything but linear, which can be hard if some of your friends are on more straightforward 9-to-5 paths. While having goals and a timeline is absolutely a good thing to do, know that this timeline can often be a result of factors beyond your control. On the other hand, if you do start to feel that the day-to-day routine of being an actor isn't for you, there is absolutely no shame in rethinking or switching up what you do.
Something that might start to creep up as time goes on and your classmates also make their way through the business is jealousy. This is a very real emotion and one that's not particularly fun to deal with. The bottom line is that acting is a numbers game. Anyone who has been in the acting industry can tell you that it's not necessarily the most "talented" or "hardest-working" who "make it." Sometimes, someone just has a look that's popular at a specific point in time, has connections in the industry that can get them in certain rooms, or even just happens to be in the right place at the right time.
It's okay to have feelings of envy as you start to find people you know in these fortunate situations, but the important thing is to acknowledge you have these sentiments and then let them go. As Bella says in Nina Raine's play "Rabbit": "It's fine to suffer envy. But—the last thing you should do is vent your envy. Openly. Because envy is like farts. Everyone suffers from it. But, if you let it out...you don't smell very nice. And everyone moves away from you."
You know how tough this industry is. Everyone (and their mom) has warned you about it. But if you love it, do it. There will be days where you feel like you're on top of the world doing exactly what you're meant to be doing, and other days when you seriously consider moving on to something else. Have patience, celebrate the little triumphs, support your fellow artists, and be sure to have a life outside of being an actor. You got this!
WATCH: