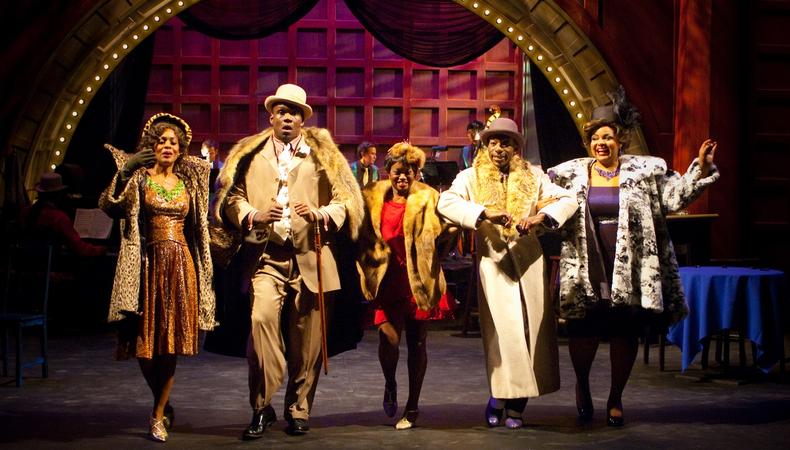 Fats Waller's leering, mischievous persona comes through in the prolific songwriter's incredible catalog of tunes, written in the 1920s and '30s, and in Richard Maltby Jr. and Murray Horwitz's Tony Award–winning 1978 revue, which whittles the vast collection down to 31 of Waller's best and most beloved titles.
Director Saundra McClain's staging at International City Theatre falls short of its well-publicized re-envisioning of the show as having a through line and some semblance of a plot. What she does create is a framing device, in which Niketa Calame portrays a waif seeking refuge from a nighttime rainstorm in present-day Harlem, finding shelter in a small bar whose pianist (Rahn Coleman) plays the favorite swing tunes of its four current patrons. We're then transported back to Waller's heyday as each of the five performers essays a specific persona. Coleman's onstage pianistics and skillful musical direction of the five-piece combo, Stephen Semien's exciting choreography, and visual elements such as costumes (Kim DeShazo) and lighting (Ben Pilat) plug us directly into the heady days of the Harlem Renaissance. While the show is a tribute to that era's many black musicians, whether famed or unsung, it wisely doesn't aim for the lofty or the profound. The superb cast milks every bit for its full entertainment value, sending an already great stage property into the stratosphere.
Of the men, Phillip Brandon comes closest to the image of Waller himself: a devil-may-care clown but also a suave urban prince. His round face shines with mischief, and his rich voice and rounded tones caress the lyrics to the standard "Honeysuckle Rose" and the riotous "Your Feet's Too Big." Lacy Darryl Phillips projects a darker façade. Think shady (though elegant) pimp or drug dealer, an archetype on perfect display in "The Viper's Drag" and "The Reefer Song," which are combined to create a single number. Of the gents' two duets, the sleazy-funny "Fat and Greasy" stands out, both men barely able to suppress their mirth in describing a "big, fat, greasy fool."
The ladies are at once elegant, dazzling, and playful, sketching three distinct images: the pixie (Niketa Calame), the hottie (Jennifer Shelton), and the regal lady (Amber Mercomes). Calame is adorable as a sailor girl while singing "Yacht Club Swing," and she brings out the Gershwin qualities in "Keepin' Out of Mischief Now." The obviously classically trained Mercomes' vocal style is soft and delicate, and she uses the romantic ecstasy of "Squeeze Me" to set the tone for her upscale matron character. Shelton shines as a slinky sex kitten in "I've Got a Feeling I'm Falling," and she plays against type as the heartbroken singer of "Mean to Me."
As solid as the performers are in their solos and various combinations, it's when they coalesce as a company that the show soars. "Handful of Keys," "The Joint Is Jumpin'," the title number, and several more generate the atmosphere and ambiance of the Cotton Club and other pre-war and wartime venues captured forever in Waller's immortal music.
Presented by and at International City Theatre, Long Beach Performing Arts Center, 300 E. Ocean Blvd., Long Beach. Oct. 12–Nov. 4. (562) 436-4610 or www.internationalcitytheatre.org. Casting by Michael Donovan.
Critic's Score: A