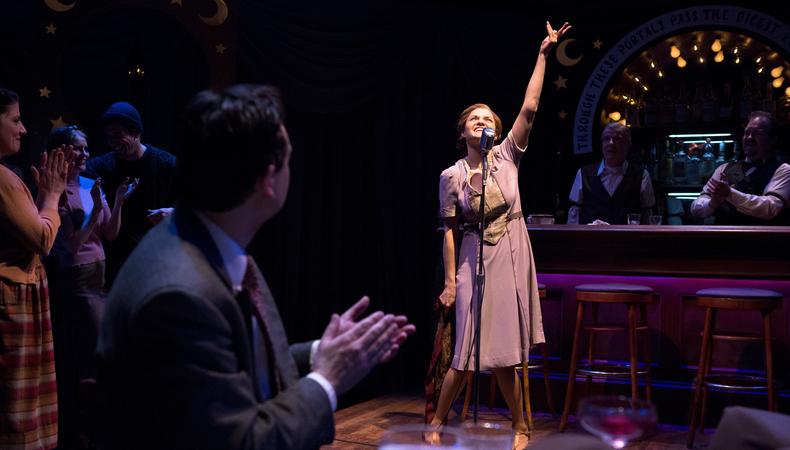 It's always dangerous to do a star vehicle without a star, and not just any star, but the right one, who is usually the luminary for whom said vehicle was crafted. Happily, in its revival of Anita Loos' 1946 hit Broadway comedy "Happy Birthday," the Actors Company Theatre is providing the exception that proves the rule. In a role tailor-made for theater legend Helen Hayes, Mary Bacon substitutes sheer talent and fiercely smart acting for star wattage and is completely captivating as Addie, a meek New Jersey librarian who learns how to live by getting drunk for the first time in her life.
The first lady of the American theater was tired of historical costume dramas and wanted something light and contemporary, so Loos came up with this romantic fable about a prim spinster-in-training who lives with her alcoholic and abusive father and has no friends. What Addie does have is a crush on regular-guy bank teller Paul, with whom she deposits funds weekly. When her father finds out, he goes on a bender and vows to find Paul and kill him rather than lose his daughter. And that's what gets teetotaler Addie into a saloon for the first time in her life; she's there to warn her wished-for swain. The Jersey Mecca Cocktail Bar is run by the tough yet motherly Gail and naturally contains a host of colorful characters. Paul is there to meet up with his fiancée, the shallow, calculating Maude, a shop girl who is two-timing him with her married boss. Addie despairs when she learns of the couple's impending nuptials, leading to her first drink. As the liquor loosens her inhibitions, Addie decides to try to take Paul away from Maude, and the rest of the play is her attempt to do so.
Loos inflates this thin tale with a canny device: As Addie gets inebriated liquor bottles glow at and talk to her, cash registers play music, champagne bubbles fill the air, and rosy lanterns descend from the ceiling. Set designer Brett J. Banakis doesn't have the resources to accomplish all of Loos' stage directions, but he does well with what he's got, especially in a wonderfully imaginative scene shift when Addie and Paul hide from her father under a table.
Director Scott Alan Evans has made some sensible trims and finds just the right tone for this delicate slice of whimsy. Bacon is touching in locating Addie's insecurities, infectiously giddy as Addie realizes that people she looks down on don't deserve it, and transcendent in a desperate but liberating rendition of "I Haven't Got a Worry in the World," a pop song on the joint's jukebox written for the show by its producers, Richard Rodgers and Oscar Hammerstein II. Fourteen actors give fine support, including Todd Gearhart, genial and open as Paul; Karen Ziemba, sensible and rooted as Gail; and Victoria Mack, a veritable symphony of feminine wiles as Maude.
The play's naive attitude about alcohol can occasionally be hard to swallow, but it's surprising how well "Happy Birthday" goes down in TACT's winning production.
Presented by the Actors Company Theatre at the Beckett Theatre, 410 W. 42nd St., NYC. March 21–April 13. (212) 239-6200, (800) 447-7400, or www.telecharge.com. Casting by Kelly Gillespie.
Critic's Score: B+