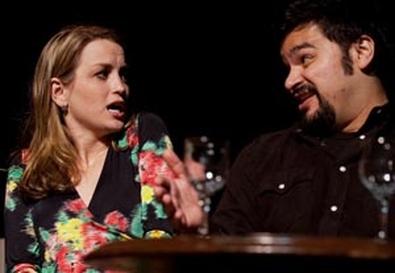 "Al's Business Cards," currently at the Lion Theatre, was developed in the Old Vic New Voices program, and author Josh Koenigsberg may indeed be a new voice worth listening to. He writes believable contemporary dialogue, with a particular regard for the surface banalities that mask meaning. That dialogue, however, has not been shaped into anything resembling a satisfying play.
Al is an assistant gaffer on movie sets. His seemingly benign decision to get business cards printed leads to a succession of events that turns his life into the equivalent of a multivehicle pileup. Those events involve Barry, Al's garrulous friend and fellow gaffer; Eileen, a no-nonsense New Jersey real estate agent; Daniel, her alcoholic soon-to-be ex-husband; and José, a put-upon private detective hired by Daniel to get dirt on his wife.
The play is constructed as a series of two-person scenes. Much of the comedy derives from characters excluded from a scene making misjudgments about what occurred during it, and one of Koenigsberg's apparent concerns is how often we judge others without having all the facts. But he has nothing surprising or interesting to say about that, nor about his central themes of the randomness of existence and the interconnectedness of life. It's all been done before and better.
The capable, hard-working cast turns in perfectly professional work. Azhar Khan is good at letting Al's vulnerability slip out from under his bluster. Bobby Moreno accentuates Barry's cluelessness. Lauren Hines makes us aware of just how hard Eileen is always working to maintain her professional façade. Malcolm Madera finds the comedy in Daniel's exceedingly unpleasant behavior. Gabriel Gutiérrez simmers engagingly as José. Director Lauren Keating steers the show briskly, though I hope the moment when Madera flashed the audience as Daniel stripped to his boxers was an accident and not an unfortunate lunge for a laugh.
Koenigsberg has the dialogue thing essentially down. Now he needs to go to work on plot, character, subtext, and just plain overall invention.
Presented by At Play in association with Old Vic New Voicesat the Lion Theatre, 410 W. 42nd St
.,
NYC
.
Aug. 9
–
22. Wed
.–
Sat
.,
8 p.m
.;
Sun
.,
3 p.m
.
(
212
)
279-4200 or www.ticketcentral.com
.