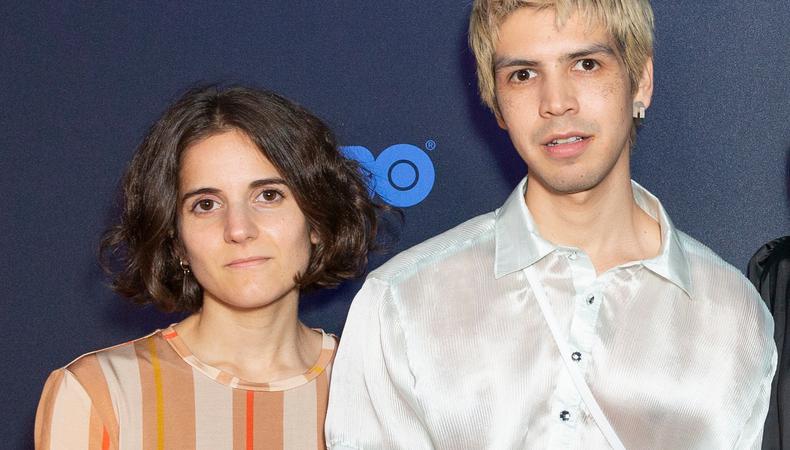 "In the Envelope: The Actor's Podcast" features intimate, in-depth conversations with today's most noteworthy film, television, and theater actors and creators. Full of both know-how and inspiration, "In the Envelope" airs weekly to cover everything from practical advice on navigating the industry, to how your favorite projects are made, to personal stories of success and failure alike. Join host and Awards Editor Jack Smart for this guide on how to live the creative life from those who are doing it every day. This episode is brought to you by HBO.
Ana Fabrega and Julio Torres' advice for those aspiring to write or perform comedy is delivered with deadly seriousness: do what you like, and only what you like.
"Creatively, if it's not fun, stop doing it," recommends Torres in his joint "In the Envelope" interview with Fabrega. Her advice echoes his: "Just do things because you enjoy them, not because you think you have to do them, or you think it'll help you get something bigger. You should be enjoying what you're doing at all times."
COVID-19 Resources for Actors, Creators + Performing Artists
That applies doubly to the current work-from-home era of reduced film and television production. Artists should not be creating content for the sake of expectations around creating content, in Fabrega's opinion. "If people want to put that pressure on themselves and it feels organic, then great. If not, then you don't have to."
Like many writers and performers, both Fabrega and Torres are figuring out how to navigate these uncertain times and stay imaginative and inspired. Luckily, "Los Espookys," HBO's Spanish-language comedy following a group of friends who launch a business specializing in supernatural horror services, is exactly the kind of project that can keep creative juices flowing. Co-created by and co-starring Fabrega, Torres, and Fred Armisen, the series was renewed for a second outing immediately after its summer 2019 premiere, and has topped critics' lists of this season's best TV.
Asked about the influences that helped create the fictional Latin American locale of "Los Espookys," Torres acknowledges it's tricky to compare its world to any other. "It's definitely not trying to emulate anything that we've seen," he says. "Ana and I hold on to people that we've met that we find odd and funny and intriguing. Those end up becoming characters in 'Los Espookys.' I think that there's a playfulness to this show that is informed a little by magical realism, and that it doesn't care about the rules of the world. It doesn't bother explaining the world. It just allows you to go down the stream of it."
"We think a lot of the same stuff is funny," says Fabrega, who had known Torres from the Brooklyn comedy scene, but never worked with him before Armisen approached them separately with the show's premise. Fabrega, born in Scottsdale, Arizona and known for her off-the-wall characters in standup and social media videos, wrote for and starred on "The Chris Gethard Show" and is featured on "At Home With Amy Sedaris." Torres, born and raised in El Salvador, served as a writer on "Saturday Night Live" and last year released his first HBO comedy special, "My Favorite Shapes."
"If one of us has an idea for something, the other one can always expand on it and we just go from there," says Fabrega of their collaborative process. And as Torres notes, the chemistry between writer-showrunners on any project is far from guaranteed.
"We knew that we liked each other's work," he remembers, "but liking somebody's work does not mean that you're going to be good collaborators! I think we were lucky that we really are."
Fabrega and Torres also say they learned a lot from working alongside co-stars Bernardo Velasco and Cassandra Ciangherotti, who come from a more traditional acting background. Every character on "Los Espookys" adds a different absurdity or quirkiness into the mix, but the actors playing them do so with sincerity. "I like them to delete the word 'comedy' from their mind, and to do as earnestly beautiful work as they can, because that's what's going to make it funny," says Torres. "If everyone had been like, 'Oh, let me see how funny I can make my set decorations, or my wardrobe or my whatever,' it would have gone way too over the top," agrees Fabrega.
To go behind the scenes of "Los Espookys" and hear more craft and career advice from Fabrega and Torres, tune into their "In the Envelope" conversation at any of the podcast platforms below.
Listen now on:
Looking for remote work? Backstage has got you covered! Click here for auditions you can do from home!