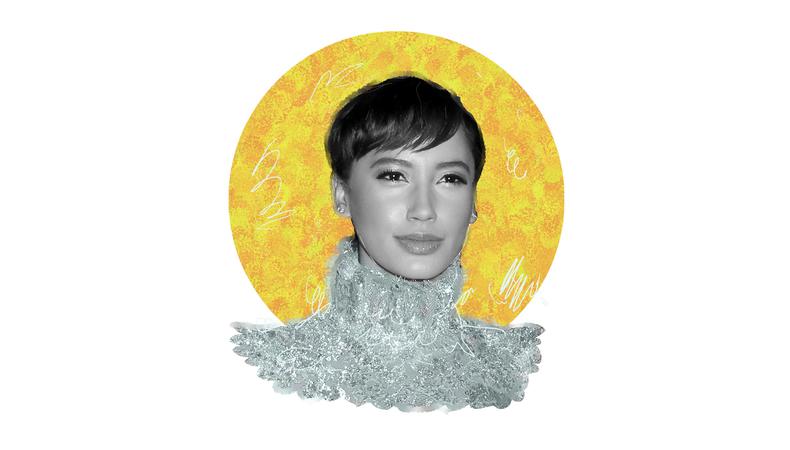 Throughout her life, Cameroonian-born, Sacramento, California-raised actor and musician Andy Allo's creative endeavors took many forms, from one-woman soap operas as a child to international tours in Prince's backing band, New Power Generation. While Allo actively pursued both music and acting, the two collided for 2017's "Pitch Perfect 3," where she played Serenity, a member of the Ruby Rose–led vocal ensemble. Now, Allo leads her first TV series, Amazon Prime's "Upload" from creator Greg Daniels. Set in the near future where people can select their preferred choice of afterlife, the series stars Allo as Nora, a woman plays a major role in Nathan's (Robbie Amell) version of heaven.
You began your career in music, but what was the moment you decided you wanted to be an actor?
I always loved acting and music. They were things I was working on simultaneously. Since I was a kid, I would put on these shows and performances for my family. I would come up with these soap operas and entertain myself, walking around voicing all the different characters. From a young age, I knew I wanted to entertain and tell these stories. Music came first. I started out doing commercials and then went to some indie films and from there got my first recurring role on [BET's] "The Game." I was doing music and also auditioning for commercials growing up in Sacramento. I would commute to San Francisco for these auditions. I remember my dad joined me once to go to an audition. We drove all the way to San Francisco. I was in there for a few minutes, came back out, and he's like, "That's it?" and I'm like, "Yeah, we're done!" He was like, "Wait you just drove two hours for five minutes. Did you get the job?" He was blown away I would do that with no guarantee of getting a job. To think of it that way, we put ourselves through this craziness, but from a young age I knew I wanted to do this.
What advice would you give your younger self?
Have fun. And have faith. When I first started out, [acting] was a lot of play and a lot of fun. As you start working and booking things, you're going to become more about that. It's still fun when you book it: Yes! Now I can have fun and play on set! But a lesson that I've learned is still playing even if it's an audition or reading scripts or just imagining. There's so much play that can be done outside of being on set that I used to do naturally as a kid with acting, and even with music—singing and being silly. And then having faith that what's meant to be mine will be mine. When I was 13, I did a time capsule [and] I made a schedule of my success. At 16, I was going to have a record deal, I was going to be touring the world, and then I was going to be acting in various things. So it was a very quick timeline. I had big dreams. I expected them to happen right away. It might not happen when you want it to or how you want it to, but it will and trusting that when it does happen, it's actually sweeter than what you could've imagined.
What's the wildest thing you ever did to get a role?
I auditioned for "Pitch Perfect 2" and the role asked for an accent. This character was going to be from a different country. I went in using my Cameroonian accent and really doubled down on telling this story as a young girl from the village. I had everyone in the room, [director and producer] Elizabeth Banks, [producer] Max Handelman, they were all rolling and laughing. That was the first time I let myself be wild and not play it safe, as scary as it was. It wasn't what they were looking for at all, so I really went in and was like, "This is me and my take on what you asked." I didn't end up booking it, but the point of that story is years later, I get a call from my team and they're like, "The director for 'Pitch Perfect 3' wants to chat with you about a role in the new movie." We had a call, we talked, and I was offered a role in the movie which I didn't have to audition for. When I got on set, Elizabeth and Max were like, "We loved your audition years ago, we never forgot it and when we started working on this movie, we wanted you to be on it."
What is your worst audition horror story?
I like to think that I dance. I used to dance. It's not something that I do or have kept up as well as I probably should have, but I dance on occasion. Anyway, I got this audition for a dancing film, and they asked to create a dance routine that you would do in the room. I worked on it all night, I memorized this choreography. I went in and did the scene, which did not go well. I thought I could at least save it with the dancing, but there was a problem with the speaker—it wasn't playing my song. And then it started playing my song but at a much lower volume so I couldn't hear the music. We finally get it working, they play the song. I get two moves out and I completely forget the rest of the routine and now I'm just free-styling. And I can see the casting director looking at me and the associate is looking at me and they're like, "What is this train wreck?" [Laughs] It was terrible, I didn't book it. Now I think twice when I get a dancing audition.
How did you first get your SAG-AFTRA card?
I got my SAG card doing commercials. I was doing a lot of commercials and getting a lot of Taft-Hartleys and then I got a low-budget indie and it was around the time I was doing a lot of commercials, so I think it got all rolled into one. I remember calling my mom because I got the SAG dues letter: "I definitely want to be in SAG, it's a little pricey, I can't really afford this right now." So my mom helped me pay all the fees and dues to join SAG. I think I still owe her actually!
What performance should every actor see and why?
"Fleabag," Phoebe Waller-Bridge's one-woman show. They were screening that at a theater last year and I went to watch it with one of my friends who's also an actress and was absolutely blown away. I loved the series anyway, but to see where it came from was mind blowing. She's a genius, the way she effortlessly and seamlessly transitions between characters. Her comedic timing is so on point. That's a lesson in mastery there.
Looking for remote work? Backstage has got you covered! Click here for auditions you can do from home!