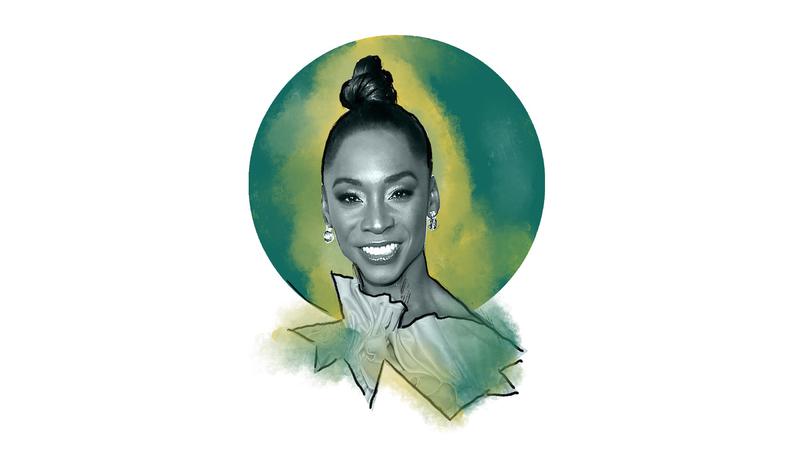 Angelica Ross' path to acting has had many twists and turns. Growing up in Racine, Wisconsin, she performed in local theater groups, but later switched gears and enlisted in the Navy. Then, in 2014, she founded LGBTQIA+ co-working and -learning community TransTech while continuing to pursue acting. After getting cast on the Emmy-nominated web series "Her Story," Ryan Murphy came knocking with breakout roles on FX's "Pose" and "American Horror Story: 1984," making Ross the first female transgender actor to sign on for two series regular roles.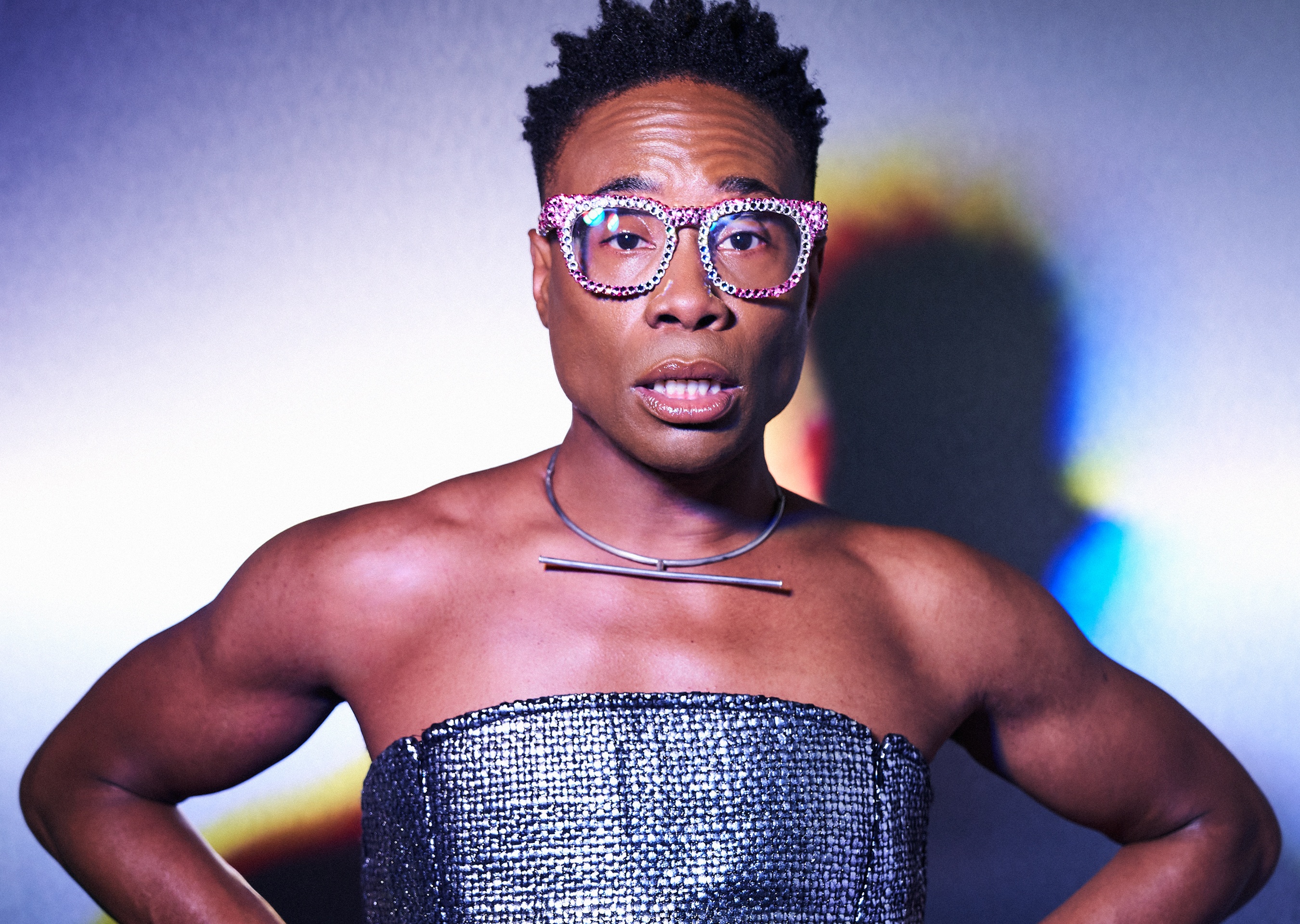 How Billy Porter Became the HBIC
What was the moment you knew you wanted to be an actor?
It honestly was the fact that I grew up in a small town in Racine, Wisconsin. Growing up Black, you grow up hearing a very limited narrative around what's possible and what you can do. Growing up, there was this community theater troupe, the Racine Kid Players, and they held plays every year. The year that I found out about it, I was very young. I was in elementary school or maybe middle school. It was a white theater group, and the woman who ran it had an idea to do blind casting. Pretty much every year that I was there, I was cast as the lead role. I played Willy Wonka in "[Charlie] and the Chocolate Factory." I was Scrooge in "Scrooge." I was Teen Angel in "Grease." There were all these different roles that I never would've gotten. I remember [the director] saying she got an idea to cast me in the role of Teen Angel because of another Black performer who had done it on Broadway. I come to find out that performer is ["Pose" co-star] Billy Porter. Like, full circle, I talked to Billy on set and he brings up "Grease," and I was like, "Wait a minute, you're the one they were referring to!" It was such a profound moment of representation in the flesh. For me, I cut my teeth in theater, playing to the back row. I do get moments of it doing television, but in theater, there's this live moment where almost you can't breathe until the other person breathes and you can hear a needle drop. There's a certain tension you can feel as both an actor and the audience.
What advice would you give your younger self?
Let go. There were so many times I was worried. [Growing up,] I wrote music and traveled to state fairs performing my Christian gospel music and doing plays, but when I transitioned, I lost everything. I lost my voice; I no longer knew how to sing and translate that into my new body. I was too afraid to show myself. When I did acting class at Florida Atlantic University, I was terrified, because there were scenes where I'd have to kiss someone or scream or do things I thought would expose me. But I've learned the quicker I got about the business of accepting myself and knowing how unique my talent is, the quicker I would be in the position I am now, where the opportunities are endless.
"A lot of people are still trying to play the game that Hollywood is dealing, and I'm trying to create a whole new game."
How do you typically prepare for an audition?
One of the first calls I make is to Brad Calcaterra in New York. He's an acting coach who's worked with Laverne Cox, myself, Trace Lysette—a lot of LGBTQ actors, as well as non-LGBTQ actors. But he's helped me to play with every role that I've gone for. I call him for every single one. We get on FaceTime and we run through the audition and then he gives me notes and then I forget it all. You pick up certain things that allow you to bring yourself into the room, but you can't allow yourself not to be present. To speak to that, specifically, I had prepared my ass off for the audition for Blanca for "Pose," and once I got into the audition room, I had a whole thing prepared. I had these really short '80s short-shorts and these high stiletto heels, which I stupidly was walking down New York City streets to get to the audition in. By the time I got in the audition room, I had a charley horse in my leg. They're like, "Are you OK? Do you need a moment?" And I'm like, 'No, I'm OK! I just got a charley horse." And I put my heel on top of the chair so my legs are showing in the short-shorts and I bent over and something in me, it's an improv skill, turned that moment into my audition. It made such an impression on the room. I brought Candy into the room, and I didn't know that's what I was doing. What I've learned is to always bring myself into the room with the character. I'm alive. It's not just on the paper; I am her. I'm who you're looking for.
What is your worst audition horror story?
When I auditioned for "Sesame Street Live!," it was my first professional audition. I go to the audition, and I am way out of my league. I get into the rows to dance and they're teaching the choreography so fast. Everyone was so in it, like they'd been in a class for weeks. It was mind-blowing to me. That's when I first realized: You better learn quick what it takes to be in this business.
What's the wildest thing you've ever done to get a role?
When I auditioned for "Claws," all we knew was that they were trying to cast a trans girl and she was a stripper with Karrueche [Tran]. All the girls—and I mean all the girls: Isis King, Alexandra Grey, Trace Lysette—all the girls came out for the role. Everybody was there and I told them, "You girls can go home, because this role is mine." I came there in the tightest top and had my hair vamped out really curly. I had my midriff out and really high stiletto heels, and I came selling sex, but in a way [like] I'm a stripper off work.
What we learned in the ballroom, in our culture, is to sell it. No matter what it is, sell it. What does bad executive bitch look like to you? You have to be that in full. I did another audition recently and I came as that person. The effort shows. You don't want to be someone who looks like you're coming in with a whole gimmick, but you need to simplify it, even if you went in with just a clipboard to signify that you're a doctor. You're dressed in casual business attire and just that clipboard. That's what my acting coach taught me, to bring in one thing: A clipboard, my iPad, a nail file—just one thing to ground me into the scene.
How did you first get your SAG-AFTRA card?
I did a small web series called "Her Story" that was Emmy-nominated, and it was one of my favorite roles and one of the roles that opened me up as an actor. This was a web series, but it was SAG Low Budget, so the credit made me eligible to become SAG. When I got the call to do "Doubt" on CBS with Laverne Cox, they basically told me I couldn't work until I paid my dues. I had to come up with another $1,500 or however much it was before I could start on Day 1. It's one of those things that's a hard process because you have to spend the money to make the money.
That's why I think more needs to be done in order to create a pipeline for trans and [gender nonconforming] actors. That's what I have been doing since I started TransTech in 2014 to teach trans and marginalized communities tech skills. That also has to do with tech skills around video and production and makeup artists and beauty professionals. I'm looking to not only take up my space, I'm looking to create space for the next generation. And a lot of people aren't doing that; a lot of people are still trying to play the game that Hollywood is dealing, and I'm trying to create a whole new game.
What performance should every actor see and why?
Angela Bassett in "What's Love Got to Do With It." I'm still angry that she has not received the proper awards. She's playing a teenager all the way up to a woman in her 40s. She transformed her body. She gave a performance that was a master class. Hands down, nothing compares to it. It's the most powerful performance ever.
This story originally appeared in the June 25 issue of Backstage Magazine. Subscribe here.
Looking for remote work? Backstage has got you covered! Click here for auditions you can do from home!