A theater and music industry veteran who has long marched—sometimes in heels—to the beat of his own drum, Porter's foray into television, fashion, and mainstream pop culture was never a guarantee—yet luck has little to do with why his face is everywhere lately. To anyone paying attention over the last year, it's evident that Porter is and always has been a capital-S star who is finally getting his due.
Billy Porter Remembers the Time He Refused to Audition for Steven Spielberg
If his freshly Emmy-nominated turn on Seasons 1 and 2 of "Pose" as the HIV-positive ballroom emcee Pray Tell aren't proof enough and you need evidence beyond his recent headline-grabbing red-carpet fashions (his couture velvet tuxedo gown from designer Christian Siriano remains a jaw-dropping highlight of the 2019 Oscars), allow us to direct your attention to earlier this summer, June 9, at the 73rd annual Tony Awards.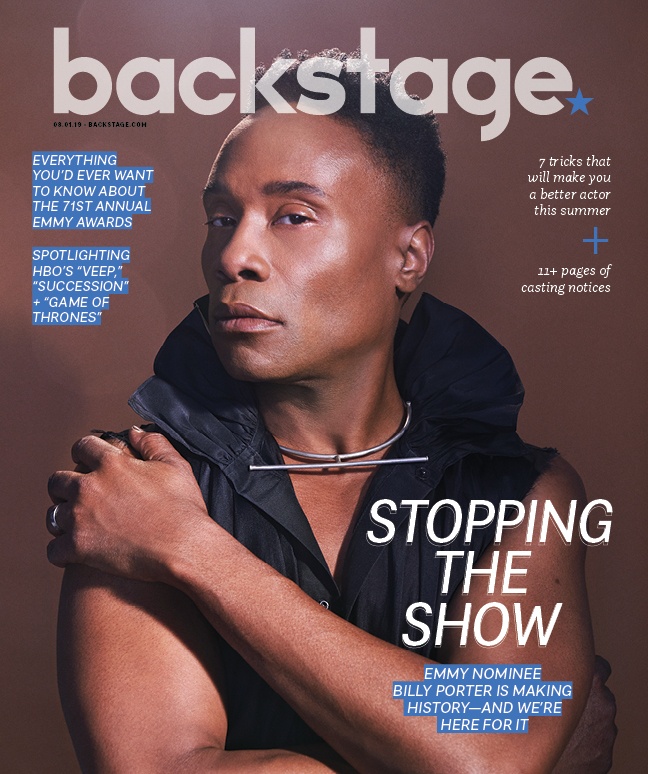 A Tony– and Grammy–winning actor and singer, Porter is no stranger to the stage. But in a ceremony that celebrates the very best live performance has to offer, it's quite the feat to walk away with the night's most talked-about moment—and for it to happen in the middle of a commercial break, no less. His off-the-cuff, James Corden–nudged karaoke rendition of "Everything's Coming Up Roses" from "Gypsy" is the best argument yet that he's the rightful, gender-bent heir to Patti LuPone, Bernadette Peters, and Bette Midler, a suggestion to which he jokes, "I know how to do it! And now every bitch in the world knows, too." His Mama Rose even has LuPone's endorsement; back on set filming "Pose" two days after the ceremony, she saw his performance and exclaimed, "Billy Porter, you have brass balls!"
Porter's ability to be handed a mic unannounced and snatch the spotlight in a room as stocked with talent as the Tonys encapsulates what it means to make your own version of luck. "I've never had a problem with stopping anybody's show," he quips, but that's all due to a preparedness that's been honed to perfection over his 30 years in show business.
"I think the greatest part about what's happening to me right now is that I've just really been set free. I'm being myself without apology; I'm just being who I am." About that Tonys karaoke, Porter says, "I am prepared! I spent my entire 20s in piano bars until 4 o'clock in the morning singing 'Everything's Coming Up Roses'!" (Reminiscing on his nights at Don't Tell Mama in Hell's Kitchen, he adds that, for what it's worth, such watering holes can be formative for the early-career musical theater performer: "I would always try out new material for auditions; my whole test was if I could stand in front of this room of crazy drunk people and silence them with the song, then it was ready.")
We're meeting today at the Beekman, a hotel in Lower Manhattan's Financial District, just three days after the Tonys. The week prior saw the New York premiere of "Pose" Season 2, so Porter is in the midst of doing press for the new season and a full-steam-ahead Emmys FYC campaign while simultaneously filming with co-stars Mj Rodriguez, Indya Moore, and Dominique Jackson. Plus, he has a new song, "Love Yourself," dropping in two days. Is he exhausted? Yes. But it's nothing compared to a career in theater.
READ: How the 'Pose' CD Built its History-Making Cast
"Eight shows a week is eight shows a week, and it's always eight shows a week, and it never goes away until the show is closed," Porter says. "It teaches you how to gauge yourself. It teaches you how to take care of yourself, how to modulate, how to know when to give 100 percent and when you can hold back and fake like you're giving 100 percent. It teaches you stamina. So I'm exhausted, but I know what exhaustion feels like and having to work. If I can just get six to eight hours of sleep, I'll be fine; if I just make sure that I have that jug of water with me—and sometimes a nice sparkling wine."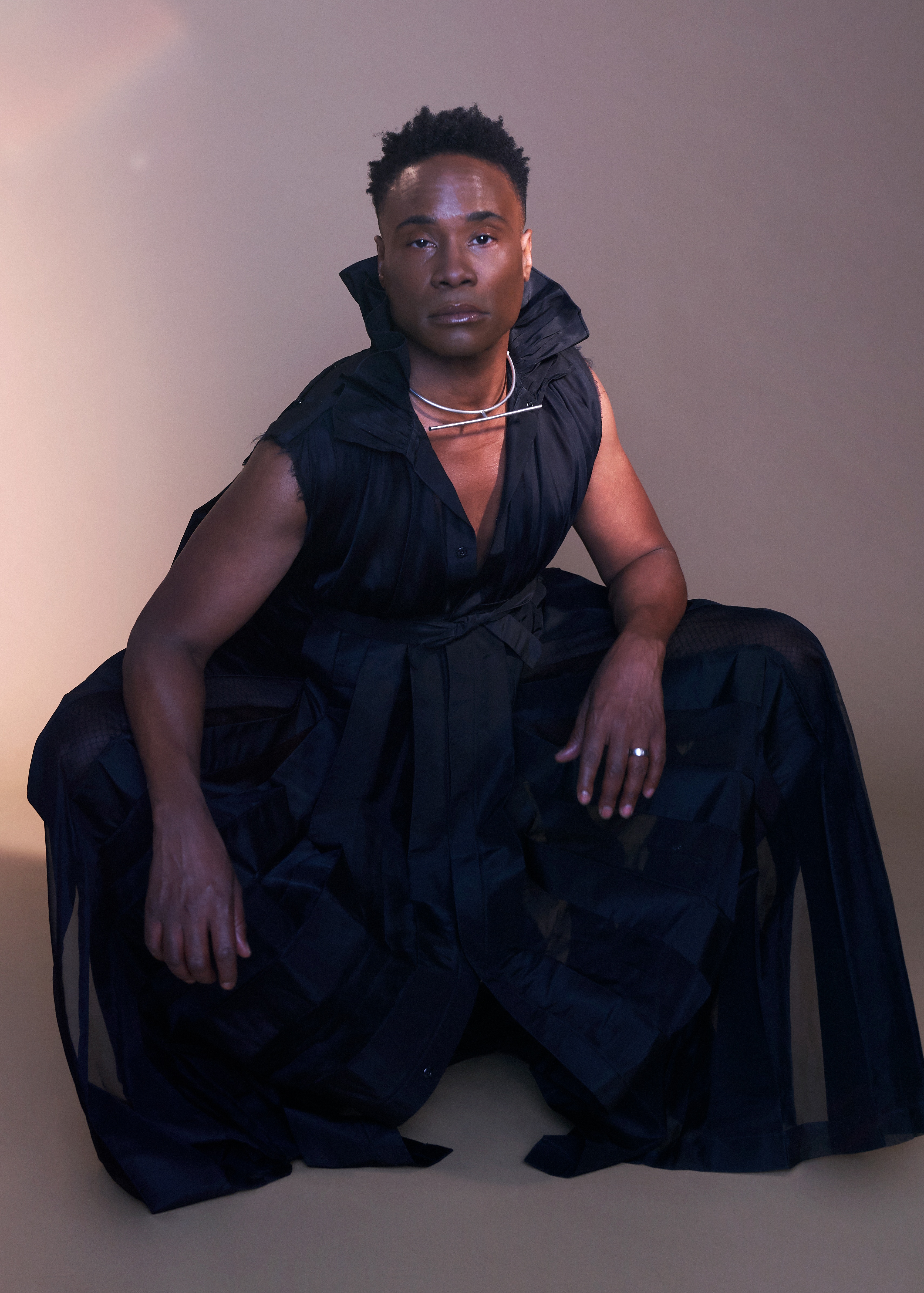 Right on cue, our server delivers his order: a Cobb salad and a glass of Billecart-Salmon Champagne. Throughout our meal, Porter is uncensored, but not flippant; engaged and impassioned, but not overbearing. He's confident. Taking a page from Oprah Winfrey and Maya Angelou, he explains that everything changed when he redirected his life's intention to be of service, even in an industry that's "inherently narcissistic." So, taking advantage of the forum Backstage allows, he's eager to pass on what he's learned along the way. He knows he holds the mic now, and he's ready to make the most of it.
"I'm grateful that I'm 50 and I know what this is; I've seen it," he says, referring to the pomp that comes with celebrity. "Thirty years of theater and 20 to 30 years of watching all of my friends become famous… To watch what's required, to navigate these spaces and hang on to your humanity and not get burnt out by it, and to deal with fame in a way that has grace, in a way that you can hold on to your truth—I'm ready! I'm ready."
A career in the arts, after all, begins with the belief that such a livelihood is possible in the first place. It means believing in yourself and telling yourself "yes" when others are saying "no." It means actualizing the life that you desire.
READ: Billy Porter Remembers the Time He Refused to Audition for Steven Spielberg
"Everyone was telling me that my gayness was a liability, and, in fact, that's exactly what I needed to lean into to be of service," Porter says. Set during the HIV/AIDS crisis of the late '80s and early '90s (a moment in history that Porter experienced firsthand), "Pose" is a landmark prime-time drama for its queer, POC, and trans perspectives. "Kinky Boots" won Porter a Tony in 2013 for playing a business-savvy drag queen named Lola, and as a "Pose" Emmy nominee, he's the first openly gay black man to be recognized in the dramatic lead actor category. The star's gayness, it turned out, is his asset.
"We speak into existence what we are. If you keep saying, 'I can't,' then you won't. If you say, 'I can,' then there's a transition that happens all around you," he says. "Me speaking life into myself ultimately has changed my life."
That self-actualization began when he first ignited his passion for performance—initially through afterschool programs, then regional summer work—as a child and teen in Pittsburgh. Porter has previously detailed how the arts were a means of getting him out of what was at times an abusive, traumatic home life. "And I had the kind of singing voice that could get me out," he says. "I'm just grateful that I understood early that was what it took, so I could focus on it."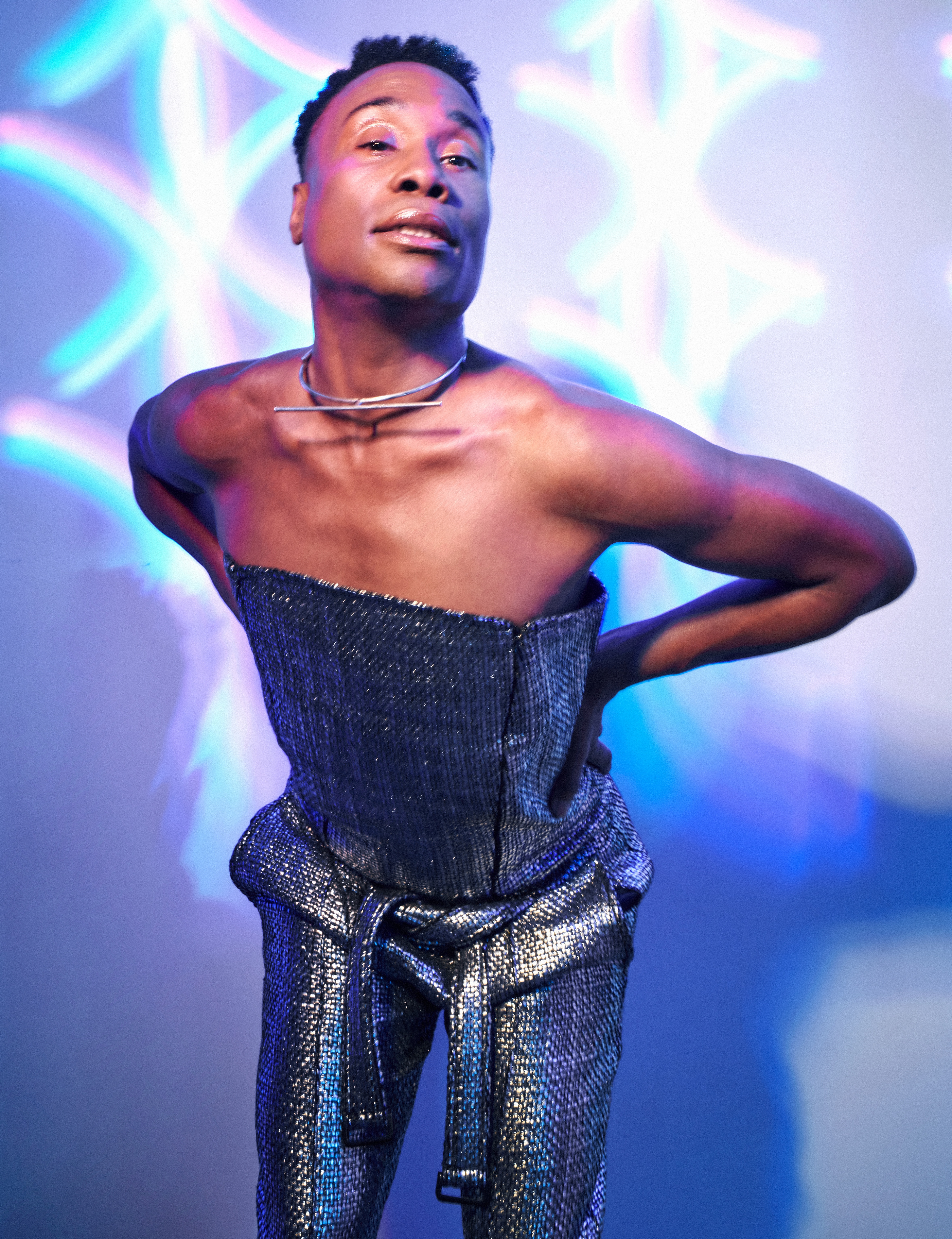 At 17, he graduated from the Pittsburgh Creative and Performing Arts School, where he set his sights on higher education at the behest of CAPA's drama department educators, among them Peggy Hughes-Ruslander.
"If you don't know, you don't know. I didn't know that I was supposed to go to college. I was like, 'I'm going to New York!' They caught wind of that, and they pulled me by my ear: 'You're not going anywhere but to Carnegie Mellon to learn how to talk, because while you are the greatest singer we know, and while you dance beautifully, every time you open up your mouth, it's a disaster. If you learn how to act, you'll never be out of work by your own choice. You will never be out of work because you'll have every skill to work all the time.' And they were right!"
While Porter may still occasionally find himself fine-tuning in a voice lesson or an acting or dance class, it's his formal pre–New York training that continues to be foundational in his performance as Pray Tell and elsewhere.
"What was lovely about our training is that they taught us all the techniques. Everything. It was just vomiting different acting techniques onto us, but never telling us what they specifically were so that we could pick and choose what worked for us individually," he recalls. "So, I can't tell you what technique I'm actually using, but I know that it's a bunch of different things."
Even without the explicit Meisner or Stanislavsky reference points, Porter clearly knows how to break into a character and deliver. He's been proving it since he was first cast as an ensemble member in the original 1991 run of "Miss Saigon," then as a reimagined Teen Angel in the 1994 revival of "Grease." He was undeniably radiant in "Kinky Boots" and "Shuffle Along, or the Making of the Musical Sensation of 1921 and All That Followed." But it's his screen work on "Pose" and last year's "American Horror Story: Apocalypse" that proves he simply hadn't been tapping into all he is capable of.
Acting on camera, he says, has been a learning experience. "I read the script at least three or four times before we start shooting it, because I find the challenge for me as a theater person is that with theater, you're learning something [in full] and the skill set is to try to make the same thing fresh every time. So, how you learn it is to get the lines inside of you in a way that they never go away," he explains. "With film and television, it's a constant influx of material, and so the brain—at least my brain—[is] not memorizing to hold onto it for any length of time. You're memorizing for short, little moments."
Additionally, without reading the script several times over, it's difficult for an actor to find their place within the greater context of the piece. It's essential to know your place, no matter the role. "What I love about reading the script is that I know where I fit—as a director, as a writer, I get where I fit," Porter says. "I get what my archetypical function is. Sometimes it's me in the front, sometimes it's me as a supporter. But I know the big picture. I know what energy to come into."
Through that process, "Pose" creator Ryan Murphy has been instrumental in giving Porter the space to bring his authentic self to the role of Pray Tell.
"Ryan Murphy has taught me to dream the impossible. I didn't even know how to dream this. I didn't know how to dream Pray Tell. It never looked like Pray Tell; it looked like me shoehorning myself into some archetype that already existed," Porter says. "Ryan has truly taught me how to own the power in that, the urgency in that. The leadership in that. It's time to lead. I'm finding myself in a position where it's like, 'Oh, wait, I'm the leader now. My generation are the leaders now. We've gotta step up.' Whatever that means."
In part, that means Porter is already looking to the future. So contagious is Murphy's dream-fulfilling that Porter is already drumming up his next chapter by following in his footsteps. He wants to be the HBIC.
"I think it's more about me becoming the person who creates it—me becoming my own version of a Ryan Murphy. Me becoming my own version of an Oprah Winfrey. Me becoming that," he says. "Me having the power to make sure that our stories stay at the front, having the power to greenlight those projects and the power to find those stories and make sure that they're told in the right way, in the right form with the right kind of focus and energy around it. I'm trying to be the Head Bitch in Charge! I've got to do that."
Suffice it to say that if the past is any indication, it's just a matter of time before Porter manifests that dream into reality. He's ready.
This story originally appeared in the Aug. 1 issue of Backstage Magazine. Subscribe here.
Photographed by Chad Griffith on June 12 in NYC.