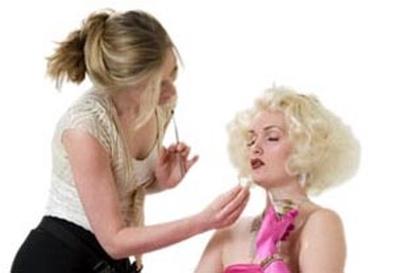 Brett Freedman
Owner-creator of Vanitymark Cosmetics, Los Angeles
The first thing guys have to realize is everything's just intensified. So the main thing — unless you're a real character actor — is to keep the brows with less girth. Brush them and trim the tips off. That makes a big difference.
Use anti-shine. If you're a little bit dewy when you walk in, you're going to look really shiny. Blot Powder by MAC is really great. It's in a compact and it comes with a little puff, and it doesn't have any pigment. You can dust that over the T-zone, and it will zap any shine, and it's not like makeup. Or you can do the Clean & Clear sheets. Even in a pinch, in the bathroom, use the toilet-seat liners. Just grab one and bunch it up and blot your whole face.
Also, with hair, anything that's going to make the eyes look less expressive — heavy bangs or anything on the forehead — you might want to brush that back a little to make it a little cleaner-looking. [For beards,] maybe shave under the jaw line and around the cheeks, just to sort of tailor it a little more.
For women, the big thing is lightening up. Keeping the skin matte — using foundations, shadows, and everything that has a more matte finish will just universally be more flattering on camera. They might want to change their makeup a little and avoid things with shimmer. What's really hot right now are those mineral powders with light reflection, and those are great when you're having lunch with your friends, but that's not going to look great on camera.
Don't overgloss lips. If you want to get a little interest in the face and you're doing everything else very matte, you can do a little gloss, but keep it within the lip line and blot it a shade. You don't want to look like you have motor oil on your lips.
The other thing is lightening up the eyebrows. When you get your hair lightened, have them lighten your brows a bit, so your lashes are the darkest things on your face. It just softens the whole face and makes you look younger and makes everything more expressive, because you're really focusing on the eyes.
Stay away from really muddy colors. You want things that look like your skin — very healthy. Go for things like your natural color but a little more vivid. Same with your cheeks: Use what you would naturally blush. And most women don't blush terra cotta or bronze or anything sort of mauvey. Get things that look juicy and healthy, so that in these lighting situations with a lot of white light, you'll still look balanced and healthy.
Rachel Halsey
RachelGMakeup.com, Los Angeles
From the moment you enter the room, you want to present yourself properly and be ready to slip effortlessly into the role you're reading for. Your face is not only your vehicle for expression; it's a big part of the reason you get the gig.
It's important to arrive well-groomed and naturally made up. You should look like your headshot, since this is what the casting director is expecting. For men, conceal blemishes and dark circles under the eyes, and use a blot powder or blot papers to eliminate shine.
For women, use concealer where needed, foundation if necessary, and powder. Make sure you've blended your foundation well and that it's flawlessly finished to enhance your own complexion. Neutral eye-shadow tones and eyeliner bring out your most expressive features. Curl your lashes, and definitely wear mascara. Fill the brows in if necessary. A lipstick or gloss finishes your look. Have your hair well-groomed, so that it doesn't distract from your face.
Again, always keep consistent with your headshot. The only exception would be when you're called for a character role, or, of course, if you're given direction to look a particular way. For example, if you're called in for a "mobster wife" role, you might want to play up your wardrobe and wear a more dramatic makeup look. However, for most auditions, you simply want to use makeup to enhance your natural appearance and, more important, to give you that extra confidence to help you land your dream role.
AnnaRose Kern
Makeup director for BOXeight Studios and owner of BOXeight Cosmetics, Los Angeles
The most important thing to remember is that casting directors want to see the real you. They don't want to see you all dressed up to go out on the town or looking ready to go out on stage. They want to see you looking like yourself. So keep it natural.
For women, I recommend light-to-medium coverage, and stay away from heavy powders. You want your skin to look naturally glowy and flawless. I love MAC Face and Body Foundation. It never looks overdone.
After that, be sure to define your brows. This can be done with a powder eye shadow or a pencil. Add a light blush to liven up your face. I like petal and peach shades for day. And keep the eyes simple — maybe some taupe shadow to contour, but nothing smoky or dramatic, and steer clear of black liner, as it can look harsh.
Try the BOXeight Cosmetics Shadow Quad in Naturalist for eyes. It has the perfect natural shades for day or night. For lips, I love Neutrogena MoistureShine Gloss in First Blush. It's the perfect rosy pink shade for every skin tone, and it's moisturizing.
For men, keep it very light. A tinted moisturizer (Laura Mercier makes a great one), very minimal powder, and lip balm is typically all that's needed.
While keeping it natural, I also think it's important to consider the role you're auditioning for. If you're going for a younger role, keep the makeup very light and fresh. For a more mature role, you can darken it up a bit. Just as long as you still look like you.