Starring as Anita in the reimagined "West Side Story," Ariana DeBose is poised for the most significant moment of her career to date. She's likely to enter an entirely new echelon of success, so it's just a little surprising that her journey with the film started with her telling director Steven Spielberg, "No."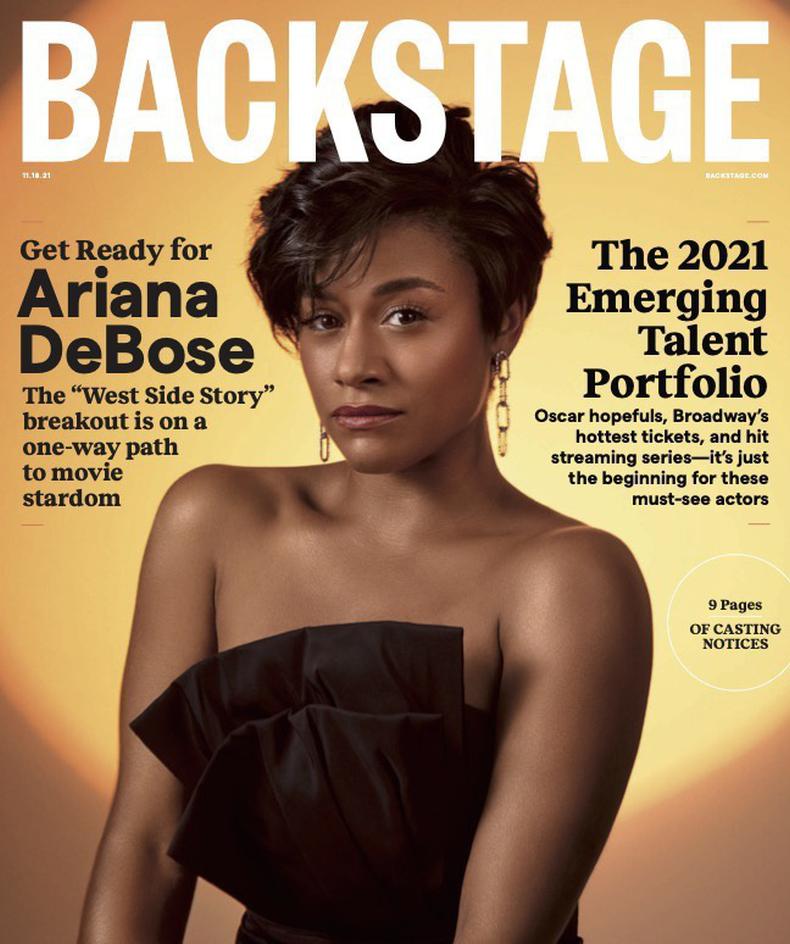 Actually, she said, "No, sir." It was October 2018, and DeBose was performing in Broadway's "Summer: The Donna Summer Musical," for which she'd received her first Tony nomination. "West Side Story" casting director Cindy Tolan—who she'd previously auditioned for—called her at 10 p.m. on a Thursday night to ask if she could come to Brooklyn for a formal audition the next morning.
"I looked at the sides and I was like, I'm not rushing those. If I've learned anything, it's that I should be massively overprepared," DeBose says. She told Tolan, "I'll sing and I'll dance, but I'm not going to read for you." Tolan agreed. Cut to the next morning, when DeBose walked into the audition room and saw, to her surprise, the entire creative team: Tony Kushner, Justin Peck, and of course, Spielberg.
"I sang, and [Spielberg] was very happy, and then he asked me if I would read for him and I said no," she remembers. At this point, Tolan jumped in with a reminder that they'd spoken about DeBose not wanting to hurry her preparation. "And he listened; he took it in…. He was like, 'Will you come back?' I said I would be honored."
DeBose laughs as she tells this story. She did eventually read for Spielberg, and she did eventually get a call from the director asking if she would "be his Anita." But their initial meeting, and her telling him no—politely!—exemplifies DeBose's approach to the industry.
"I realize the most powerful word I've said in the last 10 years is 'no.' You can say, 'No, thank you,' but it's still a no," she says. "There's a way to respectfully express yourself that people in positions of power can hear."
DeBose arrived in New York City at 19 to pursue theater, freshly booted from the reality series "So You Think You Can Dance" and sporting what she calls a "big fat chip on my shoulder." Growing up in Raleigh, North Carolina, she had performed as a dancer for most of her life. But after sustaining several injuries, she knew she needed a break.
Acting was not her first love. "I was pursuing it as a necessity, to allow my body to heal," she admits.
"I'm queer, I'm Afro Lat, I'm biracial. I have so many different labels. I'm like, Good lord—I am America!"
Once she started to train rigorously, though, something clicked. She realized that acting, dancing, and singing are all storytelling, just "wrapped up in a slightly different package," she says. "Acting, to me—it is music; it is choreography. It's how you try to communicate, it's how you touch people, how you move around them. I always say dancers make the best actors, because you're taught to create a story in your brain as to what you're dancing about, which inherently is acting."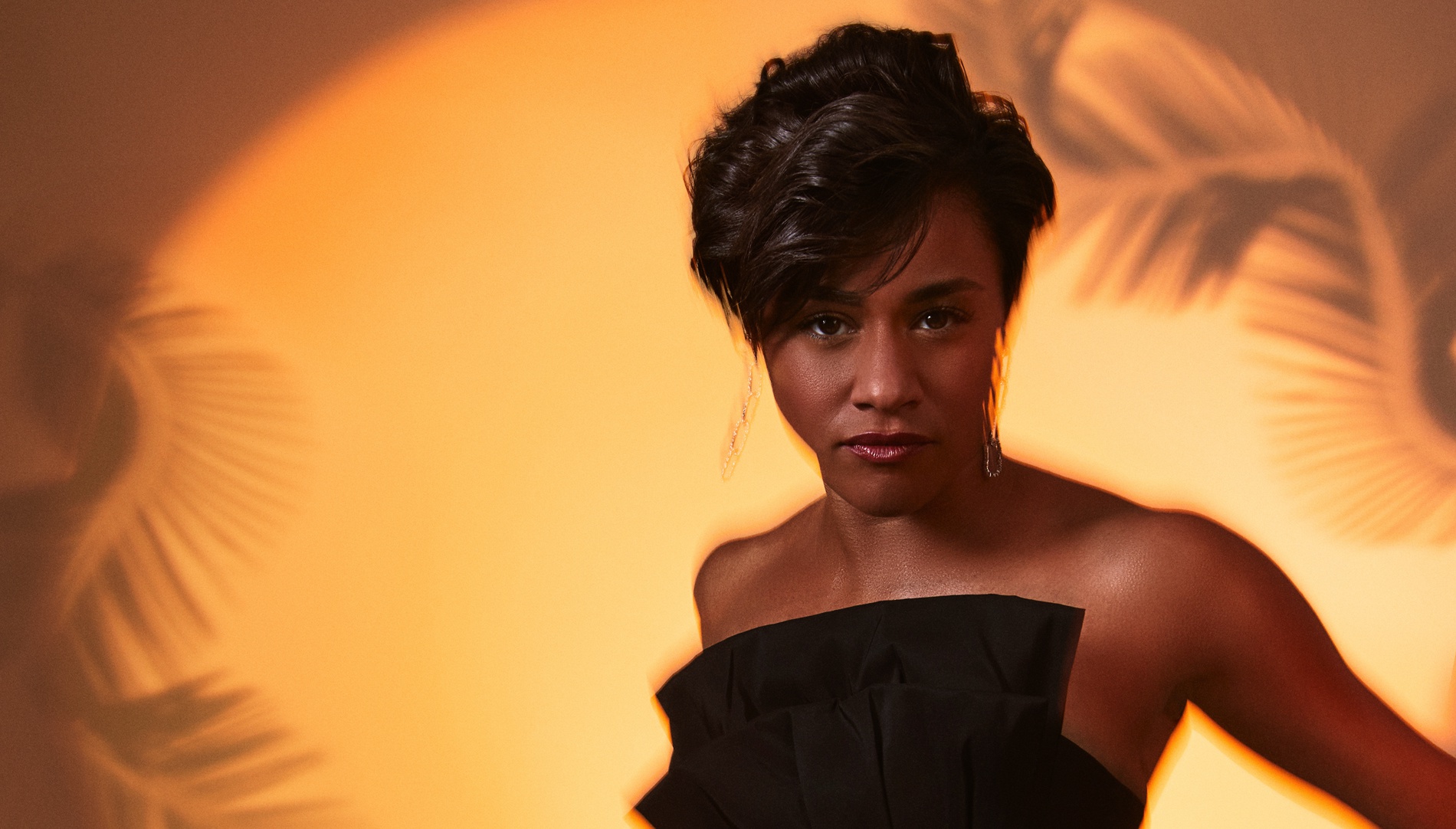 Early on, she focused on dance-based auditioning—musical theater ensemble tracks, mainly. She had her 16 bars and a few songs she was great at, "and there was nary a room I went into that I didn't feel like I was putting my best foot forward," she says. As DeBose was getting her bearings, she knew she also needed to find ways to understand the industry's inner workings, since she had never gone to any sort of acting school.
She took what she calls a "real-world approach to the business… The way I chose to educate myself was getting online and going to the Actors' Equity site, understanding what a breakdown looks like, really reading it, and noticing: These names keep showing up. Why are they important right now? What kind of work do they produce?" she says. "I could walk into a room and understand: That's Kevin McCollum—he produced A, B, and C. This is Sergio Trujillo—he's done this many shows with this director."
She adds, "I don't believe in the myth being sold to young people that if you don't go to university, you cannot and should not pursue this line of work." Less than a year into her time in New York, she booked a featured role in "Bring It On: The Musical," and she made her Broadway debut in 2012.
From there, she could have chased leading lady roles, but she confesses she wasn't necessarily ready to do that.
Instead, ever business-minded, she took what she calls "logical steps": She went back to the ensemble, understudying larger roles in shows including "Motown the Musical," "Pippin," and the original cast of "Hamilton."
She wouldn't play another leading role on Broadway until 2016, when she originated the part of Jane in the musical adaptation of "A Bronx Tale." "There does come a moment when you start saying, 'I want more,' and people look at you a little cross-eyed, because it's loving what you have and also knowing you want to try for more. Sometimes that makes people uncomfortable," she says.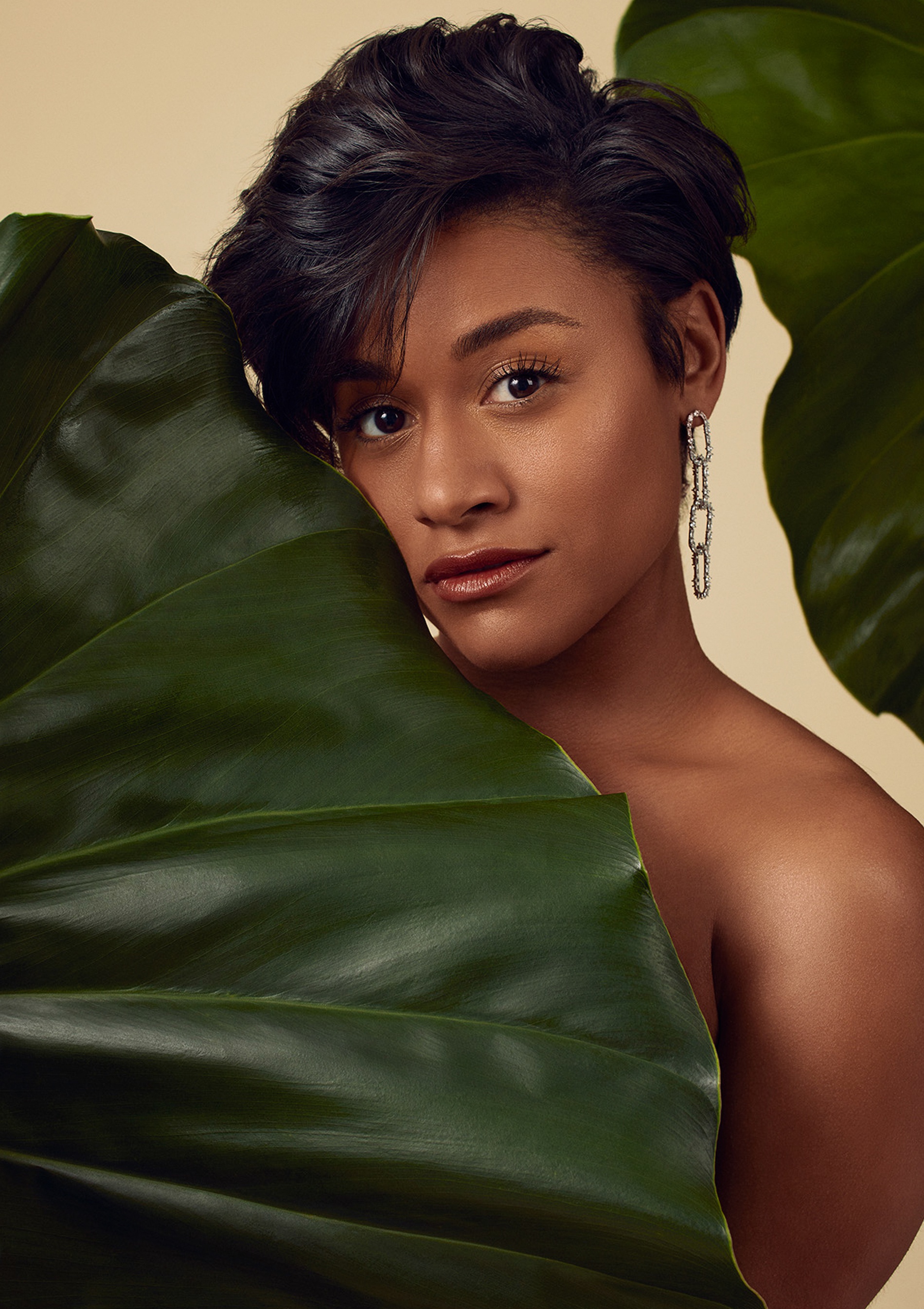 Her career incline was gradual. When she was eventually tapped to play one of three versions of Donna Summer (hers being the Queen of Disco during her ascent to superstardom), it felt like a culmination. She was ready, not just to take on a role of that magnitude, but for the Broadway community to see the results of her years of work. "It helped me show the industry that I'm a viable leading lady, and I'm very good at what it is that I do," she says of "Summer."
It was that Tony nomination that got Hollywood to pick up the phone. "That made film and television casting directors look at me in a slightly different way. And I had been very hopeful that those opportunities would show up," she recalls. "I was literally about to start taking on-camera acting classes again."
She had a leading role in the 2020 Netflix adaptation of the musical "The Prom," performing alongside Meryl Streep and Nicole Kidman. She was also a star of this year's musical parody series "Schmigadoon!" on Apple TV+. More on-camera projects have been announced since, and DeBose says she is especially grateful to be working in film and TV right now rather than on Broadway.
Like many in the theater community, the events of the last 20 months—the shutdown, the reckoning (and lack thereof) with systemic racism, the response to allegations of workplace abuse—have caused her to step back and assess. She paraphrases the James Baldwin quote: "I love America more than any other country in the world; and exactly for this reason, I insist on the right to criticize her perpetually."
"I love Broadway that deeply," she says. "And I haven't figured out the best way to confront some of these issues. I have great respect for so many of its pillars. I have great respect for the activists who are coming forward and creating change. I believe in taking a beat and listening and considering the most conducive thing I can do to contribute to positive change. I don't know what that is just yet. But trust me, when I have figured it out, you will know."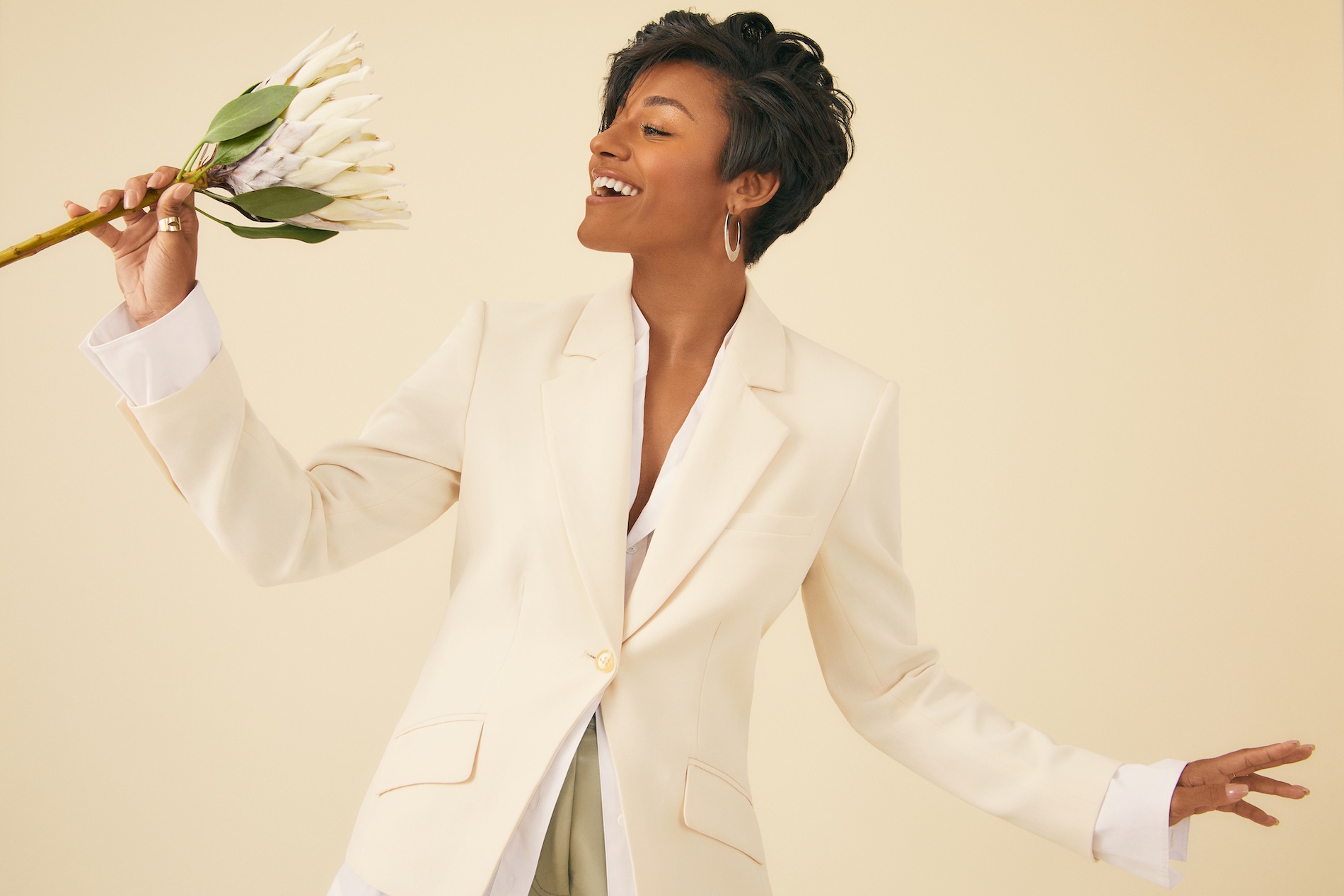 She has grappled similarly with the significance of "West Side Story," which premieres Dec. 10, arriving at this moment in American culture. She has, of course, been proud to be a part of the film from the moment she accepted the role; but a lot has changed since then, both for her personally and in the world around her. All of it has made her think more deeply about what she'll represent onscreen.
"I don't believe in the myth being sold to young people that if you don't go to university, you cannot and should not pursue this line of work."
"I'm queer, I'm Afro Lat, I'm biracial. I have so many different labels. I'm like, Good lord—I am America," she says. "I belong to damn near every single marginalized community in one way or another…. There are real conversations about how we treat people who fall within the margins [in the movie]. And if nothing else, if my image is the embodiment of some of that conversation, then it's worth it. And I'm fucking proud of that."
She's especially appreciative of the creative team's openness to casting a Black-presenting Latina as Anita. It's just one of the ways she's distinguished her take on the role from the 1961 version portrayed by Rita Moreno, who won an Oscar for her performance.
"The first day I met her, I had a panic attack," DeBose says of Moreno, who plays a new role in the musical that was created for this film. "She said, 'What do you want to know?' And I said, 'I would like to know anything that you want to tell me.' And she understood me then. She was like, 'You in no way feel like me. You're fire, like the character, but we are different, and I hope you own all of that.' I said, 'Oh, I will, ma'am.' "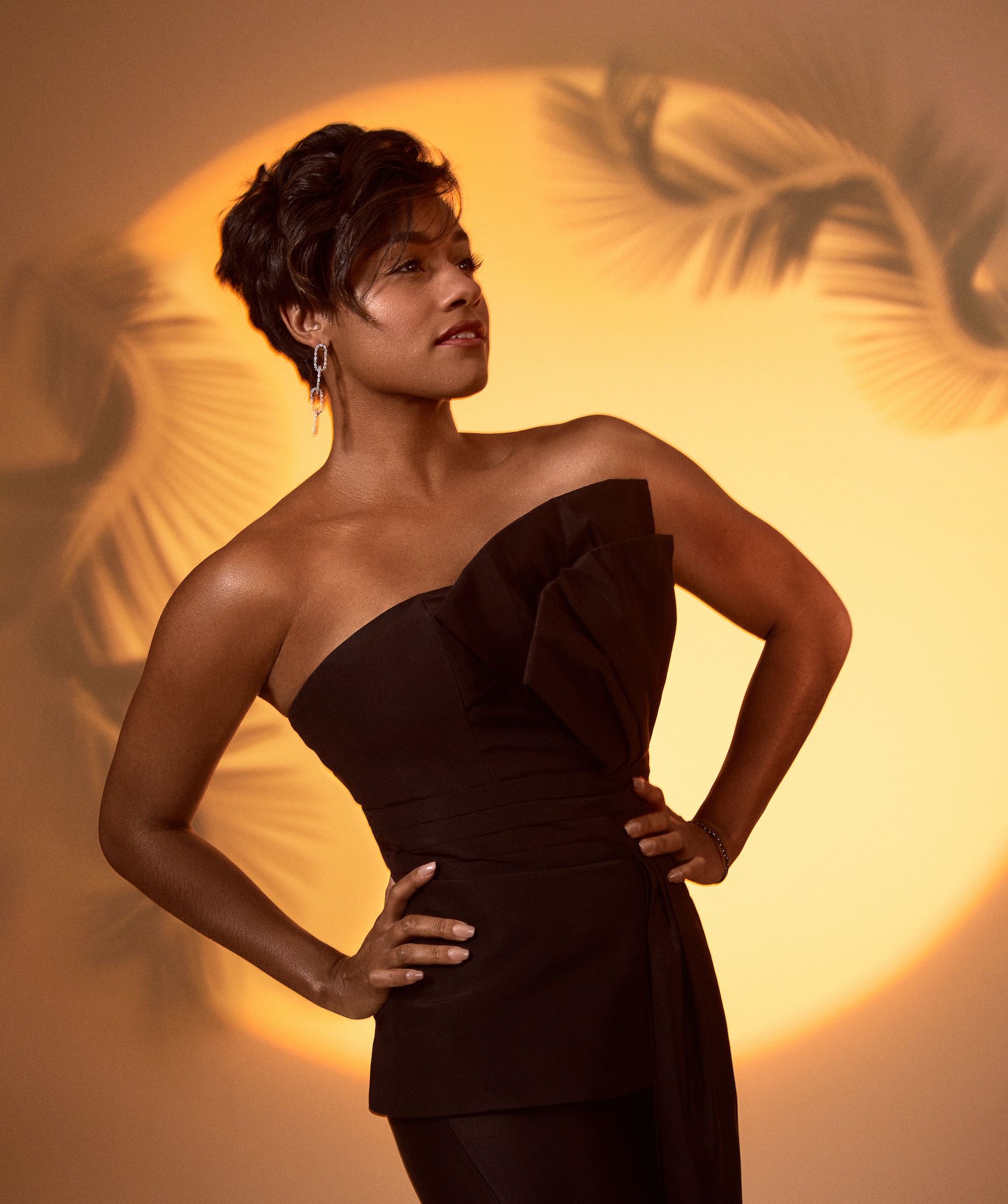 The spirit of embracing what's uniquely yours was a throughline that spanned the production all the way up to the top. In fact, DeBose remembers how her casting experience with Spielberg helped set the tone for her entire performance as Anita. "There was never a moment where I didn't feel empowered to make my own choices for this character," she says. "We were very much on the same page with who we believed this woman was. That's an important part of any process for me. If my vision doesn't align with yours, I should not work for you, because there are so many emotions that come with ownership of a character."
Still a month away from the world seeing the film, DeBose isn't fretting over how its release will elevate her profile. At the same time, she acknowledges that she couldn't possibly prepare for a moment like this anyway—only for what she thinks it's going to be like.
"If I learned anything from watching my colleagues in 'Hamilton,' [it's that] they were ready until they weren't," she says. "Each and every one of them found a way to meet the moment on their own terms. That's sort of where I'm sitting. I'm hopeful that this film will change hearts and minds and make people think about a wide variety of subject matter.
"As to whatever comes as a result of it," she adds, "I am trying to stay present so that I can experience it fully and remember it. I'm not a total idiot. Movies like this, they don't come around twice in a person's career."
This story originally appeared in the Nov. 18 issue of Backstage Magazine. Subscribe here.
Photographed by Emily Assiran on 10/08 in NYC. Makeup by Rebecca Restrepo. Hair by Takisha Sturdivant. Styled by Zadrian + Sarah. Prop styling by Blood Orange Agency.