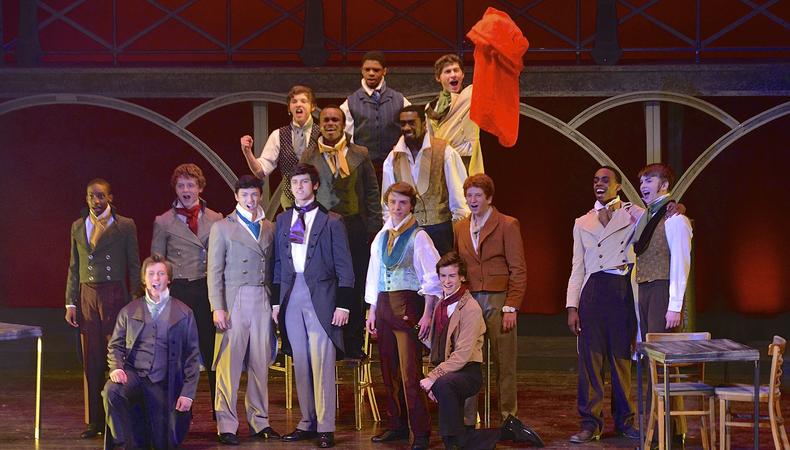 When a child discovers an early passion for performing, it can quickly become an all-consuming interest beyond a mere hobby. They're likely to be just as concerned with hitting that high C or mastering a triple pirouette as say, finding a date for prom. Thanks to magnet programs, like Pebblebrook High School's Cobb County Center for Excellence in Performing Arts (CCCEPA), students in metro Atlanta can have the opportunity to pursue their dreams of a performing arts career and hone their skills at an early age, while still experiencing the traditional turns of secondary education.
"We were the first magnet school established in this school district in the mid-1980s and we offer majors for students interested in vocal music, dance, technical theater, and acting," says Frank Timmerman, director of the CCCEPA program. "Since online classes have become an option, now a lot of our students are taking courses outside of the school day in their core subject areas so that they can free up more time to take performing arts classes while they're on campus."
With a block schedule, a typical day for an upperclass student could consist of three 90-minute blocks of performing arts classes. With that kind of time for training, it's not surprising that graduates then attend top-tier colleges and conservatories throughout the U.S., including the American Academy of Dramatic Arts, Carnegie Mellon University, and The Juilliard School—and go on to successful careers.
Not sure if a magnet program is right for you or your child? Timmerman helps break down the details.
Academics
Pebblebrook High School is a typical public high school (it has about 2,400 students; the magnet program consists of about 400 of them), which means students have the same graduation requirements that they would at any other Georgia high school. The core academic subjects are the same—as are the honors and advanced placement course offerings—but for those in the program, all of their elective credits go to performing arts classes.
There is also an academic requirement for students to be able to apply for the program. "In order for a student to be eligible, they can have no failing grades in their 8th grade year, no discipline referrals, and fewer than 10 absences in the last 12 months," Timmerman explains. "Most of our students are looking to go on to really top-flight college and university programs, so the academic requirement is something they have to be concerned about for college admissions, too." As long as students choose to take the rigorous courses, they're going to be academically competitive with their peers, whether a part of a magnet program or not.
Admissions
Dance is the single major that does require some previous training, as female students must come in on pointe. In the other CCCEPA majors, you're welcome to try out at any level—whether you have professional experience or have only ever sung in the shower. And the actual audition is not the only component of the admissions process. "For me, looking at 8th graders, the first thing I need to see is that there's a passion there for the arts," Timmerman notes. Teacher recommendations—whether from a middle school chorus teacher or a community dance studio instructor—play a large role in connecting him with potential candidates.
In addition to passion, Timmerman looks for work ethic. "That's gonna be what sets them apart a whole lot quicker than their natural singing, dancing, and acting ability," he says. "Singers and dancers are a dime a dozen, but the ones who work hard and understand the time commitment and professionalism that has to go into this, those are the ones that wind up being successful."
Advice
Talent and training "is a given," but that's not the only thing that will help aspiring performers have a successful future career, according to Timmerman. "The thing that is the most important for somebody wanting to have a long career is being a pleasant person to work with," he says. "If you're gonna be successful, where you can work over and over again at the same place, you've got to be somebody who's pleasant to be around, a team player, and supportive of colleagues. And that's what we try to instill while the kids are here: the work ethic and the professionalism."
For more information, visit the Cobb County Center for Excellence in Performing Arts' website.
Inspired by this post? Check out our Atlanta audition listings!