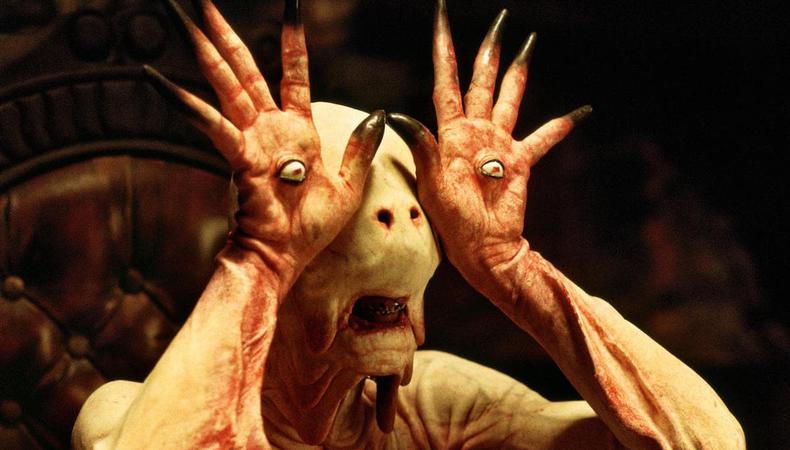 SFX Makeup Artist Job Description: What Does an SFX Makeup Artist Do?
A special effects makeup artist is in charge of transforming an actor's appearance when they have to look scary, undead, not-of-this-earth, bloody, beaten up, older—any transformation that requires more than what a regular makeup artist is responsible for. Basically, any nightmare you've ever gotten from a monster or zombie in a film is thanks to these artisans.
They are responsible for utilizing prosthetics (generally made of foam latex or gelatin), cosmetics, appliances, and spirit gum to create realistic wounds, abrasions, creature features, deformities, aged-up wrinkles, or anything else that will further immerse the audience into the world. Despite the industry's reliance on CGI, the special effects makeup artist's ability to bring otherworldly visuals to life through practical techniques is an invaluable and essential role on the set of any genre film or show.
Additionally, a highly-skilled special effects makeup artist is inadvertently responsible for enhancing the actors' performances. "Special effects makeup [helps actors] because they're becoming a different person," says Sean Sansom, Emmy-winning SFX makeup artist who brought terrifying vampires to life in "The Strain." "It brings out something that they wouldn't do as themselves. Sometimes, actors say they don't even really have to act in the makeup because it kind of does the performance for them, as far as the look, [like] they don't have to have an angry expression. They just have to deliver their lines and go through the motions."
Rick Baker, whose decades' worth of work includes the "An American Werewolf in London," the "Thriller" music video, "How the Grinch Stole Christmas," and "The Nutty Professor," seconds that notion: "When you have a good actor, in good makeup, and he's been sitting in the makeup chair looking at himself in the mirror, seeing himself become something else, and then he walks onto a set and he knows where he is, he knows what he looks like, he gives a performance that he's never going to give on a motion-capture stage."
Department
Hair + Makeup
Alternate Titles for SFX Makeup Artist
SFX makeup artist, FX makeup artist
Crew Hierarchy
Special effects makeup artists work under the leadership of the key makeup artist as a member of the makeup department (alongside regular makeup artists and makeup assistants). They report to them, as well as the costume designer and the SFX coordinator to ensure that what they're creating on the face and body of the actors lines up with what they'll be wearing and what sort of larger effects are happening around them during the scene.
SFX Makeup Artist Salary
Theatrical and performance special effects makeup artists earn an average salary of $64,250. Alternatively, QC Makeup Academy states that "the special effects makeup artist averages $75,000/year," which, as is pointed out, varies depending on "a number of variables," including the scale of a production. The earnings of a special effects makeup artist will vary based on the budget and location of the project, how many days/hours they put in, and their overall experience in the field.
Special effects makeup artists are represented by IATSE Local 706—the Makeup and Hairstylists Guild—which sets guaranteed rates and benefits.
How to Become an SFX Makeup Artist
The modern CGI-dominated industry has shaken up the careers of many SFX makeup artists. The job was a goldmine pretty much from the beginning of feature films (Lon Chaney, Sr., famously referred to as "The Man of a Thousand Faces," laid the foundation for innovative monster makeup) up until the 1990s, right around the time when computer-generated dinosaurs stomped their way across movie screens.
However, that's not to say that almost any horror/sci-fi production doesn't need a talented team of SFX makeup artists these days. Even on non-genre productions, the job is vital when a wound or any type of aging is necessary.
Many special effects makeup artists start as freelance makeup artists and/or production assistants who find their way into the makeup department, most commonly as trainees and apprentices to well-established artists. This may lead to working as makeup assistants and assistant makeup artists.
SFX Makeup Artist Required Experiences + Skills
Many special effects makeup artists have attended craft-specific training and have an extensive background in cosmetology and makeup. That said, some professionals, including Megan Vigil, progress in a less costly: They got where they are by being passionate DIY makeup artists, creating monster masks and makeup techniques via how-to books for amateur and independent films, attaining internships and making connections through workshops and conventions.
"Go on the internet, find out how to do it, get friends, mess them up, burn your friends, make them into monsters, make yourself into a monster...keep playing with stuff," Vigil advised. "Keep researching, go to the makeup stores, go to the makeup conventions, surround your life with special effects and you will become a special effects artist."
It's important to enter into the business with a solid portfolio of work, whether in the form of photographs or independent films you've worked on. He or she should also be extremely communicative and patient, especially when it comes to the actors they'll be using as their palette.
For more on how to get work on a film crew, visit Backstage's crew hub!