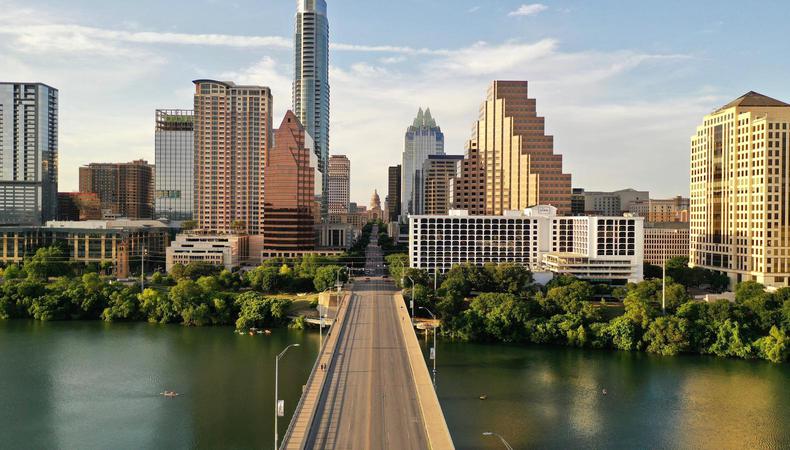 Welcome to Behind the Fest, Backstage's questionnaire series with film festival figures looking for that next big festival hit. Featuring behind-the-scenes insight from the organizers and programmers at Sundance, TIFF, Cannes, and more fests from around the globe, these tips might just hold the key to your indie film success story!
Best known as the festival for screenwriters, the Austin Film Festival began 28 years ago and was ahead of the curve as a festival dabbling in the art of television.
"TV wasn't what it is now," executive director Barbara Morgan tells Backstage. "I remember telling people in L.A., and everybody would just raise an eyebrow like, 'Writers?' " Now, however, Austin Film Festival stands primed and ready to elevate new TV writers within the industry year after year.
The 28th annual festival, running Oct. 21–28, has both in-person and virtual events and will award Emmy Award–winning writer and producer Michael Schur with an Outstanding Television Writer Award. The 2021 fest features seven world premieres and a buzzy lineup including Stephen Karam's highly anticipated debut from A24, "The Humans."
Backstage spoke with Morgan about the best way to network and why AFF specifically serves as a place to stumble across new friends and colleagues in the industry.
How does the Austin Film Festival differentiate itself from other festivals out there?
We're kind of an oddball, because we started as a festival for writers 28 years ago. It's wonderful to work with writers. We started doing television way before any [other festivals were] doing TV. Because our writers were starting to gravitate to cable, film writers were starting to gravitate to cable, and then openly talk about it, not the dirty little secret of writing for television. Now, we've added podcasting, new media, and all kinds of other things, but it's all from the writer's perspective.
What are the potential benefits for a writer or filmmaker to submit to AFF?
The biggest benefit is community, because our people are all out, and they're hungry to talk to each other, and share. That was the cool thing about working with writers; nobody felt like they were cooler than anybody else. They were all in the same boat at some point, and they all remembered it. You walk through The Driskill Bar, and if the Coen brothers were there, that's where they were.
We're referred to by screenwriters as a summer camp for writers because people come and they really get into the spirit of it, and the panelists do too. We've had plenty of films picked up out of here after they have played the festival and won the audience award, or the jury award, we've had Academy Award winners out of the jury award. We look at our role as really more helping somebody have a career, not just a place to show that one film. Just to be blunt, we have a lot of parties, and there's a lot of alcohol, and people are hanging out and meeting each other, and they're friendly.
What is something you wished more people knew about getting the most out of networking?
Sleep when you get home. Because you never know where you're going to have an opportunity, you never know who you're going to meet. It's just like anything, you'll see somebody two or three times, the next thing you know, you're talking to each other. That's really the number one thing, and the number two thing is kind of what I said before, but a much more direct version...everybody hates networking, who doesn't hate networking? It's horrible, and people are also bad at it, because they're trying too hard, usually. Unless you're just a serial killer where you're really good at networking, or you're somebody who just can literally walk in and light up a room, which is a very small crowd of people. The best thing to do is just be friendly.
I tell everybody all the time, don't ever shove your script in somebody's hand. It's the biggest, most off-putting thing when everybody's here to have a good time. I really do think that the biggest piece is people come with expectations, like you sometimes go into a relationship with, so then you're destined to fail.
What about craft or career advice for early-career filmmakers?
That moment where you are so excited to get behind a camera is maybe not the moment that your script is ready. Get each module of the process prepared before you go to the next one.... "This was close, but it wasn't quite ready. You had a good idea, but you hadn't really formulated it. What happens in act two? What happened to the ending?" I think people just get very excited to make a movie, and [it should be about] tempering that to some extent. I mean, that's a big one.
And what is a favorite film you've seen recently?
So I loved "Nobody" and "Pig." This probably says a lot about me, but I thought those were two of my favorite movies this year. They were really different. Those scripts were both really good. I'd say those two movies this year took me to a place where I wasn't even aware. I was also very happy to be in the movie theater, and I wasn't aware of the outside world at all. I was so into those movies.