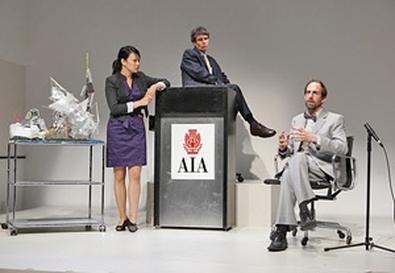 For its first hour, "The Bilbao Effect" is an interesting and engaging play about the increasing absurdity of "starchitects," the (mostly) men who design outlandish buildings that seem to ignore the needs of people in order to boost tourism, giving rise to the titular effect. Constructed as a mock trial at the American Institute of Architects, architect Erhardt Shlaminger (Joris Stuyck) is being sued by a Staten Island resident over his redevelopment project for that borough, which includes, among other atrocities, windows that look down on the ground. But Oren Safdie's play suddenly swerves in the final half hour into a slapstick mess that abruptly stops rather than ends.
Until then, however, Safdie's script is both witty and easy to follow, even as the dialogue becomes somewhat academic. Witnesses at the trial include the plaintiff (Anthony Giaimo), who is suing after his wife committed suicide; a renowned critic (Joel Van Liew), who suffers from multiple-personality disorder, in one of Safdie's more annoying tangents; Erhardt's mother (Lorraine Serabian), who marks the beginning of the silliness; and Erhardt's collaborator (Jay Sullivan).
As the lawyers question the witnesses, audiences get a capsule summary of architecture over the last 50 years. But prosecutor Mitsumi Yoshida (Ann Hu) and defense attorney Allen Kaufman (John Bolton) both come with issues that eventually overtake the proceedings, leaving the mock trial a travesty and the play a bewildering descent into absurdity that director Brendan Hughes gleefully pushes to extremes.
The performers all acquit themselves well, particularly Hu, who delivers long paragraphs of dense architectural history and theory as casually as if she were ordering coffee, and the very funny Marc Carver, reigning over the proceedings as the mock judge. Even Sullivan and Serabian, who have the least well-developed characters, commit fully to the silliness.
That there is silliness of the grade-school level found here is odd, however. Anyone attending "The Bilbao Effect" will likely have an interest in architecture; to switch gears from putting modern architecture on trial to the pandemonium that erupts—complete with shoes as gavels, a hypodermic needle, and a suicide attempt—is exactly the kind of arbitrary excess of which starchitects are accused.
Presented by Center for Architecture in association with Jaqueline Bridgeman, Fritz Michel, and Les Gutman at Center for Architecture, 536 LaGuardia Place, NYC. May 12–June 5. Wed.–Sat., 8 p.m.(212) 352-3101, (866) 811-4111, or www.theatermania.com. Casting by Cindi Rush Casting.