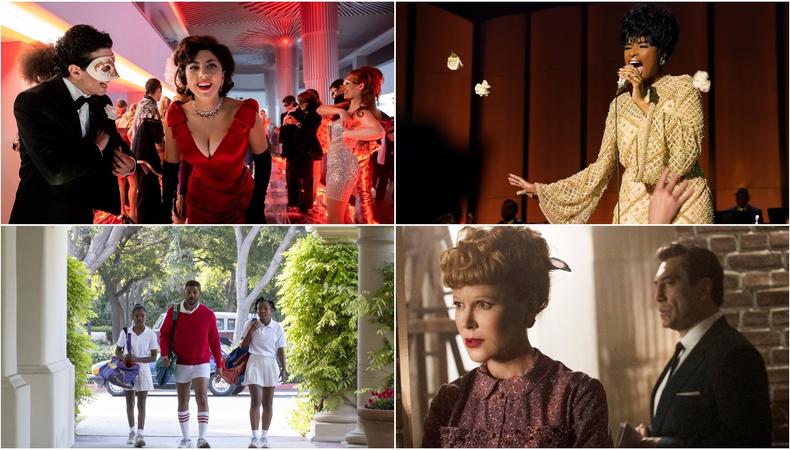 Want the inside scoop on all things awards? Welcome to Letter From the Awards Editor, our series in which Backstage's Jack Smart takes a look at the latest film and television news, industry trends, and awards projections that matter to today's working actor.
Dear Backstage reader,
Do you want to win an acting award? If so, you should consider playing a real person rather than a fictional character. The former is more likely to capture voters' attention, and the 2022 awards season, so far, indicates that trend is due to continue.
Consider the recently announced Screen Actors Guild Award film nominations, which are particularly prophetic this season. Because the Critics' Choice Awards have been postponed and the 2022 Golden Globes announced unusually muted results via Twitter instead of televised ceremony, SAG-AFTRA's nominations are our best indicator yet of who's in the running for the 95th annual Academy Awards. Of the SAG film awards' leading ladies, all but one (Olivia Colman in "The Lost Daughter") are playing real-life figures. In the leading male category, only two (Benedict Cumberbatch in "The Power of the Dog" and Denzel Washington in "The Tragedy of Macbeth") are fictional.
The many controversies dogging the Hollywood Foreign Press Association notwithstanding, the Golden Globe results speak to this tendency to recognize biographical over fictional performances; among the winners were Nicole Kidman as Lucille Ball in "Being the Ricardos," Will Smith as Richard Williams in "King Richard," and Andrew Garfield as Jonathan Larson in "Tick, Tick...Boom!" If you also count contenders playing roles that are recognizable because they're remakes (Globe winners Ariana DeBose and Rachel Zegler in "West Side Story," Critics' Choice nominee Peter Dinklage in "Cyrano," or SAG nominee Cate Blanchett in "Nightmare Alley," for example), the number of actors playing people completely from scratch is slim.
A number-crunching study from the Hollywood Reporter confirmed that playing real people gives you great odds for an Oscar nomination or win. Even more fascinating is that this likelihood has increased over the past two decades; since 2002, close to half of all nominees have gotten on the ballot by playing a real person.
One explanation for this is that a re-creation provides a more obvious metric of success than a creation: Does the actor do a good job transforming into or inhabiting an actual person we can reference? As journalist Helen O'Hara wrote in a BBC article titled "How to win an Oscar," "it is extremely difficult to see what difference is made and which performance is better than another" with fictional characters. "But when an actor plays a real person, you can judge a little better."
Other factors include the actor's resemblance to a character and the source material's commitment to documentary-like facts. SAG nominee Jennifer Hudson doesn't much look like Aretha Franklin, but nominators clearly considered the true-to-life re-creations in "Respect." Golden Globe and Critics' Choice nominee Kristen Stewart provides a physically and cosmetically authentic Princess Diana, but the events of "Spencer" are far from factual, an element that might have factored into her SAG snub. Considering whether Kidman resembles and delivers essential truths about Ball will be part of the fun for awards voters.
Looking at what's shaping up to be a thrillingly competitive awards season for film stars, I can't help but admire the character-builders who started with less rather than more. While Smith, Garfield, and the "House of Gucci" cast had actual people to research, and the stars of book-to-film adaptations "Dune," "The Lost Daughter," and "The Power of the Dog" had source material to read, someone like SAG nominee Caitríona Balfe had only her own relationship with the politics and history of Ireland to bring Ma of "Belfast" to life.
As always, I'm hoping there continues to be variety in what is considered an award-worthy performance. What we don't want is for pursuing a biographical role to become a calculated strategy to win over voters.
Sincerely,
Jack
Looking for remote work? Backstage has got you covered! Click here for auditions you can do from home!