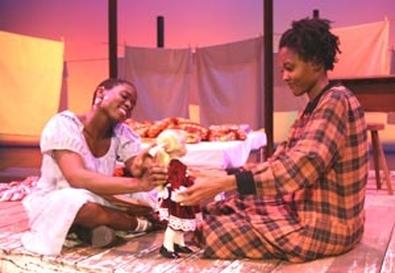 Written in 1970, Toni Morrison's first novel, "The Bluest Eye," is a stunning poetic portrait of a time and a place and a people—black families living in Ohio in the early 1940s—with a particular focus: the devastating effects of racism on one 11-year-old girl. Lydia R. Diamond's powerful adaptation, written 25 years later, is a beautiful homage to the language and characters. But it is not without its dramatic challenges: It leans heavily on direct narration, which threatens to turn the events and the heartbreaking aftermath into too literary an experience. This production, however, strikes a fine balance.
Two bickering sisters are our eyes into this world: grounded Claudia (Tekquiree Spencer) and perky Frieda (Tiffany Danielle), who is as sunny as her sister is sulky. Though they clearly enjoy telling us about the perceived injustices in their own home (the marvelous Johnnett Kent does tough love proud as Mamma), it's a warm and welcoming family. Not like the "peculiar" Breedloves, who, held against the beauty of the white world, "wore their ugliness like a mantle." Reveling in stories of a happy Dick and Jane, their classmate Pecola Breedlove believes in "the magic of little white girls" and yearns for blue eyes. Claudia dismembers her blond, blue-eyed Christmas dolls to see just what makes them special.
Director Janet Miller's carefully choreographed staging gives us strong pictures here; she handles the play's darkest moments effectively, with kid gloves. The wonderful cast tells the often painful tales faithfully, serving the material without succumbing to its lyricism. Spencer and Danielle are charming in their contrast, with a clear, childlike perspective that's never cloying. Sola Bamis is remarkable as the innocent Pecola; we see the roots of her pain in Shamika Franklin's gripping portrayal of her mother and in Willie Mack Daniels' Cholly, Pecola's damaged father. Kwesiu Jones and Danika Butler complete the ensemble. On a simple set by Marika Stephens, Jeremy Pivnick's lighting also plays a strong role, but John Zalewski's sound often gets lost in the venue's tricky, gymnasiumlike atmosphere. In light of its plans to tour, let's hope this worthy piece finds a better home next time.
Presented by Phantom Projects Theatre Group at the Miles Memorial Playhouse, 1130 Lincoln Blvd., Santa Monica.April 8–24. Thu.–Fri., 8 p.m.; Sat., 2 and 8 p.m.; Sun., 2 and 7 p.m. (No performance Sun., April 24, 7 p.m.) (714) 690-2900 or www.phantomprojects.com.