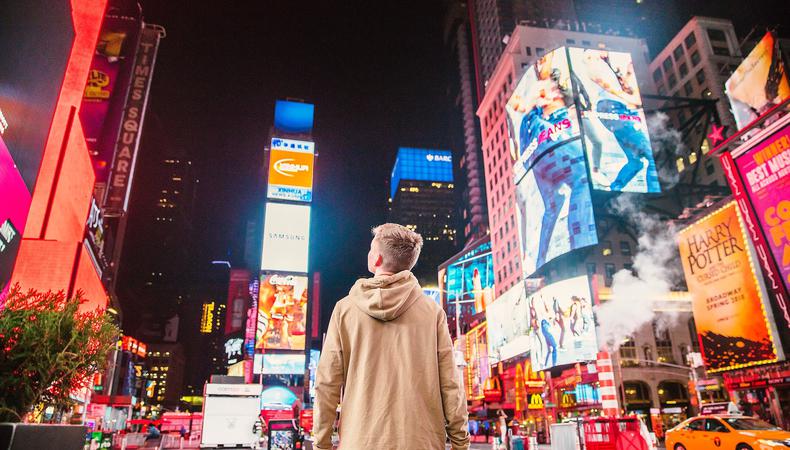 With the World Health Organization declaring coronavirus, COVID-19, a pandemic, and governments all over the world locking down industries and cultural centers, entertainment organizations in the United States are bracing for measures limiting crowd sizes. From Broadway to movie theaters to labor unions, industry leaders are bracing for entertainers and audiences to get sick—and for an industry that relies on social gatherings to undergo long-term financial effects.
Over the past few days, the United States has experienced a surge in diagnoses of the flu-like coronavirus across regions. With no vaccine available and specific demographics vulnerable, the nation has seen schools and universities cancel classes, businesses limit services, and the stock market plummet. Below, Backstage updates you on what the film, television, and theater industries are doing to prepare for the escalating impacts of coronavirus.
This article will be updated as new information becomes available.
SDC and AGMA Unite to Plan Workplace Safety Standards
The Stage Directors and Choreographers Society (SDC) and the American Guild of Musical Artists (AGMA) recently announced a collaboration for creating scientifically rooted guidelines for their members to safely return to work after over 80 days of COVID-19 shutdowns. SDC, which represents theater directors and choreographers, and AGMA, which represents opera singers, choral singers, and dancers, have retained the services of Dr. Mark Cunningham-Hill, Dr. Laura S. Welch, and Dr. Stephen J. Anderson. Cunningham-Hill, who has advised the company Johnson and Johnson during prior pandemics, will lead the team.
Between the two unions, hundreds of workplaces sign collective bargaining agreements that implement union work standards nationwide—from commercial theaters to regional non-profits.
"Whether in the rehearsal hall, backstage, onstage, or in the theatre, SDC members and our collaborators need to know that the producers and theatre companies we work with have and are following science-driven guidelines for a safe workplace," said Evan Yionoulis, president of SDC. "There is much to be done, and we are pleased to be able to work with this expert medical team as we rebuild the means to share live stories of our common humanity, so necessary in this time."
Other unions have initiated such an effort to outline COVID-19 specific workplace safety and health guidelines. Actors' Equity recently held a press conference where they hinted as to what safety standards they'll be seeking before actors can return to work in theaters. SAG-AFTRA, along with other film and television unions, has submitted a guidebook of terms and suggestions to the state governments in California and New York.
Shutdown Closes "Frozen" For Good—Equity Responds with Urgent Warning
Broadway has experienced its first major casualty from the COVID-19 shutdowns: "Frozen." Leaving roughly 34 actors unemployed along with dozens of crew and craftspeople, the musical adaptation of the mega-hit Disney animation is the first running Broadway production to close after the Great White Way went dark in mid-March. (Two other productions, which were in previews, have also closed.)
Mary McColl, executive director of Actors' Equity said the news, "should be an all hands on deck moment for Governor Cuomo, Mayor De Blasio, and Congress.... The arts and entertainment sector drives the economy of New York, just like it does in cities and towns across the country. Decisions made in the days and weeks ahead will shape the future of the arts sector for years to come. Public officials at all levels must think much more boldly about supporting the arts or our entire economy will be slower to recover."
"Frozen," which opened in 2017, was the most financially at-risk of Disney Theatrical's current offerings on Broadway, which includes the long-running "The Lion King" and "Aladdin." Although "Frozen" will be loaded out of the St. James Theater in Manhattan, the continental tour of the production will continue once road houses reopen, Disney Theatrical reports.
SAG-AFTRA Foundation Releases $4 Million in Aid
According to a May 11 update from the SAG-AFTRA Foundation President Courtney B. Vance, the Foundation has allocated $4 million in emergency aid funding for union actors.
Early in the COVID-19 crisis, when social distancing measures brought virtually all in-person gigging to a halt, the nonprofit wing of SAG-AFTRA opened its disaster relief funding operations for newly unemployed and economically at-risk union members.
According to Vance, hundreds of applications are still in review, and it can take up to three weeks to receive assistance once an application is approved.
To access an application for union-member disaster relief, click here.
Broadway Will Remain Closed Until September
The Broadway League, representing Broadway producers, has released a statement confirming that Broadway will remain closed until Labor Day in early September. Despite initial hopes that curtains could rise again in mid-April and then again on June 7, the push-back announcement is unsurprising for one of the nation's most iconic entertainment attractions and one of New York City's most significant economic drivers.
"Today the Broadway League took a difficult but necessary action to put the safety of everyone from the audience to the actors and stage managers first," said Mary McColl, executive director of Actors' Equity Association. "Before our members can safely return to work, we will need new protocols that protect audiences and workers alike."
The extended closures highlight the singular damage that COVID-19 safety measures have inflicted on the entertainment industry, which often inherently requires close proximity on stage, off stage, and in the house, with an audience of predominantly older patrons—considered an especially virus-vulnerable population—and tourists.
Ticket holders will receive an email about refund or exchange options from theater box offices.
Entertainment Unions Demonstrate Unity as Uncertainty Grows
At a May 6 press conference by phone, leaders from the big 10 entertainment unions addressed the impacts of COVID-19 on their workforces.
Union leaders representing actors, directors, writers, electricians, grips, and crew members agreed that the entertainment industry would likely be the last sector to return to business as usual, and a COVID-19 vaccine will allow such a return.
"Here's the reality: Because of the nature of the industry, arts and entertainment professionals may likely be some of the last workers able to return safely to their jobs," said Liz Shuler, the AFL-CIO's secretary-treasurer. "And when they do, they're not going to be returning to 'normal'; it's going to be a very different approach to the industry. It's going to change dramatically."
The presidents of SAG-AFTRA and Actors' Equity agreed that Congress needs to do more to provide protection for unemployed actors and increase arts funding in future relief packages.
To read Backstage's full brief on the press conference—including discussions about returning to work safely and union jurisdiction in regards to recorded theatrical productions—click here.
In other COVID-19 theater closure news, the iconic Guthrie Theater in Minneapolis announced that productions won't return to their stages until March 2021.
Film and TV Production Returns to Denmark and Sweden—With Strict Guidelines
Several weeks into a global lockdown to prevent the spread of the novel coronavirus, COVID-19, the successes and failures of different governmental approaches are coming into view. While Hollywood is still shut down, film and television production has revamped in Sweden and Denmark.
Industry guidelines in the nordic countries prevent the number of crew members on set, social distancing, online-video casting, and reduced craft services. When it comes to filming scenes that involve kissing, simulated intercourse, or other intimacy, there are no set guidelines, Variety reports; however at-risk actors, such as older workers, are not recommended for filming at this time, and crowd scenes are off the table for now.
So far, both countries—with small population sizes—have seen less-dramatic impacts on their societies from COVID-19 due to a controversial approach emphasizing proactive measures among the citizenry. Schools in Denmark have already reopened, and Sweden left much of its economy open while imposing strict social distancing.
In Australia, the long-running soap opera "Neighbours" is resuming production with six-foot social distancing standards maintained through creative camera positioning, and clever editing, Variety reports.
It is unclear when the film and television production industry will resume its regular schedule in the United States, as well as other parts of the world.
New Data Follows COVID-19's Impact on Artists, Sees a Shift to Digital and Online Programming
Thirty-four percent of cross-spectrum arts organizations in the United States have reduced their artist workforce, according to Americans for the Arts, one of the nation's most robust advocacy organizations. The data, shared with Backstage, is being assessed on a rolling basis after the organization opened a snappy COVID-19 impact survey on March 13, asking the arts and culture industry to share how their functions have been depressed by the pandemic.
So far, Americans for the Arts estimates that nonprofit arts organizations, the employers of professional artists nationwide, have collectively lost up to $4.5 billion—with the number rising daily. Virtually all polled organizations have canceled events, and 29 percent have had to dig into reserve funding to stay afloat.
"There does not seem to be any geographic variation in where the losses are being observed, as performances and exhibitions and work across the disciplines have largely come to a standstill," a spokesperson for Americans for the Arts told Backstage. "The one 'geographic' exception where we are seeing an increased arts presence is digitally and online." Forty-seven percent of arts organizations have increased online access to programming, the statistics indicate.
The COVID-19 economic impact survey remains online for organizations to submit data on on-the-ground impacts. In partnership with Artist Relief, Americans for the Arts is also conducting an anonymous 15-minute survey for artists and creative workers. "Respondents so far have included practicing artists, teaching artists, creative workers, culture bearers, and hobby artists," Americans for the Arts told Backstage. Initial results from the artist survey are expected within a few days.
For a live-updated dashboard of COVID-19 impact data so far, click here.
Actors' Equity Warns Theaters—Don't Reopen Too Fast
With health experts advising vigilant social distancing for the foreseeable future, the nation's union for stage actors and managers has sent a warning to producers—don't open your theaters before the COVID-19 virus is under control.
"Any employer who wants to begin theatrical productions needs to have a comprehensive plan in place that protects not just the actors and stage managers, but ensures that everyone who works in the theater has a safe workplace," said Mary McColl, Equity's executive director. "It is unclear under the current circumstances how that can happen. Equity will use all of our available resources to ensure that no one is asked to work in an unsafe environment."
The union is encouraging its members to report employment offers to their regional office to be assessed by Equity staff. "We want theaters to reopen," a message to membership stated. "[B]ut, that has to happen while keeping you safe and healthy." It is unclear which theaters the union is referring to regarding productions or reopenings in the upcoming weeks.
Broadway Will Stay Closed Until Early Summer
When it comes to a Broadway revival, June 7 is now the proposed date for actors, and industry workers alike to return to work—and for audiences to return to their seats. The date is, however, by all expert accounts arbitrary—the nation's return to life sans social distance will be determined by efforts to contain COVID-19, the novel coronavirus.
"Our top priority continues to be the health and well-being of Broadway theatregoers and the thousands of people who work in the theatre industry every day, including actors, musicians, stagehands, ushers, and many other dedicated professionals." said Charlotte St. Martin, president of the Broadway League. "Broadway will always be at the very heart of the Big Apple, and we join with artists, theatre professionals, and fans in looking forward to the time when we can once again experience live theatre together."
On March 12, the League announced the closure of all Broadway theaters in compliance with New York Governor Andrew Cuomo's limits of crowd-sizing. At the time, the League anticipated a mid-April return to the Great White Way. Since, the League and unions represented Broadway workers from actors to ushers hammered out a deal allowing union members to get payments during the shutdown.
Box office representatives will contact ticket holders, the League reports.
It is estimated that Broadway contributes $12 billion to New York City's economy.
Deadline for SAG-AFTRA Dues Extended and Late Fees Suspended
SAG-AFTRA—the nation's union for screen and media talent—has announced a program allowing members to delay dues payments if they have experienced a disruption in work because of the coronavirus.
"As working people, we know the great difficulties our members are facing," said union President Gabrielle Carteris. "In order to relieve some of the financial stress so many people are dealing with at this time, the Finance Committee worked to provide much needed relief."
Members experiencing hardship can establish an installment payment plan and extension through their union representative. Members will also be immune from late fees and demerits during the COVID-19 crisis.
The union is, however, encouraging members who can afford to pay membership fees on time to do so by the original due date, May 1. If some members are capable of providing on-time payments, the union will be able to continue its relief aid SAG-AFTRA argues.
The union has also announced that with a return to normalcy seeming farther and farther away, SAG-AFTRA has entered a resource conservation mode, stripping the operations down to essential functions such as residuals payments, contract negotiations, and organizing.
Emergency Union Funding Opened for Stage Actors and Managers Actors' Equity, the nation's union for stage actors and managers, has christened the "Emergency Curtain Up Fund" dedicated to supporting union members who are at-risk because of COVID-19 work cancellations. The union initiated the fund with $500,000 that will be distributed to members through the Actors Fund. Equity will match an additional $250,000 to incentivize small-level donations from supporters.
"Everyone who works in theatre has had their shows postponed and are worried about how they will make rent next month, to say nothing of other essentials like groceries and health care," said Mary McColl, executive director of Equity. "It is imperative that we do our part by creating the emergency Curtain Up Fund and we hope that everyone, from theatre lovers to audience members, actors and producers, will contribute right away to support Actors Fund's vital social services and financial aid programs."
Tax-deductible contributions to the emergency fund can be made here.
Emergency aid for screen actors is available through the SAG-AFTRA Foundation and is also facilitated by the Actors Fund. Click here to read Backstage's coverage.
DGA Announces Two-Week Pay for Below-the-Line Members The Directors Guild of America (DGA) has announced successful negotiations with major studios to provide two weeks of pay for below-the-line union members such as assistant directors, unit production managers, and production assistants for television and film. The union reports that negotiations for relief funding for directors have yet to be solidified since shoots for television and film have been canceled to limit the spread of COVID-19. DGA has also suspended consequences for late dues payments until July 1 and reports that residual payments are being fast-tracked. For a full update from DGA President Thomas Schlamme and National Executive Director Russell Hollander, click here.
2020 Tony Awards Postponed Was it inevitable? Yes. Does it still hurt? Absolutely. The 74th Annual Tony Awards is officially postponed with a new date yet to be revealed. "The health and safety of the Broadway community, artists and fans is of the utmost importance to us," read a statement from Tony producers, American Theatre Wing and the Broadway League.
Fourteen days after Broadway was shut down over COVID-19 concerns, the postponement acknowledges two realities of the pandemic crisis. In essence, the Broadway season is upended, and New York City will take a while to get back to normal—likely months New York Governor Andrew Cuomo suggests.
Broadway's biggest night (and biggest commercial) was scheduled to be broadcast on CBS from Radio City Music Hall on June 7. Producers say they will determine a new date once Broadway reopens.
The Broadway League and COBUG Reach Deal to Get Broadway Actors Paid
Broadway actors and stage managers, represented by Actors' Equity, will receive payments of 150% of the Broadway minimum salary for the week of the shutdown, it was announced. For this week and next, union members will get the Broadway minimum wage—including contributions to health and pension plans via the Equity-League trust thanks to a deal struck by the Broadway League and the Coalition of Broadway Unions and Guilds. "We are a community that cares about each other, and we are pleased that we can offer some relief," said Charlotte St. Martin, president of the Broadway League. "Once we are past this challenging moment, we look forward to welcoming everyone back to our theatres to experience the best of live entertainment together once again."
Rep. Adam Schiff, and Other Members of Congress, Propose Relief Funding for Entertainers
In a letter to Speaker of the House Nancy Pelosi and Minority Leader Kevin McCarthy, Representative Schiff, along with 36 other congresspeople—all Democrats—called for financial relief for independent contractors and freelancers in the entertainment industry.
"The unique freelance nature of work in film, television, theater, and live music means that a large number of the professionals who make these productions possible work only sporadically—often with extended periods between paying jobs—and count on income from each project to make ends meet," the members of Congress wrote. "As a result, many of them can't qualify for traditional unemployment benefits or paid emergency leave, yet will now be unable to cover their basic expenses due to lost work."
SAG-AFTRA clarifies that laid-off union members could likely qualify for unemployment, but the amount would be "low or insufficient," a spokesperson adds. Recently, Actors' Equity advised laid-off members to file for unemployment status with their state's department of labor.
Casting Society of America and SAG-AFTRA Foundation Host Online Panel for Self-Taped Auditions During COVID-19 Crisis
On Friday, March 20, the Casting Society of America (CSA) and the SAG-AFTRA Foundation—the nonprofit wing of the nation's union for screen and media talent—are hosting a live-streamed panel on tips and tricks for auditioning online for union members.
SAG-AFTRA members can tune into the presentation at 5:30 p.m. PT/8:30 p.m. ET to listen to advice from a panel of casting directors and offer specific questions about best practices.
With Broadway Closed, Tony Awards Could Be Postponed
For every day that the COVID-19 crisis forces our world to cope with changes in routine life, more staples of American culture wobble in a domino effect of doubt. The latest event up for speculation is the Tony Awards, Broadway's annual awards show that celebrates workers in the commercial theaters of New York and acts as one of the most beloved ambassadors (and advertisements) for shows on the Great White Way. With timetables of social distancing extending by the hour, few can tell when events will get back to normal and when Americans will be allowed to gather safely again. With Broadway shows shut down (with a novel mid-April reopening date), the process for Tony voters seems impossible to meet.
Neither the Broadway League nor the American Theatre Wing, producers of the annual awards show, have yet to comment on how the COVID-19 pandemic could impact the CBS-broadcasted show. However, as days inch on, theater artists have found opportunities for innovation in these unprecedented times, perhaps the Tony Awards will be no different. Only time will tell.
Theaters Across the Nation Consider Streaming Productions to Your Home
Some theaters are starting to get creative in a time when social distancing measures have banned large gatherings. San Fransisco's American Conservatory Theater (ACT) is offering virtual tickets for video-streamed, one-time presentations of their productions "Gloria" and "Toni Stone." Next door, Berkley Rep will also be recording and streaming performances of "School Girls; or, the African Mean Girls Play" and "Culture Clash (Still) in America" for ticket holders using the BroadwayHD platform. In Houston, the Alley will be broadcasting its production of "1984" for a limited time to paying audiences.
Several theaters around the country are sprinting to pull together the infrastructure to record and stream the performances that would otherwise be playing on stages in front of live audiences. While streaming technology is more ubiquitous than it was before, producers (be they professional theaters or schools) need to clear legal hurdles like getting permission from art unions or playwrights. Broadway Licensing and Playscripts, however, has removed one obstacle by making several productions available for educational and amateur programs to livestream through YouTube, Facebook, or Vimeo.
"These new streaming agreements help protect the economic security of Equity members with additional weekly salaries and health care contributions," says Mary McColl, executive director of Equity. "When theaters go dark, actors and stage managers face tremendous economic uncertainty. A streaming agreement can be a win for everyone, from the audience to the actors and stage managers."
However, concerns of licensing or residuals aren't the only topics looming over the streaming option. Theaters are urged by union leaders to ensure that actors aren't put at risk during performances that require close proximity on-stage or off-stage in the dressing rooms. Teachers are encouraged by theater and education advocates to consider student privacy if productions are launched onto the world wide web.
As estimates of how long social distancing measures could quarantine culture in the United States expand, streaming productions could become a common practice for, hopefully, a temporary time.
In a breaking statement, Equity encourages professional producers interested in streaming performances to contact their offices.
Emergency Relief Fund Opened for SAG-AFTRA Members
The SAG-AFTRA Foundation, a non-profit wing of the national union for screen and media talent, is utilizing the union's Motion Picture Players Welfare Fund to open disaster relief funding for member actors.
"Even in the best of times, the life of a performer can be a struggle," says Foundation President Courtney B. Vance. "But these are unprecedented times. With hundreds of productions going dark, many of our fellow SAG-AFRA members will face even greater hardship than usual."
The foundation is partnering with the Actors Fund to administer emergency relief services for union members on the ground in entertainment epicenters like New York and California.

To access an application for union-member disaster relief, click here. To read more about this development, click here.
Equity Calls on Producers to Postpone Auditions
In light of new federal regulations strictly limiting public gatherings nationwide, Actors' Equity has called on producers who haven't done so already to cancel auditions. Spring is typically a hot season for Equity principal auditions (EPAs) and chorus auditions (ECCs); however, with Broadway productions closed and theaters suspended, all industry activities have come to an abrupt halt within the span of a few days. Cancellations have been implemented nationwide to avoid the viral spread of coronavirus, COVID-19. In a press conference this afternoon, the president encouraged Americans to drastically curtail social activity.
The Actors Fund Offers Live-Streamed Concerts to Raise Spirits and Awareness
Looking for entertainment during self-isolation and quarantining? With theaters closed across the United States, the Actors Fund, the nation's multifaceted human services organization for entertainers, has announced its partnering with Seth Rudetsy and his husband, James Wesley, to produce a daily online show showcasing famous actors—and the Fund's initiatives. However, given recommendations for strict social distancing to stop the spread of COVID-19, the performances will be filmed in the actor's home.
"Stars in the House" will be live-streamed on the Actors Fund's website at 2 p.m. and 8 p.m. ET starting the evening of Monday, March 16. "Our main concern is raising spirits and helping the Fund help those who are suffering," says Rudetsy who's cultivated a cult following through SiriusXM Broadway.

"We're hoping that everyone watching will not only enjoy the amazing singing and the inside Broadway stories, but also donate to ActorsFund.org/Donate."
New York City Increases Restrictions to Theaters, Restaurants, and Bars
A week ago, New York City's entertainment industry was operating with business as usual. By late last week, Broadway was shut down along with other major venues due to concerns over the COVID-19 pandemic. Now, after a weekend of additional shutdowns and emergency declarations at the federal, state, and local levels, NYC (along with New Jersey and Connecticut) is banning gatherings of 50 people or more.
Off and Off-Off-Broadway houses that were in limbo under shutdown guidelines because of their intimate audience sizes are now suspending runs. Movie theaters are closing their doors. Restaurants and bars in the Big Apple are only permitted to serve take-out, and, after a long delay, NYC Public Schools have ceased in-person instruction.
The restrictions and shutdowns are all designed to "flatten the curve" of coronavirus, helping to avoid surges to hospitals and demands on medical supplies. Social distancing, scientists and public officials plea, buys time as governments nationwide brace themselves for an onslaught of severe infections. While these tactics might buy time for healthcare providers, economists worry such measures will put workers, companies, and nonprofit theaters out of business.

New York state governor Andrew Cuomo was asked about the economic impacts of the additional shutdowns on "60 Minutes" last night. "What value do you put on human life?" the governor responded. "[W]e say here it's invaluable. And if you say, 'Well, we're gonna lose 5,000 more people,' I say close the restaurants. I say close the stores. I don't wanna lose 5,000 more people."
Broadway Cancels Performances Until Mid-April
Broadway announced its lights would go dark as of 5 p.m., March 12. The development comes after New York state governor Andrew Cuomo ordered state-wide crowd limits in response to escalating concerns.
"Our top priority has been and will continue to be the health and well-being of Broadway theatregoers and the thousands of people who work in the theatre industry every day, including actors, musicians, stagehands, ushers, and many other dedicated professionals," said Broadway League president, Charlotte St. Martin. The league represents producers and theater owners of New York's professional commercial theater.
Ticket-buyers are advised by the league to contact box offices for refunds. Click here for the full story.
Audition Season + Cancelled Auditions
Springtime is audition season, and many actors are worried about how coronavirus will impact hiring. As government officials and organizations step up social distancing measures, several theaters and casters have canceled auditions, including the Broadway and touring production of "Aladdin," Walt Disney live shows, Music Theatre of Wichita, and Shakespeare Theatre of D.C. With prohibitions on large-scale events increasing, more audition cancellations are likely to follow nation-wide. It is too early yet to tell if the productions are planning to be rescheduled or are in jeopardy.
Actors' Equity has updated guidelines for waiting rooms and audition halls in addition to warning members not to show up to an audition if they're feeling ill. "We know this is a difficult thing to ask for many of you, but hope you will take this practice to heart as an act of solidarity that can help keep not just your fellow members and EMCs [Equity membership candidates] healthy, but also Equity staff and countless others around you," stated the union.
The union is also suspending its demerit policy (or "strikes") if actors miss an EPA [Equity principal audition] until April 15.
The Film Industry Postpones Premieres
The highly anticipated addition to the blockbuster James Bond franchise, "No Time to Die" has been pushed to a Thanksgiving season opening. With additional cancellations or postponements anticipated to follow, movie theaters are now experiencing mandated shutdowns and experts are projecting a $5 billion loss to the industry because of the virus' effects. And while it might seem like streaming companies like Netflix would see a boom with the rise of social distancing and isolation, experts remind stockholders that revenue doesn't rise when services are subscription-based.
Actors' Equity Association Calls for Relief Funding
Actors' Equity—the nation's union for stage talent and management—released a statement calling on governments limiting public gatherings to provide relief funding to arts organizations and artists.
"Limiting public gatherings also means the prospect of lost income, health insurance and retirement savings – to say nothing of the financial crisis those workers will face if their workplace closes down, due to a pandemic," said Equity President Kate Shindle. "Now is the time for Congress and local governments to put workers first with a strong economic relief package to ensure that everyone who works in the arts and entertainment sector has access to healthcare and unemployment benefits. Payroll tax cuts won't help those whose theaters are now dark. For every middle-class actor you see onstage, there are dozens more working behind the scenes and in an administrative capacity."
Shindle's statement references President Trump's recent proposal to eliminate payroll taxes for the remainder of the year, to avoid a severe economic downturn as a result of the virus' impact on businesses.
Theatre Communications Group (TCG) Calls for Action and Assistance
Citing the economic impacts of coronavirus as a threat to nonprofit theaters around the country, the Theatre Communications Group is calling for Congress to provide federal relief to arts and entertainment organizations that will be walloped by falling ticket revenues. Along with the Performing Arts Alliance, TCG has created an online campaign to send messages to politicians in D.C., encouraging artists to be "as specific as you can about the current and projected impact on your theater."
Yale Rep Cancels Remainder of Season
Yale Rep, considered one of the nation's most prestigious theaters, has announced that the remainder of its season is canceled. "It is absolutely heartbreaking that the company of 'A Raisin in the Sun,' which has done some of the most remarkable work I have seen in my 18 years in this job will not have the opportunity to perform," said dean of the Yale School of Drama and Yale Rep's artistic director, James Bundy. "Likewise, it is painful to imagine what could have been, as the creative team and actors cast in 'Testmatch' have been preparing for rehearsals.... These decisions were not made lightly, but we deem them necessary to support the University's efforts to respond to the spread of COVID-19."
Tom Hanks Announces Coronavirus Diagnosis
On Twitter, one of America's most famous and beloved actors, Tom Hanks, announced that he and his wife, Rita Wilson, have been diagnosed with coronavirus during travels in Australia. The megastar reports that he and Wilson will be tested and isolated in the coming days, writing, "Not much more to it than a one-day-at-time approach, no?" Some observers hope that Hanks' announcement might personalize the dangers of the virus for apathetic or conspiratorial onlookers.
SAG-AFTRA Releases a Statement on "neXt" Production in Chicago
Fox and Disney recently informed the Chicago cast and crew of the production "neXt" that a person on the set tested positive for COVID-19. The union reports that they are "working with the production company regarding this matter to determine the timeline and scope of potential exposure to members and others," and have sent a notice to Chicago-area members.
SAG-AFTRA Cancels or Reconfigures In-Person Meetings
In an update from union President Gabrielle Carteris and Executive Director David White, the nation's union for screen, broadcast, and media talent announced that all in-person meetings would be canceled, postponed, or reconfigured. Union leaders encourage membership of over 160,000 not to attend SAG-AFTRA functions if they are feeling ill and to follow social distancing guidelines.
First, Regional Stages Encourage Cleanness—Now, Suspending Shows
After sending out updates of health and sanitation modifications (like added hand sanitation stations and enhanced cleaning), regional theaters are now sending out updates announcing temporary closures. From the Old Globe in San Diego to the Huntington in Boston, performances have stopped in their tracks, and ticket holders have been offered refunds or vouchers.
The Humana Festival of New American Plays, scheduled to take place from late March to mid-April at the Actors Theatre of Louisville has been suspended.
Oregon Shakespeare Festival Goes Dark
One of the nation's only regional theaters to employ actors and artists year-round, OSF, has announced all events at the festival are canceled in light of state policies prohibiting crowded gatherings. The theater, considered the largest classical ensemble in the country, is offering patrons exchanges, vouchers, and refunds.
Boston Establishes Relief Fund for Artists
Boston mayor Marty Walsh's Office of Arts and Culture has announced a municipal service for relief funding to artists living in the city. Awarding individual grants of $500 and $1,000 to individual artists whose creative practices have been squelched specifically by COVID-19, Boston becomes the first major city in the United States to establish such a fund. Applications for the grants are now open and will be accepted on a rolling basis.