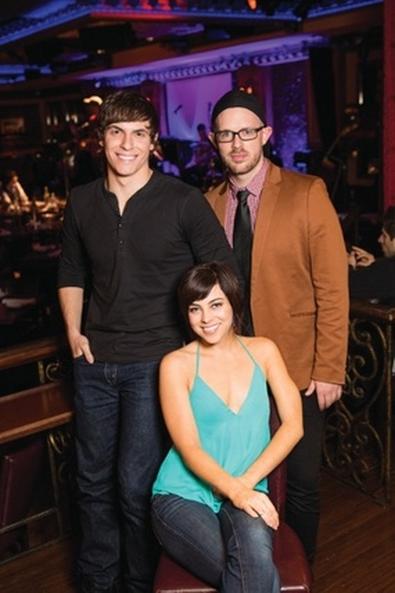 Ryan Scott Oliver is pouring shots. It's tradition, after all. "I equate bourbon to Ryan Scott Oliver concerts," actor Alex Brightman jokes backstage at Manhattan cabaret venue 54 Below, where composer-lyricist Oliver is preparing to make his debut.
But as Oliver continues distributing alcohol into clear cups, he suddenly sees the deep brown liquid dilute. He's hit water, as he had set aside nonalcoholic drinks for the underage Pace University students performing that night alongside the likes of Broadway stars Krysta Rodriguez and Derek Klena.
"For new musical theater performers, it is a formative part of their coming into their own," Oliver says of the importance of bringing in fresh talent to new musical theater concerts. And it won't be long before those kids are the headliners. Only a few years ago, the untested talent was actors such as Jay Armstrong Johnson, who was still at NYU when he began singing for Oliver and, along with Brightman and Lindsay Mendez, began collaborating with Oliver before they had any name recognition. "They have forever changed my music," adds Oliver. "Until they sue me for changing the sheet music because of their vocal performances at cabarets."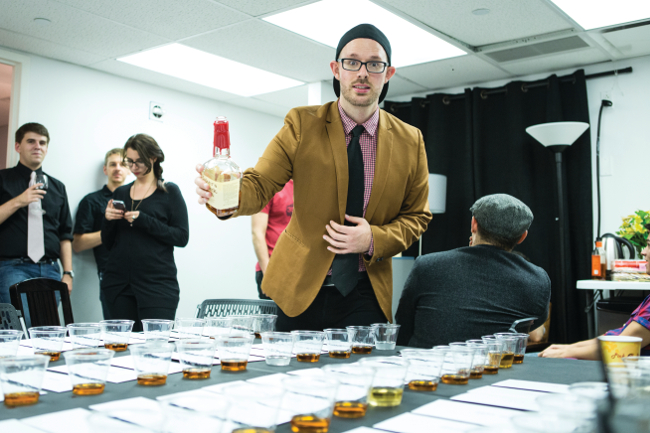 And it hasn't hurt their careers. Johnson has appeared in three Broadway shows, Brightman is in "Big Fish" on Broadway, and Mendez soars above the Gershwin Theatre's stage eight times a week as Elphaba in "Wicked."
"Much of my career has been because of these things I've done on the side," says Mendez, who is the ultimate poster girl for how working with emerging writers can boost an actor's profile. She booked "Godspell" on Broadway through singing a Kait Kerrigan and Brian Lowdermilk song at a concert directed by "Godspell" director Daniel Goldstein. And she landed the starring role in Off-Broadway's "Dogfight," which solidified her as a major presence on the New York theater scene, because director Joe Mantello saw a YouTube video of her singing. In fact, she's sung in so many concerts that "Smash" wrote her into an episode playing herself rehearsing for a benefit.
Young actors should take a page from the Mendez playbook. "If you get asked to do a concert or a reading, do it," she says. "I have gotten so much joy out of planting those seeds and seeing them flourish."
There is no shortage of concerts happening throughout New York. Hosting a night of original music has become something of a rite of passage for any young composer, which is partly due to the Off-Broadway producing model becoming too risky. A show like Jason Robert Brown's "The Last Five Years," which premiered at the Minetta Lane Theatre in 2002 and has become a cult classic, would probably be a concert today. "Anyone can be daunted by the fact that they have to put up an entire musical," says John Johnson, who produced Oliver's "35MM" and whose Broadway credits include "Hair" and "Betrayal." "The energy and drive of these composers is unlike anything that I've seen. They come to these concerts, and there's this rock 'n' roll feel that I haven't seen in the theater in a long time."
Check Out These Composers To Find Your Perfect Audition Song!
Many would argue that Joe Iconis birthed the rock 'n' roll musical theater cabaret and helped create this concert culture, first with his collection of songs "Things to Ruin," which premiered at Ars Nova in 2006. Around the same time, writing duo Kerrigan and Lowdermilk were putting on shows around town, and future Tony nominees Benj Pasek and Justin Paul's song cycle "Edges" became a YouTube phenomenon.
Iconis recalls being frustrated at the slow process for mounting a new musical when his thesis show from NYU, "The Black Suits," got stuck in developmental hell. (Seven years later, "The Black Suits" is playing through Nov. 24 at the Kirk Douglas Theatre in Los Angeles.)
"My whole idea from the beginning was to have a night that didn't feel like a night of new musical theater songs by a new composer," says Iconis, who now has a regular act titled "Joe Iconis and Family," with signature touches such as plastic party cups and Christmas lights. "The idea of using this form in a way that it hadn't necessarily been used before was really exciting to me. It wasn't like I want to do my songs so that people will hear them and then I'll get jobs. It's like, I want to put on a show."
When writers like Oliver and Drew Gasparini saw Iconis' shows, they were inspired to do the same. "I'm a huge fan girl for Joe," Oliver gushes. "I still try desperately to be friends with Joe," adds Gasparini. And the place to hold your concert was Joe's Pub at the Public Theater.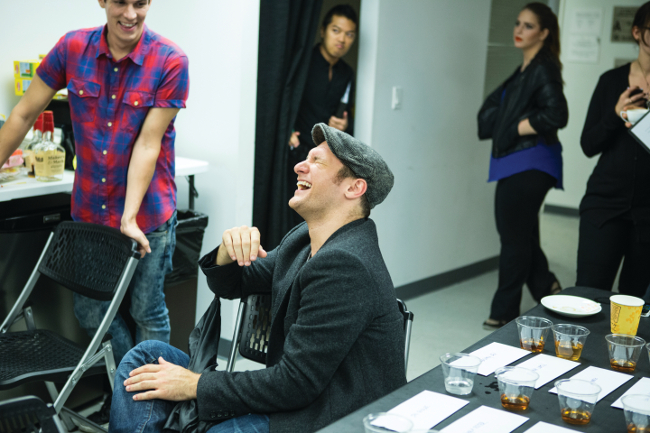 "Joe's Pub feels like the Madison Square Garden for a composer," says Gasparini, who says he sees his concerts as a chance to build a following so producers have a reason to hire him. "You can't just go and write a musical. You have to have a fan base. You need to be a rock star before you can get the attention to write a musical."
Gasparini has had five sold-out shows at Joe's Pub, but after producing so many concerts, both Gasparini and Oliver express a fear that they will become pigeonholed as songwriters instead of musical writers. "You get scared that you're just writing songs for your next concert," says Gasparini, "instead of establishing yourself as a storyteller for musicals."
The term "cabaret" can also be misleading, as it often calls to mind an older woman singing Gershwin songs while sharing life stories. However, the stuffy cabaret perception is rapidly changing, and 54 Below—arguably the highest-end club hosting these writers—is putting its money where its mouth is by hiring young producer Jennifer Ashley Tepper as the club's new director of programming.
Tepper aims to keep the venue's programming diverse but says a priority is to bring in more emerging talent. "We're grabbing those people at the beginning of their careers and before they blow up and become a big star," she says.
Tepper, who has worked on concerts in almost every venue in the city, landed her job through producing Iconis shows at 54 Below. "We were thrilled with the way they were produced," says Richard Frankel, a lead producer for the club. "We just set our sights and went out to get her."
Tepper initially connected with Iconis just by attending his concerts. She wrote a college paper on his song "Helen's in Skin Flicks Now" and sent it to Iconis, and now she produces all of his cabarets. "It feels like a communal thing," says Iconis. "I never think about the fact that that's how I met one of my greatest artistic partners. She just came to shows, you know?"
The barrier to entry for aspiring actors, producers, writers, musicians, and others is low. After the gigs, everyone hangs out at a neighborhood bar, and most composers will announce the bar and invite everyone along.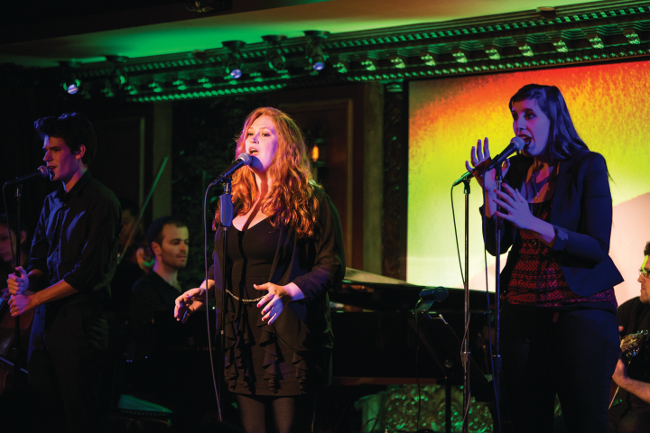 But while many connections are made at bars, it's not a place to hand out headshots and résumés. "Come to the bar and hang out and just be a cool person," says Charlie Rosen, who hosts Charlie Rosen's Broadway Big Band at 54 Below and has played, music directed, and orchestrated many concerts. "It's all about first being a good person because that sets me up to want to like the things that you do. It really boils down to being fun to hang out with."
Rosen's had the same luck nabbing work after some of his concerts. Tony winner Stephen Flaherty came to his last one, and they've since been working together. Hannah Elless, who performs in Rosen's concerts, was recently asked to do five more concerts one night after a show—"Writers ask other writers, and then you get recommended," she says—and she was "discovered" via a video on YouTube, which is an important byproduct of these concerts.
Shoshana Feinstein of Famous in NY films the majority of the shows—and produces as well—and says for composers, having a star like Jeremy Jordan or Aaron Tveit singing their songs online helps them sell sheet music. "We're all just making out!" says Gasparini of the mutually beneficial relationship. Gasparini landed a gig writing for "Smash" when Jordan recommended him, and Iconis, who also wrote for the series, connected with second season showrunner Josh Safran after a concert. While it might seem as if writers would begin to compete for jobs, Oliver says that they support one another and everyone's different styles create more musical diversity in the field.
"There's room for all of us," says Oliver, adding that he's recommended fellow writers for jobs for which he didn't think he was suited. "Stephen Sondheim may be the master of musical theater, but there's a big place for Jerry Herman in those same decades."
The actors perform for free most of the time, and Andrew Kober, who's appeared on Broadway in "Hair" and hosted his own show, "Koberet," argues it's a necessary part of the business. "It's very uncommon for an actor to just get cast in a brand-new Broadway show," he says. "It's important to get to know material and get to know songwriters before they are Stephen Sondheim."
Even though most composers prefer to cast actors with a Broadway credit, sometimes the big names cancel at the last minute. The day before Oliver's 54 Below debut, Jenni Barber, who plays Grace in "Annie," came down with laryngitis. Panicked, Oliver remembered that there had been a concert featuring some of his music the previous Monday and the producer had posted YouTube videos on Facebook. Included in those videos was recent University of Michigan grad Britney Coleman singing "On Monday," which Barber was set to perform. Floored by Coleman, Oliver invited her to sing in his concert the next day.
"Everyone was coming up to me after saying, 'Who is that girl?' " Oliver says. "I can't wait to work with her again."
And maybe that work will be on Broadway. Johnson says there is no doubt in his mind that he'll be producing these writers on the Great White Way one day.
"It's a goal," says Johnson, adding that any veteran producer started forming relationships with writers and actors in their 20s. "I look forward to looking back and saying, 'Remember when we did that show at Joe's Pub?' It's an absolute inevitability in my mind."
CLICK HERE TO VIEW A SLIDESHOW OF PHOTOS FROM 35MM IN CONCERT