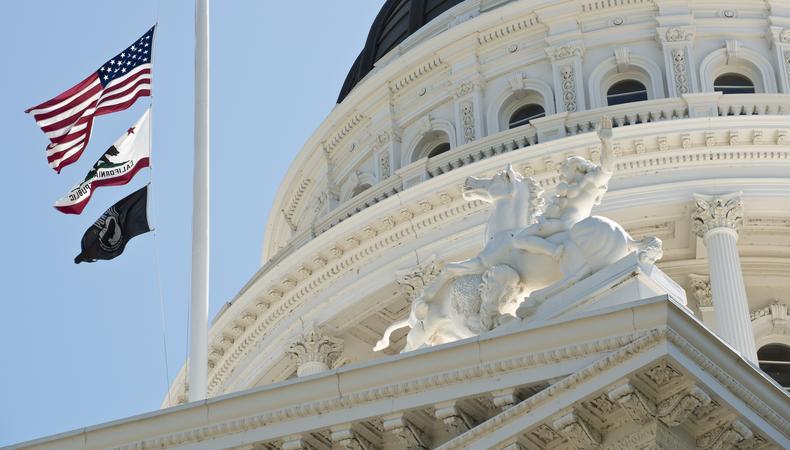 It's been over a year since the #MeToo movement demanded the country confront the normalization of sexual harassment, intimidation, abuse, and rape culture. Despite the conversations, debates, resignations, and protests the movement has spurred, relatively little has been passed in the form of laws. However, in California, Gov. Jerry Brown has approved a new law, which turns the revelations of the #MeToo movement into preventative legislation.
The new law is known as AB 2338—the Talent Protections Act—and it requires talent agencies in the Golden State to provide sexual harassment training to their employees. Further, the law requires talent services to offer educational materials covering topics ranging from sexual assault and retaliation to eating and nutrition disorders.
The law is a significant development for California actors, who often rely on talent agencies and services to book gigs in the industry at large—not just in California.
"Passage of the Talent Protections Act in California is a huge step forward for models to ensure their basic right to safe working conditions," said Sara Ziff, founding director of the advocacy group Model Alliance. "I and other models testified in Sacramento about the unchecked exploitation we have faced in our working lives, from sexual harassment and assault to coerced starvation.... Our work will continue, but this victory is one to celebrate as an important step forward."
SAG-AFTRA, the nation's largest actors' union, has been pushing for a more aggressive status quo for how business is run in Hollywood. This past spring, the union released a series of documents rearticulating best practices for the hiring of actors and entertainers. One essential point the union made was to end the practice of hotel room auditions—which was a surprisingly common practice among directors and casting officials.
The union released additional stipulations, including that actors should be notified ahead of time if an audition will require them to remove any articles of clothing, and encouraging actors to bring a support peer if auditioning actors feel uncomfortable with an audition scenario but still want to attempt to book a gig in a competitive industry.
"We are committed to addressing the scenario that has allowed predators to exploit performers behind closed doors under the guise of a professional meeting," said SAG-AFTRA President Gabrielle Carteris in a statement at the time.
Additional stipulations of the new California law includes that all written materials be accessible in various languages within 90 days of the performer being taken on by the agency.
The law also addresses the controversial and spottily regulated subfield of child acting in the industry. The state's labor commissioner shall mandate that young actors and their guardians undergo state-administered training in identifying and reporting sexual assault and harassment before a work permit is granted for the minor to book gigs. Copies of a child's work permit, the law states, must be kept accessible and on file at the agency representing the talent before scheduling a child to attend an audition, meeting, or interview for a gig.
Agencies must document and memorialize evidence of their compliance with AB 2338 for a three-year term or face fines from the state. Details on the rollout of the new law will be made available to agencies in California within due time, a statement from SAG-AFTRA reads. The union offers itself as a resource to parties to stay informed of the best practices the law dictates.
California has often established itself as a legislative innovator in the industry. This past April, the state's Supreme Court made a landmark ruling offering greater protections to gig workers—a labor category which many actors fall into. With entertainer-based laws like these, other states may be soon to follow—at least those states where the entertainment industry is a sizable influence in the state's economy.