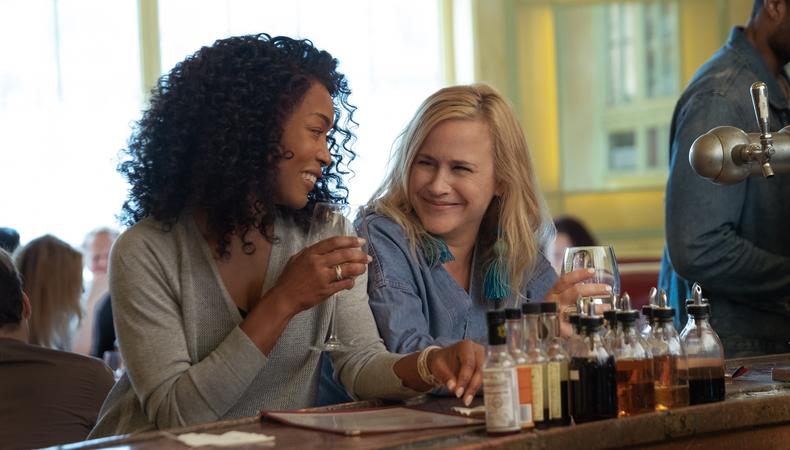 Two-time Emmy-winning writer and producer Cindy Chupack has worn many hats throughout her career. Best known for her work on iconic shows like "Sex and the City" and "Modern Family," Netflix's heartwarming comedy "Otherhood," marks the multi-hyphenate's feature film directorial debut.
"This was a project I could not let go of," Chupack says of the film, which was first brought to her attention over 10 years ago when she was hired to rewrite the script. "I loved the script so much that I took the job defensively so no one would make it into something it wasn't."
"Otherhood" follows three mothers and longtime friends (played by Angela Bassett, Patricia Arquette, and Felicity Huffman) who feel unwanted by their adult sons on Mother's Day. In an effort to reconnect with their children, the three travel to New York City to encourage the men to change their lives. Along the way, they ultimately find that it's their own lives that need rearranging.
Chupack was originally attached to the project as a writer, and she was encouraged by her peers to think about taking the leap into the director's chair; however, the idea of directing was initially intimidating, despite her successes in other areas of the industry.
READ: How to Audition for Netflix
"I originally thought it was a leap to think I could [direct the film], even though I've been on so many sets for television for so long," Chupack says. "Most of the women I know, we felt like we needed to take a Sundance directing workshop before we dared [to direct]. We're just always feeling [like] we need more qualifications."
But Chupack ultimately found directing to be an easy transition once she discovered the similarities to other aspects of filmmaking. "Mentally it was a hard transition, and in anticipation, it felt like a big transition," she admits. "But ultimately, it was really a comfortable thing to step into because it's still storytelling."
Chupack also found comfort in knowing her lead characters were going to be played by actors of such a high caliber. In addition to the trio of women that lead the film (Bassett and Arquette are particular standouts), "Otherhood" also features an impressive roster of supporting players, including Heidi Gardner of "Saturday Night Live" fame. On the casting process, Chupack stresses the importance of chemistry reads: "It was really interesting to see the difference between just a good actor and a good actor where there's great chemistry."
Throughout auditions, Chupack also looked for the actors' ability to take notes and direction. "It needs to seem effortless and you need to be able to see people pivot," Chupack says in regards to giving a great audition. She explains that she routinely gave actors notes, even if their first performance was perfect, in order to see the varied choices they would make.
It was for this exact reason that Chupack loved working with Bassett on set, as she was not afraid to take risks with her character. "Angela did something different almost every time, and it was always interesting and good and deep and rich," Chupack recalls. "It was such a pleasure in editing. I felt like we could have created so many different performances based on what she gave us."
Mastery of these shifts was incredibly important for the film, as the script often required actors to flex both their comedic and dramatic muscles. Chupack urged her actors to treat both genres with equal respect in order to create a performance with great depth. "I think the line between comedy and drama can be so thin," Chupack says. "Bittersweet is my favorite tone. I love laughing through tears and crying through laughter."
Want to hear more from the best creators in film, TV, and theater? Get it right here!