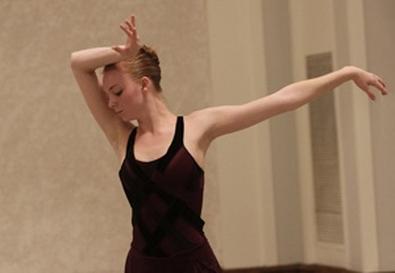 As the ballet world is seldom the subject of Hollywood movies, whenever a new film comes out about ballet, the dance community takes great interest in it. This season's "Black Swan" has been no exception.
Much has been reported about the casting and performance of Natalie Portman in the starring role of Nina. Having studied ballet as a youngster, Portman embarked on a rigorous retraining regimen in order to appear convincing in the film's choreographic sequences.
But what about Mila Kunis, the actor cast as Nina's rival, Lily? She also needed to portray a gifted ballet dancer, and persuasively enough for the character to appear as threatening competition to Nina. Yet unlike Portman, Kunis had never studied ballet. So what did she do to prepare for the role of a classical ballet dancer? She became the pupil of Alexandra Blacker.
Born in San Francisco and raised in St. Petersburg, Fla., Blacker graduated from New York's prestigious School of American Ballet and immediately landed a job with the Los Angeles Ballet. Newly formed in 2006 under the artistic direction of former New York City Ballet soloist Colleen Neary and her husband, Thordal Christensen, from the Royal Danish Ballet, the company employed its dancers only 24 weeks a year.
"So we all had to have other, different jobs," Blacker explains. But because the company leadership strongly preferred that its members not take on other dance performance jobs, Blacker began teaching children's classes at a local dance studio.
Soon after the L.A.-based Kunis was cast in "Black Swan," the film's choreographer, Benjamin Millepied, contacted the Los Angeles Ballet's artistic directors and asked if they could provide Kunis with ballet training. Instead of taking on the task themselves, they recommended Blacker for the assignment.
"It was during one of our layoffs, and they knew that I planned to stay in L.A. for the break to continue teaching my kids classes," says Blacker. "So Benjamin contacted me and told me what he wanted me to work on with Mila. She had to not only learn ballet but also get into amazing shape—and really quickly. But the most difficult thing was that the character she plays is free-spirited and needs to have a very beautiful, sensual quality to her dancing. So not only did I have to teach her how to dance in the framework of a ballerina, but I also had to teach her how to make everything she did look effortless, which is of course the hardest thing for any ballet dancer to do."
She began working with Kunis during the summer of 2009. In addition to giving her ballet lessons, Blacker had the actor do Pilates exercises, cardio workouts on a bicycle, and other kinds of fitness cross-training. "She had to lose a lot of weight—not that she wasn't slender to begin with," Blacker says. "But for the movie, she had to be waif thin."
'I Don't Want to Do This Without You'
Initially, Blacker was supposed to work with Kunis only until the actor left Los Angeles for New York City to begin shooting the film. It was planned that Kunis would continue her ballet training with teachers in New York. But when it came time for her to leave L.A., she suddenly said to Blacker, "I don't want to do this without you." It seems that Blacker had developed a way of translating the technical steps of ballet into a fundamental movement language that Kunis was readily able to grasp.
In addition, Blacker identified one of Kunis' key physical talents: an extraordinary ability to imitate somebody else's movement. "If I did a movement in front of her, she could do it beautifully, but you couldn't just verbalize to her what it was you wanted her to do, even if it was something she had already done. She had no muscle memory in that way," Blacker says. "So we wound up developing a really interesting method of getting across the information she needed, and I learned a lot about how to break ballet down into its most basic forms."
Upon Kunis' request, Blacker was brought to New York and worked as the actor's on-set coach. Originally it was thought that Millepied would teach the choreography to Kunis and that Blacker would continue coaching her on it afterward. "But it just can't be done that way when you're working with someone who can't retain the information," Blacker explains. "So Benjamin ended up teaching me all the choreography, and Mila copied me. I also helped figure out what of it she would be able to really do and how we could film it so as to disguise the parts she couldn't. For example, I would say, 'If we just film this from the waist up, even if she's spinning on her heels rather than her toes, it will still look like she's doing a soutenu.' And Mila would sometimes come up with movements herself that she was comfortable doing and we would use those in place of other steps."
Though a dance double (American Ballet Theatre soloist Maria Riccetto) was used for shots that just showed footwork and for sequences of very difficult steps filmed from a distance, anytime you see Kunis dancing and her face or upper body is visible in the shot, according to Blacker, it is the actor herself executing the movements.