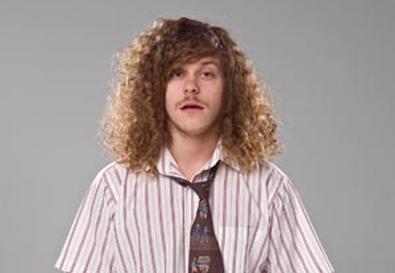 Blake Anderson
Hails from
: Northern California.
Greener pasture
: Los Angeles.
What's in a mane
? Yes, that mop of curly hair is his own. "It's a curse and a blessing," says Anderson with a laugh. While it cost him some early jobs—he was fired from a pizza joint after refusing to cut it—it works perfectly for his underachieving character on the Comedy Central series "Workaholics."
Happy-go-lucky
: Anderson, who trained at the Groundlings and the Upright Citizens Brigade Theatre in Los Angeles, created "Workaholics" with co-stars Anders Holm and Adam DeVine. The trio, known as Mail Order Comedy, had uploaded several sketches to YouTube, which were spotted by the powers that be at Comedy Central. Getting their own series has been a dream come true, though Anderson admits he's always been a content guy: "I was happy delivering pizzas, I really was, but in the back of my mind I always thought it would be really nice to be doing comedy for a living."
Hannibal BuressHails from
: Chicago.
Greener pasture
: New York.
Ride the train
: Plenty of comics leave Middle America for one of the coasts early in their careers. So why did Buress choose New York over Los Angeles? "My driver's license was suspended for parking tickets," he says. "I didn't have a driver's license, so I couldn't be in L.A." Once he was in Gotham with MetroCard in hand, an appearance on "Late Night With Jimmy Fallon" led Buress to a season writing for "Saturday Night Live," then a job as a scribe on "30 Rock."
Typecast as a bum
? After only one season of working for Tina Fey, Buress already has a recurring role—as a homeless man. Usually, writers read for small roles before actors are cast later in the week, he says, but "I got a laugh the first time it was in the script. So they were like, 'Let's just have Hannibal do it.' And then they kept writing it in."
Carly CraigHails from
: San Diego.
Greener pasture
: Los Angeles.
Advice from a wild and crazy guy
: Craig has carved out a niche as a comic actor in movies such as "Hall Pass" and "Role Models," but she had more serious aspirations when she first migrated north on I-5. "I saw the movie 'Titanic' and was like, 'That's what I wanna do!' " she says. But then she met Dan Aykroyd, who recommended that she sign up for classes at Second City. "I figured I should take his advice."
Weird girl
: Craig describes her sense of humor as "naively disturbing," which, as we're talking about someone whose highest-rated video on FunnyorDie.com is an impression of Judy Garland having an orgasm, is a pretty apposite description. As for what's next: "I've got a lot of things on the grill. Don't know exactly what I'm gonna eat yet. That's my analogy and I'm sticking to it!"
Paul W. DownsHails from
: Sussex, N.J.
Greener pasture
: Los Angeles.
Fresh off the boat
: Downs just moved to the Southland from New York, where he recently won an ECNY Award for best emerging comic and praise from Time Out New York magazine for his solo sketch show, "The Paul Downs Syndrome," which he's just introduced to his new fellow Angelenos. "The show is so out there, at first I was a little bit nervous," Downs says. "But it actually went really well and we had a great response."
Special guest stars
: Downs and his collaborator, Lucia Aniello, have also created a number of digital shorts that have gone viral. It hasn't hurt that they've attracted performers such as Vanessa Williams and Jessica Alba to appear in them. "People write shows that have a hook," says Downs. "Mine is a collection of weirdo bits."
Brian GallivanHails from
: Dedham, Mass.
Greener pasture
: Los Angeles.
History lessons
: Gallivan is best known as Sassy Gay Friend, who dishes life-saving advice to heroines such as Eve and Ophelia in videos seen by more than 10 million viewers online. "It was originally a character I did in a Second City sketch show in Chicago back in 2004," Gallivan says. "A year and a half ago, Second City in L.A. was starting a new YouTube channel and they were looking for Web series to film. We did the first three Sassy Gay Friend videos in two days and started releasing them."
Keeping it sassy
: "I always feel like I'm done with Sassy Gay Friend, but then he comes back to life like a big gay phoenix," Gallivan says. He's glad to have found a character that resonates, and he advises against too much career planning: "Be grateful for the wonderful things you do have; otherwise you're being a stupid bitch."
Morgan MurphyHails from
: Portland, Ore.
Greener pasture
: Los Angeles.
Photo bomb
: Like all standups, Murphy has vivid memories of bombing. "When I was 19 in St. Louis, I just ate it so incredibly hard in front of hundreds of strangers," she says. "Afterward, I called my mom from a pay phone. It was such a purely sad moment that I took a picture of it. I still have it."
Fleeing success
: In 2009, Murphy—who got her first job in comedy as an intern for Conan O'Brien, then wrote for and performed on "Jimmy Kimmel Live!"—became one of the original writers on "Late Night With Jimmy Fallon." She left the show in March, in part because it's been so successful. "I had to think about how long I wanted to give myself to the show," says Murphy, who is back in L.A. performing standup. "I'm okay with giving my all for two years and leaving a show that I love on amiable terms."
Kumail NanjianiHails from
: Pakistan.
Greener pasture
: Los Angeles.
Beginner's luck
: Nanjiani had just graduated with a degree in computer science when he decided to follow a friend's example and head to an open mic. The set went well, thankfully. "If I'd had a bad set the first time, I never would've done it again," he says.
Transcontinental
: Nanjiani started out in Chicago before moving to New York, then to Los Angeles—a move necessitated by his landing a role in the TBS series "Franklin & Bash." When asked to compare America's three largest cities in terms of standup, he says New York, um, stands out. "The New York comedy community—in a good way—can be so judgmental. If you do a show and you do material that they've heard before, even if the audience laughs, the other comedians keep you honest: 'Hey, that one is a few months old; why are you still doing that?' "
Johnny PembertonHails from
: Rochester, Minn.
Greener pasture
: Los Angeles.
Down on Jump Street
: You
might
know Pemberton as the host of MTV's "Megadrive." You
will
know him from Sony's upcoming film "21 Jump Street." He performs improv and standup regularly and believes in blurring the line between the two. "Improv and standup should be one and the same," he says. "If your standup is too rehearsed and scripted, you lose the spontaneity and the engagement that improv gives you. I like doing improv so much that I try to bring that to my standup whenever possible. If I go up there and only kind of know what I'm going to do, it's more exciting."
Stage junkie
: Pemberton may be breaking out on screen, but his heart is on stage. "I want to perform live as much as possible," he says. "To me, that's the best. People who are the best comedians are obsessed with it. It's like an addiction."
Sara SchaeferHails from
: Midlothian, Va.
Greener pasture
: New York.
Accidental dream
: Schaefer was auditioning to be a "Daily Show" correspondent when instead she landed a gig hosting "The DL," a Web series for AOL. Then, when Jimmy Fallon succeeded Conan O'Brien on "Late Night," she was hired as the show's head blogger, thanks as much to her Web experience as her comedic chops. "It's great to decide on the craziest, biggest dream you can imagine," she says. "Whatever you get on the way is probably what you were looking for in the first place."
Award-winning nerd
: Schaefer and "The Late Night With Jimmy Fallon Digital Experience" were recognized at the Creative Arts Emmys in 2009 and 2010. "I have the dorkiest Emmy you could possibly get," she jokes about her two awards for "outstanding creative achievement in interactive media, nonfiction." After more than two years at "Late Night," Schaefer left this month to join the writing staff of the game show "Who Wants to Be a Millionaire."
Jenny SlateHails from
: Milton, Mass.
Greener pasture
: New York.
OMGyn
: Even as a little kid, Slate loved an audience. "I enjoyed telling adults that I wanted to be an obstetrician, because babies come out of vaginas," Slate says. "I liked their reactions to that." These days she co-hosts "Big Terrific," a weekly show that New York magazine in 2010 named the city's best for standup.
Shell shock
: In 2009, Slate infamously dropped an F-bomb on air in her first sketch as a "Saturday Night Live" cast member. She was let go at season's end, but her career hasn't slowed. She has since appeared in a recurring role on HBO's "Bored to Death" and this year took her viral stop-motion video "Marcel the Shell With Shoes On" to the Sundance Film Festival. She's currently writing two children's books based on "Marcel" that will be released in November.
—
Reported by Jessica Gardner, Pete Keeley, Dan Lehman, Frank Nestor, Jenelle Riley, and Christopher Vaughan