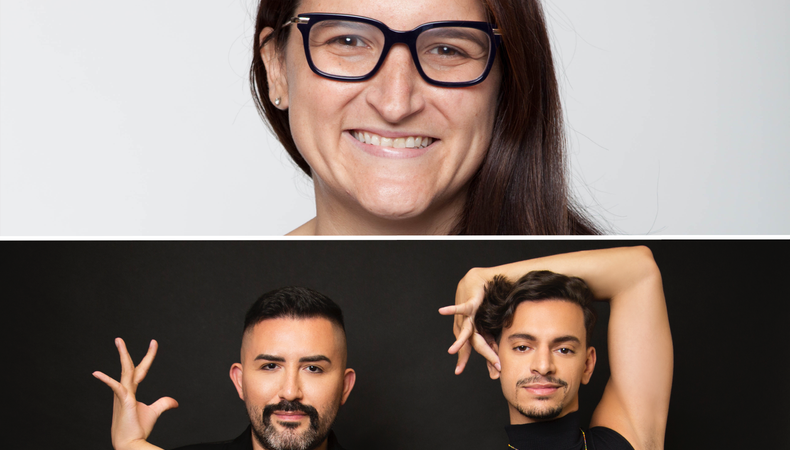 "In the Envelope: The Actor's Podcast" features in-depth conversations with today's most noteworthy actors and creators. Join host and Awards Editor Jack Smart for this guide on how to live the creative life from those who are doing it every day.
Talent agents: What do they do? What do performers at all career levels need to know about their role in the entertainment industry ecosystem—and how to get represented themselves? "In the Envelope" is asking those questions for the first time, in a deep-dive episode illuminating this crucial aspect of the biz; Shauna Perlman of Creative Artists Agency and both Jason Rodriguez and Ricardo Sebastián of the recently launched Arraygency provide an overview of an agent's function and how that translates into opportunity for actors and creators.
"I would say no day as a talent agent is like the day before," says Perlman, who got her start at United Talent Agency before eventually coming to CAA and representing the likes of Rachel Brosnahan, Anthony Ramos, Teyonah Parris, Sebastian Stan, Noah Schnapp, and Henry Winkler. "But our job and responsibility, as an agent, is to represent and be an advocate for artists.... It's looking at the marketplace and focusing in on opportunities for our clients. And then it's also connecting different types of talent and bringing them together to create projects and create ideas."
CAA is one of Hollywood's oldest and biggest agencies, managing A-list actors along with writers, directors, casting directors, hosts, sports and music stars, and other creatives. Perlman outlines how, in the sprawling community of the filmmaking industry, agents lie at the center of many Venn diagrams. "There are people that come in, obviously, that help with different parts of this journey, be it managers or publicists or lawyers," she says. "But I would say the agent is sort of a through-line throughout the process, in terms of from beginning to end being there for the talent as they are trying to navigate those opportunities that they're interested in going after."
Arraygency is a new talent agency founded by actor-dancer Jason Rodriguez (star of FX's "Pose" and member of NYC ballroom scene's legendary house of Extravaganza) and manager-entrepreneur-activist Ricardo Sebastián. Both speak to the reasons behind their mission—to focus on equity, diversity, and inclusion for their BIPOC, queer, and transgender talent—and the industry's recently renewed focus on those values.
Rodriguez's advice for his fellow performers is to define artistic goals, remember that success is subjective, and optimize your work within that shifting industry. "Most of the time, within our [BIPOC, queer, and/or trans] community, we don't know how to set our standard, we don't know our worth, because we're too busy fighting for survival," he says. "You take what you get. So for us, we want to do things differently, where we're preparing our talent for when they walk into work, but also preparing the work for our talent."
"There's space for all of us to be successful and to create a life that's meaningful," says Sebastián. "That's why we're focusing on creating a community as well, so that those opportunities can come up where we're introducing people." Arraygency is regularly accepting submissions from performers of all artistic backgrounds, and, in an unprecedented move, will be providing resources even to those they're unable to sign.
"For some of [our clients], it's more so building up the confidence, and getting them to connect with what they could do in this world with whatever it is that they're creating," Sebastián says. "Other talent that we're signing, they have an amazing infrastructure, they already have an established brand, they're ready to scale, and they need that additional support to get to the next level.
"We know that the industry wants to participate," they add. "The industry wants to unlearn and re-engage in a more productive and fair way. So there's a lot to be done."
A common point between Perlman and Rodriguez and Sebastián is that talent looking for representation should know that it's an agent's job to be on the lookout for talent. "Show us your work and let the work speak," says Rodriguez. "And when someone says no to you, and when no becomes a multiple, make your own yes."
As Perlman puts it, "You don't need to find an agent, an agent finds you." So focus on your craft, brand, and artistic identity, she advises. "Putting out the work is everything, keep staying focused on that. And you will find the team that is meant to be helping you on your journey." To hear more firsthand knowledge from talent agents, tune in wherever you listen to podcasts.
Listen now on:
Looking for remote work? Backstage has got you covered! Click here for auditions you can do from home!