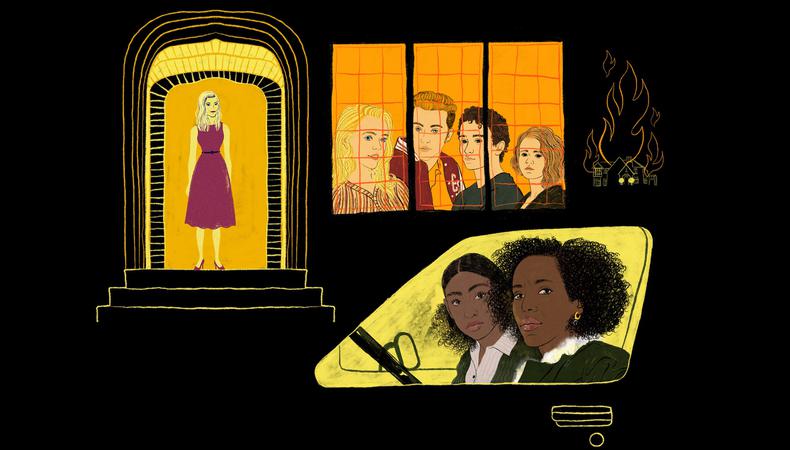 It's clear that casting director (and AMPAS president) David Rubin knows how to pick a good project. He's behind some of the most exciting film and television of the past few years, especially when it comes to fan-favorite books that are adapted for the screen. He assembled the ensemble of "Big Little Lies" and found the residents of Wind Gap, Missouri, for "Sharp Objects." Most recently, Celeste Ng's best-seller "Little Fires Everywhere" was adapted for Hulu with Kerry Washington, Reese Witherspoon, and a robust cast of young actors found by Rubin.
What was the audition process for "Little Fires Everywhere"?
It's always a question of experimentation in the audition process, particularly with young actors, when many of them don't have a tremendous amount of credits and history to explore. We do it incrementally, finding a scene or two that is emblematic of the character and gives you some idea of how the character moves the story forward. In each case, we had follow-up readings where we got more intense material and more demanding scenes. In putting together the Richardson family, we saw finalists read opposite each other to see resemblances and different energies, because the Richardson kids are so fundamentally different from each other. Seeing them together in a room in twos and threes and fours was extremely instructive and enlightening.
"Bring whoever you are to the role. It could be very different from what the filmmakers are looking for, but if it's authentic and it works, it can actually reframe what people think they're looking for."
How do you factor in the source material when casting a novel adaptation?
I get a feeling from a novel of the mood, tone, and world of the piece. There's a fabric that you want to have be consistent throughout the telling of the story, so that's helpful background. You're able to read paragraphs about how those characters are thinking as well as what they're saying. It's often very insightful into the internal life of the characters. I try to pull certain things from those descriptions, although it's really important to embrace what the screenwriter has written that's different from the novel. Once I read the novel, I don't go back to it or refer to it again; it's really a supplier of general information, feeling, and tone, and then I focus on the adaptation.
What should young actors know about starting out?
For very young actors, I prefer limited professional experience, because I find that depending on their level of training, young actors are very often asked to deliver results and perform in a less-than-organic way in professional circumstances. That's not the kind of performance I respond to. Children at play are natural actors. If you see kids playing in a playground, they just go at it with abandon. That natural instinctive playfulness of nonprofessional child actors is a huge asset, I think.
How did you ensure the chemistry between the siblings and friends and teenage couples would come through onscreen?
We took a leap with regard to Reese and Kerry and their connection with these actors, but they were very involved. We did try to see the Richardson kids in a room together, and also Pearl in a room with the two Richardson boys. We wanted to see Jade Pettyjohn, who played Lexie Richardson, opposite the finalists for the role of Brian, her boyfriend, because that's crucial to her storyline. To me, the key in casting young actors is to have enough time to explore and experiment. I'm grateful that the producers and Hulu provided enough time to do a thorough search, because these roles are complicated and you don't always find an answer in the first several weeks. The process takes months.
"I feel as though it's not about picking a list of qualifications for a particular role, it's about discovering different people in that character."
What advice do you have for actors?
Really, two things above all else. One is to prepare. By that, I mean study the craft of acting before you even embark on a professional career, and then certainly prepare for each individual audition, which involves making very clear choices and learning as much about the project beforehand so you understand the tone, energy, and style of the production you're auditioning for. The second most important thing is to never pander to what you think the filmmakers are looking for. Never walk into a waiting room and see people there and presume that they're going to get the role and not you because they look more like the character you envision than you do. The one thing every actor can deliver in an audition that no one else can is their true self. Bring whoever you are to the role. It could be very different from what the filmmakers are looking for, but if it's authentic and it works, it can actually reframe what people think they're looking for.
What do you wish actors knew about the audition process?
We're looking for actors to bring possibility, and I feel that auditioning is actually a very generous process. By showing up with a point of view on a well-prepared version of a character, an actor really offers up possibilities to us and his part. I'm grateful for every actor who auditions for the contribution that they make to the project, whether they get the part or not. Casting is an evolutionary process, and we learn things from every reading. That's why something well-prepared, subject-specific, and very personal is the best way to approach an audition.
What can actors expect from auditioning for you?
They can expect unconditional support, a waiting room that is not crowded, and a very high-quality body microphone that enables them to not worry about playing things intimately and personally. They can expect a level of sensitivity that allows them to launch right into the scene if that's what they need, or to answer questions prior to doing the scene, if that's helpful. I like asking actors to do a slate, and when it's required, we always do it at the end of the audition, because asking an actor to get into character prepared to do a scene and then having to look into a camera lens and say their real name is an interruption of the creative process. Mostly, they'll find somebody who's open to being surprised, because I feel it's not about picking a list of qualifications for a particular role; it's about discovering different people in that character and then to figure out after they've looked through them how it might fit into the mosaic of the ensemble cast.
This story originally appeared in the July 9 issue of Backstage Magazine. Subscribe here.
Looking for remote work? Backstage has got you covered! Click here for auditions you can do from home!