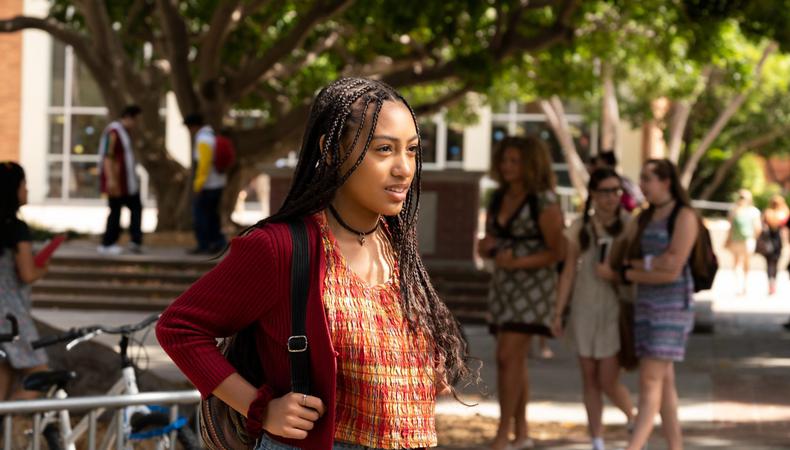 The following Career Dispatches essay was written by Lexi Underwood, who stars on "Little Fires Everywhere," now streaming on Hulu.
For as long as  I can remember I've referred to myself as an "ultimate dreamer." I  was a shy and introverted child, yet there was something about the arts that always forced me outside of my comfort zone with a  familiar  ease.  My mom took me to an open house at the Kennedy Center in Washington, D.C. where we saw the group "Step Afrika. " I was  mesmerized  by their performance and when the group asked for volunteers to come onstage to learn and perform one of their African step routines, without hesitation, I walked my  4-year-old  self up the stairs and took center stage with the confidence of a lifelong performer.  I felt so comfortable there, and that being onstage was a place that I wanted to revisit again and again.
Artists like Prince, Roberta Flack, the Beatles, Sade, Michael Jackson, and Whitney Houston were on  repeat  in my house. As my love for music and dance grew, there was a natural pull toward dance and music classes that ranged from creative movement, ballet, and tap to piano and singing lessons. At school I was eager to participate in every talent show, showcase, concert, and assembly that would allow me to express myself as a young artist. Even at parties, my friends patiently tolerated my artistic antics of either casting them in musical productions that I created for our parents or working as prop masters or "selling" tickets to our captive audience.
I signed with my first agent at the age of 10. The audition process consisted of either self-tape submissions or commuting three hours one-way to New York City. "Person of Interest" was the first television job I landed as a co-star, a character named "Queen Bee." I remember Jim Caviezel being extremely serious on-set and I paid close attention to every detail of every component of each scene. Since this was my first time on a set, I started to mirror him because even at that age I wanted to be taken seriously as a storyteller. During one of our takes, Mr. Jim (as I called him) forgot one of his lines and I proceeded to quietly feed it to him. You could hear a pin drop as he stared at me.
Looking back now, that could have gone really badly for me, but he looked me straight in the eye and then gave me the biggest smile. Mr. Jim bent down and told me that I was very talented and that I was going to have a long future in this business.
The next life changing opportunity was auditioning for "The Lion King" musical, which was one of the first musicals I fell in love with while on a family trip two years earlier in New York. Seeing a Broadway cast with such diverse representation beautifully telling a story set in Africa—but also telling a story that is applicable to everyone—sparked something deep inside me. The moment the show was over, I turned to my parents and told them, "One day I'm going to play Young Nala." In 2015 I made my Broadway debut as Young  Nala  in "The Lion King" National Gazelle Tour.
Being part of such an iconic show was an absolute dream come true. More than that, I understood the importance of diverse representation in the arts. When I took my final bow, I knew I didn't want to stop acting. I asked my parents if we could go to Los Angeles for three months during pilot season. Those three months have turned into almost five years.
My career has so far consisted of many guest star and recurring roles, appearances on Disney, Nickelodeon, Netflix, the Sci-Fi Channel, ABC, and CBS; all these opportunities have given me the chance to live my ultimate dream, which is to be a storyteller. In 2017, I was cast in a leading role in the Amazon pilot "Will vs . The  Future." My character, Athena, is a rebel warrior from the future sent back to earth to save the world, which is what excited me most about this project: the opportunity to play this fierce, lead female character who is the heroine, while again recognizing the lack of representation for girls and boys who look like me, a young woman of color.
Working closely with my parents and my team, I decided to be deliberate about the roles I choose. I believe there is this inherent responsibility to push up against skewed narratives, in an effort to show diverse people in dynamic roles that shatter stereotypes. This resolve has also led me to start my own production company at the age of 15, fittingly titled, Ultimate Dreamer Productions.
Kerry Washington has always been someone that set the standard for me as an artist and storyteller. To see her as the lead on a primetime network show—not broken, not the sidekick, not a drug addict, but as a radiant, intelligent boss—further validates my commitment to a certain standard of acting, and the knowledge that it is obtainable.
How to Make Yourself Unforgettable to Casting Directors
Landing the role of Pearl Warren opposite Kerry and Reese Witherspoon in the TV adaptation of Celeste Ing's "Little Fires Everywhere" felt surreal. Seeing women at the helm in executive producer positions, being directed by two prolific female directors (Lynn Shelton and Nzingha Stewart), telling a story written by a diverse writers' room, and seeing Ms. Reese and Ms. Kerry relentlessly lean all the way into their work has taught me to never take my journey as an artist for granted, and as a young woman, to unapologetically take up space.
So, my biggest advice to young and teenage girls trying to break into the industry is to stay persistent and take every opportunity you get seriously. Truly dig deep into every script and character you receive. Everyone's journey looks different but never compare your success to others—and always strive to be the ultimate dreamer.
What advice would you tell YOUR younger self? Get more Career Dispatches right here!