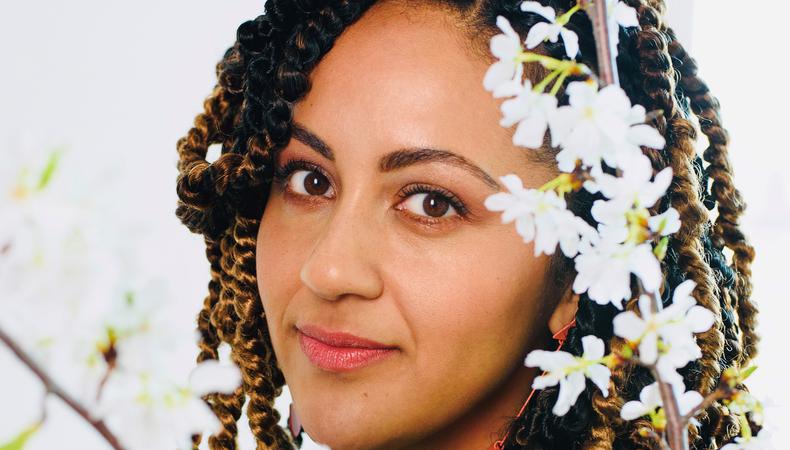 After a year and a half of uncertainty and empty stages, Lincoln Center Theater resident director Lileana Blain-Cruz is ready to move forward. Here, she discusses what the future of theater should and could look like, how she works with actors, and the best thing emerging directors can do right now.
Can you describe your role as the resident director of Lincoln Center Theater?
I've participated in staff meetings, I've had a lot of conversations with the artistic staff, and I've led a series of conversations with directors. One of the great joys of being a part of a space like Lincoln Center Theater is that they're very supportive of things that I'm interested in. Being able to talk to other directors and lift up their work was one of the things that was really exciting to me, so doing that conversation series during the pandemic was really wonderful. Right now, I'm in conversations about directing on the [Vivian] Beaumont stage, which will be my Broadway debut.
Given that performances have still mostly been suspended for the past 17 months, what has been your priority as far as your focus and work goes?
I think there have been a lot of conversations lately about what we are making and why, and what it's going to mean to return. Those conversations and rigorousness around how we decide what we make and how we invite people back into the process have been really important. So I think that's part of the consideration. When we finally get to gather together and think about the story, what is the event that will unite us and the power of us having the ability to gather? How we share those experiences is really significant. We've experienced trauma as a world, and we're still in the process of experiencing that, even as performances are returning. Vaccines and wearing masks and keeping people safe and keeping performers safe—all of these things are still under consideration, because it's not like the pandemic has ended. I think whatever we end up putting onstage, it has to feel significant.
"I think theater is uniquely one of those spaces that combines all of the [art forms]. And so the more versed you are in the multiplicity of disciplines, the more you can bring into your own craft."
How do you think the last year and a half has changed the ways theater will look going forward? Will it?
It's hard not to process all of the things about who we are as Americans, who we are in relation to the exclusions that have happened in the American theater, who gets to occupy those stages, and thinking particularly of people of color, how we think about whose stories get told and when and where and how—that's all part of it. We've had this time to wrestle with our deep stillness as a country. And then the question becomes: How do we continue? How do we continue to open our minds? How do we continue to make this a sustained practice of being more open and inclusive and aware of the many multiplicities of stories that exist out there? One of the joys I'm experiencing as a resident is actually having the gift of time and space. That's something as a freelance artist I've never really had. You get to work with different theatrical homes; you get to work on those stages. And that's beautiful.
Switching gears to your work with actors, early in your career, how did you go about learning to work with, communicate with, and develop trust with the actors in your productions?
I worked as an assistant director for a while, a few years before I ended up going to grad school. That was a really useful way of getting to see how rooms operated and what created a space of trust and what didn't create a space of trust. When I went to grad school at the Yale School of Drama, you were required to take acting classes. In some ways, you learn empathy; you're learning what it means to be vulnerable onstage. How do you learn to communicate what you're asking for? When you're in the position of being in that scene work class, you realize: What lands on me might not land for the other person. So you learn how to speak a variety of different languages. First and foremost, I love actors. I respect them so much. I think that what we ask of them, and what we require of them—they are our sole Olympians. When you watch somebody fully give themselves, it is so moving, because they are doing something that maybe we aren't allowed access to, we aren't allowed to express in our daily lives. The act of seeing somebody experience that is what gives us catharsis. I think coming in with that sense of respect and reverence for people in their craft is part of what creates a room of safety. I also like to cultivate a space of joy in order to get to those spaces of vulnerability and risk and danger.
READ: Will Post-COVID Theater Be Fairer? Can it Be?
Are you very malleable in how you work with actors? Does your approach change from actor to actor?
I think different people need different things. There are some folks who have a strong sense of an interpretation of the role, so for them, it's about shaping and supporting that process. And then there are some people who enjoy figuring it out and might want to try lots of different things. I can help them and be a more constant kind of presence in their shaping, but I respect and have fun playing with the many different ways in which people might talk. I don't have one consistent way of working. This is a collective art, so nothing is happening independently of somebody else. We are in conversation with each other.
What advice would you offer to aspiring directors, or to those who are just starting out?
Something that somebody told me when I was starting out is that seeing work is really great. You learn a lot from watching things and going to see things, including art outside of theater itself: going to museums, going to galleries, listening to new music, watching a new film. Expanding our relationship to the vocabularies of different art forms enhances our relationship to our own art form. I think theater is uniquely one of those spaces that combines all of them, and so the more versed you are in the multiplicity of disciplines, the more you can bring into your own craft. And I also think making the work is the hardest thing to do, but it's the most important thing. Even if it's small projects, you learn so much about who you are as an artist by doing; and the hardest thing to do is to do. Whatever ways you can find to make the work, the more you will understand who you are as an artist.
READ: How to Become a Theater Director
With theater on the cusp of reopening, what are your immediate goals going forward?
For me, it's fundamentally about people and making work that cultivates and helps us empathize with one another in ways that feel important, because we are so divided and so hurt. The goal of my work is to remind us of our shared humanity at the end of the day. I want to just continue to push at the boundaries of what that might look like, both in theater and in different disciplines. I'm working on opera and music pieces right now, and eventually, I'd like to continue that in both film and television.
This story originally appeared in the Sept. 9 issue of Backstage Magazine. Subscribe here.
Looking for remote work? Backstage has got you covered! Click here for auditions you can do from home!