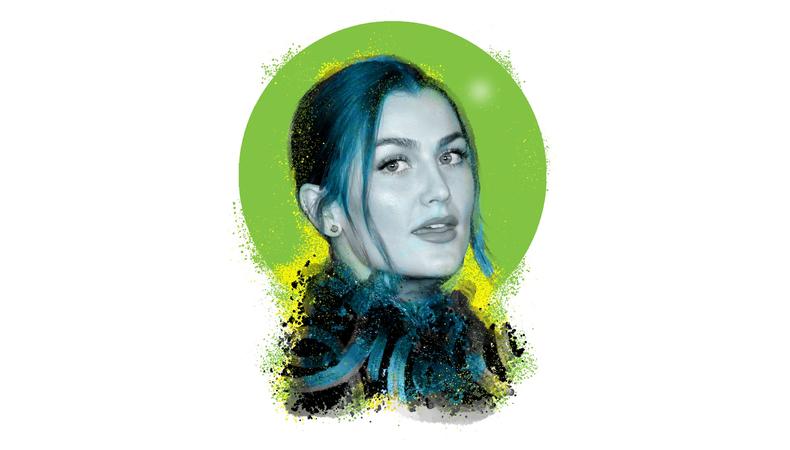 After graduating from New York University, where she studied theater, Rachel Matthews decamped back to her hometown of Los Angeles, where she landed her first film role in the Blumhouse Productions' black-comedy slasher film "Happy Death Day" in 2017. Two years later, she landed guest roles on the CW's "Batwoman" and Hulu's "Looking for Alaska"—plus her first voiceover role as Honeymaren in Disney's "Frozen 2"!
READ: How to Get Cast in a Disney Animated Feature
How did you get your SAG-AFTRA card?
My first job that got me my SAG card was "Happy Death Day." I cried so much after booking the job. It was my first real feature, and I'd lost so many jobs before it because I wasn't SAG. I'd book something, and casting or the producers would find out I wasn't SAG-eligible yet and they would go with another person. It was so discouraging. Finally having a team so believe in me that they gave me my SAG card was such a dream.
Was that your first experience on a professional set?
Yes! I had done at least two commercials before that, but they were nonunion. They weren't even allowed to show my face. I was battling the feeling of imposter syndrome, but at the same time, I'd trained and studied for so long. I was at war with myself. It was such a learning experience for me. From the director to the crew, literally every single person on that set was so lovely and fun to work with. Everyone was so willing to help me and teach me all these phrases and how this works, and I've carried that into every job after that.
READ: Josh Gad on 'Frozen,' Stella Adler, + Practicing Patience as an Actor
What advice would you give your younger self?
As cheesy and clichéd as it is: Be unapologetically yourself. I'm still working on that. The more I'm able to own every part of me when I walk into auditions or onto sets has only [resulted in] such better outcomes for me. The second I stopped altering myself for the people in a room is the day I started booking jobs. I just needed to find myself.
How do you typically prepare for an audition?
My process has changed throughout the years. When I first started auditioning, I would set aside days, if I was able, to prepare. I was a nervous wreck; I couldn't really do anything. I was so serious and focused, and I think that backfired. I'm a perfectionist, so that got in the way a little bit. Now, I do as much homework as possible. I always read the script, I read the sides. I'm able to memorize pretty quickly. I do as much backstory and character development as possible. Once I've done that, I try my best to let it go. I won't walk into a room with sides anymore. I need to feel free and unattached from anything. That's how I feel like I can do my best work.
READ: How to Find Your Type as an Actor
I know "Frozen II" was your first voice acting audition. What was that process like?
It was wild! Believe it or not—I've never told anyone this—it was a David Mamet monologue, which was so absurd for Disney. The theater kid in me was like, Whoa, this is amazing, but also so confusing that Disney's having me do a David Mamet monologue. I memorized the monologue, and they gave me a list of different songs; none of them were musical theater, they were all more contemporary songs. Or I could prepare a song of my own choice in the same vein as the others. I chose to do my own that was similar to the ones they'd given me: "Wicked Game" by Chris Isaak. I showed up to Disney Animation, and I had no clue if I was going to be in a sound booth or with people. I ended up going in, and it was me, [head of casting for Disney Animation Studios] Jamie Roberts, and her assistant, which was a dream in itself to be meeting with Jamie, who has cast plenty of my favorite Disney films. It was the most casual audition. We sat on opposite couches and she said, "You're going to do your monologue to my assistant," as if it was a normal audition. I did that, and she loved it. Then I sang a cappella, and she told me I would come back for the producer-director session. I felt like I could die right there.
It ended up being about two months after that initial audition that I got called back in. This time, I got called into a massive recording booth. I had [director] Chris Buck sitting across from me, and a pianist behind me. About 10 people [were] behind the black window watching me—I couldn't hear them, but I could see them—from [producer] Peter Del Vecho to the head editor. It was the most intimidating audition I had ever been in. But for some reason, I felt so at peace. Chris told me he wasn't going to be looking at me while I did my monologue; he would be looking at these pictures. He whipped out six hand-drawn pages of Honeymaren. In that moment, I was able to look at her. It was this crazy moment of I know how to do this, I know how to play her. I had zero expectation of ever booking it, so to receive that phone call two to three months later was a dream.
What is your worst audition horror story?
It was one of my first auditions. It was for a movie, but I was on a stage with all these lights and I couldn't see my reader. I was yelling, [even though] it was an intimate scene. I forgot to mute my phone and it kept going off; we had to keep stopping, but I was too nervous to say it was my phone. It was horrible. I don't even know if we got a whole take of the scene.
What's the wildest thing you've ever done to get a role?
For the "Happy Death Day" audition for the director, I knew I needed to get this role, and at the very end of the session—I love improv, and this was a comedic role—I wanted to showcase my humor a little bit. I proposed being able to improvise this one scene I had read in the script that I loved. I didn't have the sides with me, but I wanted to be able to bring [the character] to life. I had the most insane, amazing improv with [casting director] Terri Taylor, who cast "Get Out." And we riffed for a solid 10 minutes. After that, they had other actresses do a similar improv and it didn't land. It was ultimately my improv that I think got me the role.
What performance should every actor see and why?
For theater, one of the most incredible things I ever watched was Bradley Cooper in "The Elephant Man." As an actor, watching that was a master class. He fully transformed himself, and it was breathtaking. [Also,] Joaquin Phoenix in "Joker." His acting in that is some of the best acting I've ever seen. He's an absolute legend. I felt so inspired [watching it] and kept thinking, This is why I do what I do.
This story originally appeared in the Jan. 16 issue of Backstage Magazine. Subscribe here.