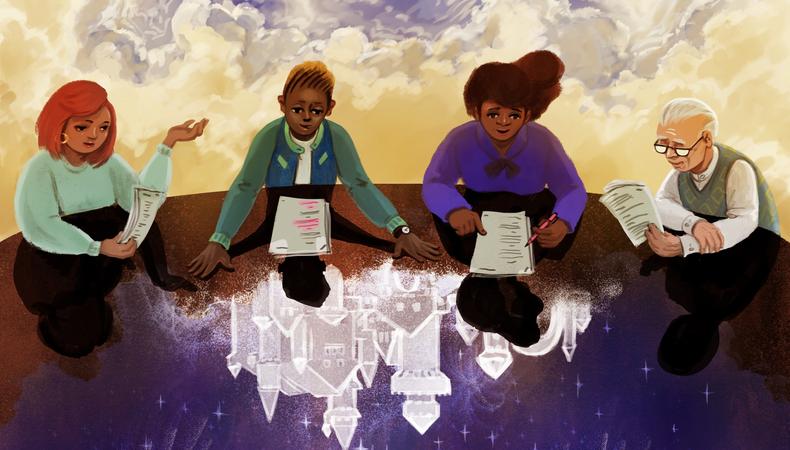 This week, I'm excited to present an interview with my longtime friend and former casting associate Jamie Sparer Roberts. She has spent over 20 years in the casting community. After starting at Disney as a casting executive in features, she began her current role as head of the Walt Disney Animation Studios casting department, where she has been for the last 10 years. During her tenure there, she has cast such iconic films as "Tangled," "Frozen," "Wreck-It Ralph," "Moana," "Zootopia," "Ralph Breaks the Internet," and "Frozen 2." She has won the coveted Casting Society of America's Artios Award for outstanding achievement in animation three times—plus, Elle magazine named her one of the most powerful women in entertainment in 2014.
RELATED: How to Use Backstage to Jumpstart Your Voiceover Career
A Disney casting director's take on CD involvement
In the 10 years you've been doing animation casting, how have things changed?
When I started in animation, I really only had live-action experience. I continue to run my auditions the same way that I did prior to joining the animated world. The real changes have come with the ability to receive instant recorded auditions from anywhere in the world, creating an endless reach to talent everywhere. For myself, the process of animation casting came in the form of exercising muscles that I didn't know I had. My imagination and my ability to really "listen" to a performance, as well as learning to rely on my skill to find truth in an actor's voice, has become crucial to my process.
When does casting get involved in a project?
At Disney, casting gets involved in projects when they are very early in development. Historically, we cast the project three times. The first time is in the form of a table read prior to the greenlight. The second time is during the storyboarding process, where actors' voices are used for internal development of the film prior to production. Finally, we cast the actual voices for the production dialogue; these are the actors who end up in the theatrical release. Many times, the final cast includes actors from the original table read as well as "scratch" development dialogue. Typically, all I ever see before casting is a rough sketch of the character. Animation usually doesn't take place until after the actor signs on and records. Many times, the artists use video of the actors as reference for bringing the character to life.
Disney voice acting audition advice
What is auditioning for you like?
In order to protect the creative process at the studio, we release very little information about the projects and characters to anyone outside of the company. Occasionally, the director will share rough sketches with the actor at the live audition. In fact, the sides that we use are not usually made up of material that is in the actual film. For example, most of my "Frozen 2" audition material for new roles has been made up of scenes pulled from various existing stage plays that echo the emotion of our film.
RELATED: This Disney TV Animation Exec Wants Voice Actors to Read Between the Lines
How can an actor prep for a character if they aren't given much information about it?
When auditioning for a Disney animated feature, an actor must come prepared to use their imagination and, in some instances, improvise. Our auditions are not as much about the words on the page as they are about finding the essence of a character in the actor's interpreted performance mixed with the sound of their voice.
Other than the obvious, what are some differences between casting and acting for an animated project vs. live-action?
Disney animation prides itself on the ability to give audiences characters that [they] can relate to. We've found that hiring actors whose performances are grounded and not over-the-top or cartoony helps us move toward the type of deeper storytelling that we are known for.
What happens when you hire a child actor for an animated project and their voice changes while working?
Every case is different, and it really has a lot to do with the age of the character as well as the sound of the other actors that will be featured in the scenes with the young character. Sometimes, we cast actors that are older whose voices have probably settled. Other times, we are careful to wait as long as possible to cast a role with the actor whose voice will be used in the final version of the film, using temporary dialogue as a place holder.
What kind of actors are you looking for?
Actors that I have found to have the most skill in the recording booth are those who have theater, improv, and sketch comedy training and experience. We are looking for actors with real acting chops who are able to transmit emotion through voice only, think on their feet, and really come ready to dig in and collaborate.
What would surprise people most about casting animation?
Most people think that animation casting is about finding people who can "put on" voices. I cannot speak for other studios because I have only worked in animation at Disney, but I almost never hire someone to do a voice that is not their own or some slight variation thereof.