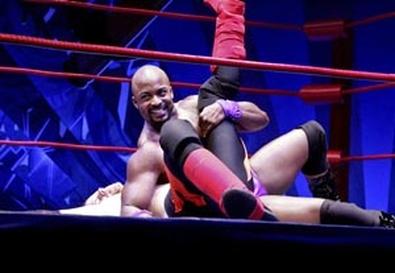 It's unlikely we'll see any offering this season that remotely resembles playwright Kristoffer Diaz's balls-out theatrical happening. His vision is flamboyantly brought to life in collaboration with Edward Torres' electrifying direction, an inspired design team, and an energetic and committed cast. Contemporary America isn't literally a wrestling arena, where Diaz's metaphor-rich story takes place, but the playwright almost convinces us it could be. This ingenious play serves up a steaming pot of cultural tension, political allegory, scathing social commentary, and unbridled hilarity, set against the gaudiness and fakery of professional televised wrestling. The razzle-dazzle elevates the play's enjoyability, adding a gaudy sheen to a lacerating tale of crass commercialism and narrow-minded stereotyping gone amok.
The action is set in an unspecified city in the U.S., where the filthy-rich lug Chad Deity (the uproarious Terence Archie), a bronzed but shallow African-American hulk, will face opponents during fixed bouts in a major wrestling competition, under the exploitative supervision of ruthless entrepreneur Everett K. Olson (deliciously smarmy Steve Valentine). Our narrator and more-or-less protagonist is Puerto Rican professional wrestler Macedonio Guerra, aka the Mace (Desmin Borges), who fills the unenviable role of one of the fall guys fighting against superstars like Deity. He takes the killer punches while earning the smaller bucks. In the guise of an illegal alien, Mace uses his ethnicity as a trump card to elicit ringside boos. Guerra offers a bravura characterization that brims with wit and style, subtly evoking poignancy amid the broad comedy.
Mace enlists another opponent to go against Deity: Vigneshwar Paduar (Usman Ally, a comedic ball of fire), a cocky hip-hopping Brooklyn kid of East Indian descent, who can impersonate any number of ethnic stereotypes. Mace positions this guy for the ring as a Muslim terrorist, the Fundamentalist, hoping that the almighty Deity can finally be dethroned.
Fight director David Woolley's simulated bouts crackle with authenticity. The sublime design ensures that the story's surroundings fit the message, expertly assimilating the over-the-top universe of televised wrestling. Brian Sidney Bembridge's sprawling set, Christina Haatainen Jones' amusing costumes, Jesse Klug's lighting, Mikhail Fiksel's sound, and Peter Nigrini's perfectly realized projected images and video elements coalesce harmoniously in this enthralling entertainment.

Presented by and at the Geffen Playhouse, 10886 Le Conte Ave., Westwood. Sept. 7-Oct. 9. Tue.-Fri., 8 p.m.; Sat., 3 & 8 p.m.; Sun., 2 & 7 p.m. (310) 208-5454. www.geffenplayhouse.com.