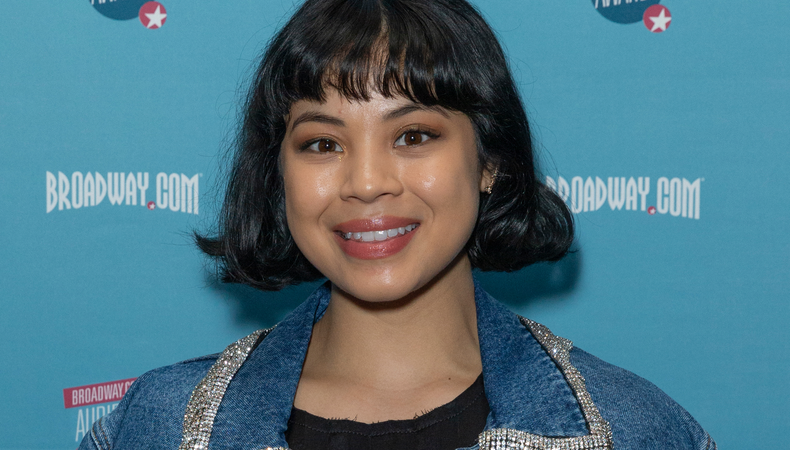 "In the Envelope: The Actor's Podcast" features intimate, in-depth conversations with today's most noteworthy film, television, and theater actors and creators. Full of both know-how and inspiration, "In the Envelope" airs weekly to cover everything from practical advice on navigating the industry, to how your favorite projects are made, to personal stories of success and failure alike. Join host and Awards Editor Jack Smart for this guide on how to live the creative life from those who are doing it every day. This episode is brought to you by The UNC School of the Arts' School of Drama.
Everyone has a different path to success in the biz. Case in point: Eva Noblezada was launched to musical theater superstardom at age 17 when her Broadway stage debut at the National High School Musical Theatre Awards, a.k.a. the Jimmys, earned her the lead role in the West End revival of "Miss Saigon." Before the San Diego, California native could finish high school in North Carolina, she was navigating her dream industry's joys—and, as she had to learn at such a vulnerable age, its unrealistic expectations and demands.
Looking back on that whirlwind of a big break ("Miss Saigon" and her follow-up Broadway appearance in last year's "Hadestown" both earned leading musical actress Tony Award nominations), Noblezada tells Backstage it was valuable in developing an artist's greatest asset: the inner voice. "I am very grateful to have had that inner voice that I listened to," she reflects. "I wanted to make sure that people knew that I was authentic. I wanted to make sure people knew that I worked very hard and that I did know how to say no."
Saying no, as Noblezada discusses in her "In the Envelope" podcast interview, is a valuable skill that most artists do not feel empowered to cultivate in the professional sphere. "There are always decisions for you," she tells fellow actors and singers. "Say no! It's not like you're the only actor in the world and they're only going to you.... If you audition for something that you want and you get told no, the universe's rejection is the universe's redirection for something better. I genuinely believe that. That's why saying no to me, it's not a big deal. I don't want to waste my time. I don't want to waste their time. There's something out there for me, I just have to be patient.
"Imagine if you said yes to everything and you got everything," she adds. "How miserable would you be?"
That advice is particularly important for those at the beginning of their career; Noblezada often tells teens with a passion for the arts who are considering college to follow their passion and develop what makes them unique.
"There's so much beautiful hunger and wildness from these young students," she says. "Imagine a trunk of a really old, wise, historical tree. The trunk is going to be thick and the branches are going to be thick and the fruit or the flowers that produce leaves are going to be healthy and vibrant.... Wouldn't you rather have that sense of self that has a strong foundation? Rather than [make] me learn how to give all of myself to my technique or all of myself to getting the perfect agent or doing the perfect self-tape, wouldn't you rather be a strong thing rather than five different buds?"
Noblezada does, of course, have pointers on creating a good self-tape. "Make your space a comfortable space," she advises. "I find that the less stressed I am, the more authentic I can be. If I'm stressed, I have a limited view of what I can do."
During this year of chaos and uncertainty, Noblezada has been keeping herself busy, launching a podcast on self-care called "The Amarillo Project," as well as promoting her leading role in the Sony Pictures indie film "Yellow Rose," out Oct. 9. Writer-director Diane Paragas' story of an undocumented Filipina teen in Texas turning trauma into country music co-stars Priscilla Garcia, country legend Dale Watson, and Lea Salonga, the Broadway star who paved the way for Noblezada's big breaks in "Miss Saigon" and "Les Misérables."
Asked for advice she'd give her younger self, Noblezada says her journey needed to play out as it did—even, perhaps especially, the traumatic parts. "I wouldn't have gone through the situations that taught me the harsh lessons of life earlier on," she says. Ultimately, it's inspiration that drives Noblezada and other young artists like her: "The dream isn't to be famous or to make it on Broadway. It's to continue to have the joy of doing what you love to do."
Tune in also for an update from the podcast's casting insider, Christine McKenna-Tirella, who provides tips for young actors considering college and a round-up of this week's Backstage casting listings. Check out a preview of this week's college guide issue here, and for all things education, click here.
Listen now on:
Looking for remote work? Backstage has got you covered! Click here for auditions you can do from home!