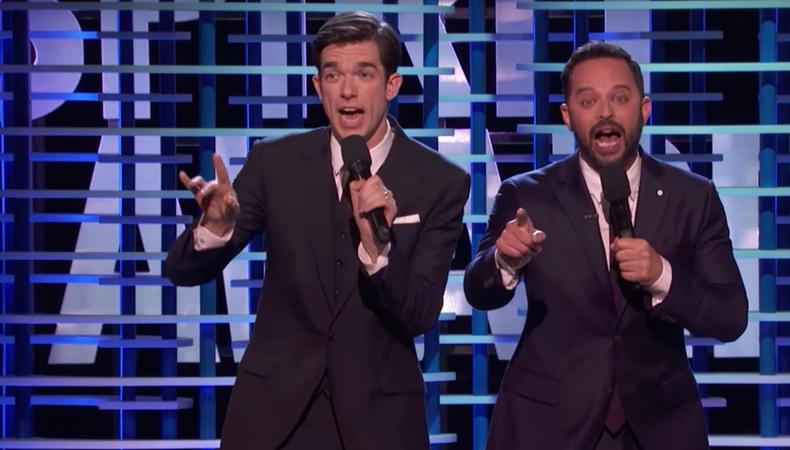 The Film Independent Spirit Awards ceremony is like award season's hipster cousin. Celebrating the year in indie cinema, it is held each year the day before the Oscars—on a beach. And while it'll never show up that fancier, more prominent show, it does muscle in on the Academy of Motion Picture Arts and Science's territory by touting its film nerd savvy. Though smaller films have won big trophies at the Oscars in recent years, the Spirits have always been championing the underdog. Here's everything you need to know about them.
READ: 33rd Film Independent Spirit Awards Nominate 'Call Me By Your Name,' 'Get Out'
Who votes on them? In some ways, the Spirit Awards are modeled after the People's Choice Awards. Winners are chosen by the members of the organization Film Independent, a non-profit organization that helps promote and support indie film, which anyone with a passion for moviemaking can join for a fee. It runs the L.A. Film Festival, programs at LACMA, and labs for up-and-comers. It's worth noting, however, that the Spirit Awards' nominations are selected by a committee comprised of various film professionals.
How do they vote? The nominees are first determined by a small committee of film world denizens, among them actors, writers, directors, critics, and more. Once the contenders are selected then the voting is opened up to all members of Film Independent who select their favorites online. This year's voting period runs Feb. 3–16.
When did they start? A version of the Spirits first took place in 1984 when Film Independent was known as the Independent Features Project/West. Those were deemed the FINDIE Awards, an acronym for Friends of Independents. Two years later, however, the event started to look a little more like it does now. It was deemed the Independent Spirit Awards and the members of what was then the IFP voted on the winners, with Peter Coyote hosting. The name Film Independent was adopted in 2005.
When are they this year? March 3, 2018
Where do they take place? One thing distinguishing the Spirit Awards ceremony is its setting: on the beach in Santa Monica, California.
Where can you watch them? If you have access to the IFC cable channel, you're good to go. Note: The Spirit Awards take place earlier than most awards shows. They are on at 2 P.M. PT and 5 P.M. ET.
Who hosts? Nick Kroll and John Mulaney, back after their hilarious 2017 stint.
Who do they honor? Independent filmmakers! The rules for what is considered independent and therefore eligible for a Spirit are fairly specific. Most importantly, a film can't be too expensive. The final price of the project must come in at under $20 million. There is even a specific accolade—the John Cassavetes Award—for ultra low-budget projects that cost less than $500,000.
For the most part, this year's nominated movies were released in 2017, although ones that played at the 2017 editions of certain festivals can be considered. Those include the LA Film Festival, New Directors/New Films, New York Film Festival, Sundance Film Festival, Telluride Film Festival, and Toronto International Film Festival. (The rules do note, however, that if the film in question is actually getting a release in the last three quarters of the following year it should just hold off on submitting.) Aside from the documentary and, obviously, international film categories, all contenders must be American productions.
Here is the full list of Spirit Award categories:
Best Feature
Best First Feature
Best First Screenplay
Best Screenplay
John Cassavetes Award
Best Director
Best Cinematography
Best Editor
Best Female Lead
Best Male Lead
Best Supporting Female
Best Supporting Male
Best Documentary
Best International Film
A couple of winners are decided on when the nominations are announced. That includes the Robert Altman Award for an ensemble, which goes to the actors, director, and casting directors on a project. ("Mudbound" is the 2018 winner.)
Also, Film Independent hands out sponsored grants to exciting new talent which are entirely awarded via committee. Those include the Bonnie Award, for a "mid-career female director"; the Truer Than Fiction Award, for an "emerging director of nonfiction features who has not yet received significant recognition"; the Someone To Watch Award, for a "talented filmmaker of singular vision who has not yet received appropriate recognition"; and the Producers Award, for "emerging producers who, despite highly limited resources, demonstrate the creativity, tenacity, and vision required to produce quality, independent films."
How can I join? This is easy! With a $95 general membership you get to be a Film Independent member and vote. Just buy one at filmindependent.org.
What is their relation to other major awards shows? The Spirits are a precursor to the Oscars in the most literal sense: Typically, they are held the Saturday afternoon before the Academy's big night. But while they vibe in the room might be chiller, they aren't really offering an alternative view of the landscape. For the past couple of years the Best Feature winners at the Spirits have directly aligned with the Best Picture winners at the Oscars.
Check out Backstage's Los Angeles audition listings!