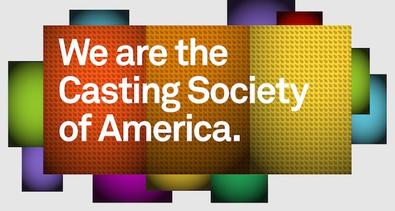 You've probably seen the "CSA" designation next to top casting directors' names and bios, but what do those three letters really mean? Here are eight facts about the Casting Society of America, an esteemed (and exclusive) community of casting directors and associates.
1. Membership isn't easy. Actors working towards SAG-AFTRA or AEA status can relate; admission to the CSA is a major honor, and society members spend years earning the title. In order to qualify, members must have worked for two or more years as casting directors, have received casting credit without the title "assistant" or "associate," have been recommended by two current CSA members (including letters of sponsorship), and have been voted in by the board of directors. Alternatively, esteemed casting directors can be accepted into the society by a direct invitation from the board.
2. It's not a union. Unionized casting directors are members of Teamster Locals 399 (Los Angeles) and 817 (N.Y.). The CSA is a completely separate organization, focusing on the day-to-day professional lives of its members and the development of the casting industry as a whole.
3. Associates have a special classification. In 2008, the CSA's board of directors approved the inclusion of casting associates for the first time in its 32-year history. Associate-level membership requires 18 months of experience as an associate, the sponsorship of two full CSA members, and a vote by the membership or the board. After two years of work as a casting director, an associate member may petition the board and be promoted to full CSA status.
4. The CSA's Artios Awards honor excellence in casting. Head over to the Artios Awards section of CSA's website and check out this year's nominees; actors in New York and Los Angeles have likely been in many of the honorees' offices. Established in 1985, the annual awards are voted on by over 600 CSA members, and culminate in simultaneous ceremonies in New York and Los Angeles. In addition to giving casting directors some much needed time in the spotlight, the awards recognize many categories that have yet to be included in other major awards shows, including television pilot drama, television pilot comedy, children's pilot and series (live action), and Web series.
5. The CSA is (relatively) small. Though what began with only 39 members in 1983 has grown to 600 strong, the CSA is still tiny compared to many other creative collectives; the Directors Guild of America boasts more than 15,000 members, Actors Equity over 50,000, and SAG-AFTRA over 165,000, with union actors outnumbering CSA casting directors 350 to 1.
6. The organization is led by working casting directors. CSA President Richard Hicks is known for is work on award-winning films including "Lars and the Real Girl." "Zero Dark Thirty," and "Gravity." Other officers and board members you might recognize? Bernard Telsey (New York Vice President), James Calleri (NY Treasurer), Seth Yanklewitz, Joy Dewing, and Tara Rubin among others.
7. CSA members are tech-savvy. Ever consider all of the digital tools and a/v equipment that go into a casting session? From online breakdowns to computerized scheduling to taping and uploading hundreds of auditions, casting directors and associates know their way around technology. CSA's bi-annual Tech Fairs give members the chance to learn more about the platforms and gear they use every day.
8. The CSA gives back to the community. CSA casting directors and associates are involved in numerous charities, including "Stockings with Care" and "The Trevor Project." Performers can get involved as well with "Meals for Monologues," a series of annual food drives that connect actors to casting directors in Chicago, Portland, New York, and more in exchange for a small food bank donation.
Inspired by this post? Check out advice from our many casting director Backstage Experts!