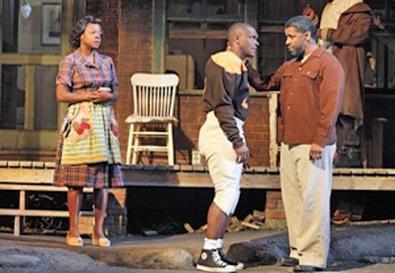 Six years ago, gifted director Kenny Leon delivered a fine production of "A Raisin in the Sun" to Broadway, marred only by the stage inexperience of its bankable star, Sean Combs. Back with another classic chronicling the African-American experience, and this time with the right star in place, Leon knocks it out of the park with this beautifully calibrated realization of August Wilson's Pulitzer Prize–winning "Fences." Denzel Washington is magnificent in the role indelibly created by James Earl Jones, and the astonishing Viola Davis matches him every step of the way. It's a deeply moving, hugely satisfying evening of theater.
The partially autobiographical "Fences" is set in 1957 Pittsburgh and tells the story of Troy Maxson, former baseball star in the Negro leagues and an ex-con, who's now employed as a garbageman and happily married to Rose. Troy has a grown son by a previous marriage, Lyons, who wants to be a musician, and a teenage son, Cory, with Rose. One of 11 children and reared in dire poverty, Troy left home at 14 and has lost touch with all his family except his brother Gabriel, who's mentally diminished due to a war wound. Troy has endured great hardship to reach this place of relative contentment, and he's determined to spare his family from similar experiences. This leads to conflicts with Cory over playing football as a possible path to success and Lyons over his inability to make a living with his music, with Rose attempting to ameliorate matters. But when Troy's scars lead him to act out against his wife, the whole edifice of his life is put at risk.
Troy is a character of Shakespearian dimension, and Washington doesn't miss a facet, in particular investing the uneducated Troy, who can't read, with a piercing, sardonic intelligence. The performance is so powerful that during the play's final scene, set on the day of Troy's funeral, this patriarch still thoroughly dominates. The electric Davis invests Rose with a lovely, almost girlish joy that can turn in a tick to implacable determination and womanly grit. She makes Rose's response to Troy's betrayal so brutal that the audience gasps.
Chris Chalk is a coltish, needy Cory, full of potential but desperate for the love and approval his father withholds, and Chalk persuasively charts the boy's transformation into manhood. Russell Hornsby's Lyons is a charming, fly-by-night dreamer, too sensitive for the harsh conditions life imposes on him, while Mykelti Williamson brings a shining sweetness and warm heart to Gabriel. As Jim Bono, Troy's co-worker and longtime friend, Stephen McKinley Henderson is playfully acerbic and makes the scene in which Bono tries to warn Troy not to betray Rose a highlight. As the 10-year-old Raynell, a girl we meet in the final scene, SaCha Stewart-Coleman is innocently endearing.
Santo Loquasto's impressively detailed set of the Maxson home and yard is dominated by great expanses of brick, reinforcing the hardness Troy has found it necessary to cultivate for survival. Constanza Romero's faultless costumes are effortlessly in character (I loved Raynell's red boots), and Brian MacDevitt's expert lighting ranges from stark to sunny as required. Branford Marsalis composed the appropriately jazzy period music that punctuates scene changes.
The metaphorical title comes from a backyard fence Rose keeps pushing Troy to build. When Troy expresses annoyance about it to Bono, he replies, "Some people build fences to keep people out, and other people build fences to keep people in. Rose wants to hold on to you all. She loves you." Rose's fence may fail her, but as Wilson's searching vision achingly demonstrates, love, however painful and complicated, does not.
Presented by Carole Shorenstein Hays and Scott Rudin at the Cort Theater, 138 W. 48th St., NYC. April 26–July 11. Tue., 7 p.m.; Wed.–Sat., 8 p.m.; Wed. and Sat., 2 p.m.; Sun., 3 p.m. (212) 239-6200, (800) 432-7250, or www.telecharge.com. Casting by MelCap Casting.