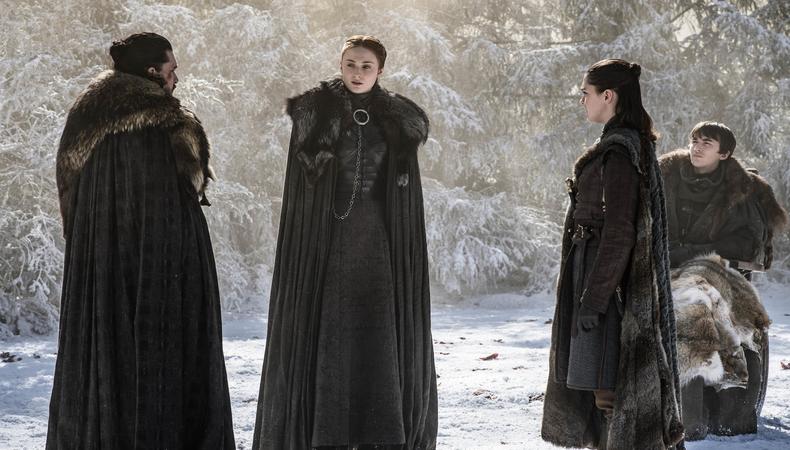 With this Year in Review, we at Backstage have picked through the weeds and found 2019's true gems of the best big- and small-screen ensemble work. And don't worry: We've got you covered with everything else you need to know this awards season right here.
Distributed by: HBO
Created by: David Benioff, D.B. Weiss
Casting by: Nina Gold
Cast: Alfie Allen, Gwendoline Christie, Emilia Clarke, Nikolaj Coster-Waldau, Peter Dinklage, Kit Harington, Lena Headey, Sophie Turner, Maisie Williams, Isaac Hempstead Wright
Winter is over and the Iron Throne is no more after HBO's fantasy hit "Game of Thrones" ended with its eighth season this spring. Finally, we saw Westeros face the ever-looming threat of the Night King and the White Walkers before it turned to the ultimate showdown for the rule of the Seven Kingdoms. The David Benioff and D.B. Weiss–created series based on George R.R. Martin's classic fantasy novels kept us captivated, not just with its unpredictable plots but with characters given life by a stellar, sprawling ensemble cast that excelled despite some of the bumps the show faced along the way.
READ: George R.R. Martin Reveals What 'Game of Thrones' Characters Will Appear in the Prequel + Casting Details
Just look at how Lena Headey as Queen Cersei Lannister, Nikolaj Coster-Waldau as Jaime Lannister, and Peter Dinklage as Tyrion Lannister made us love and loathe the family that always pays its debts. They each made their characters interesting in their own right, but there was also an intensity to their scenes that spoke to the complicated nature of the love, hate, and loyalty that tied them together. Dinklage, who recently won his fourth Emmy for the role, brought wit, heart, and sarcasm to an audience stand-in character striving to believe a better world was possible. Loyalty—not just to family, but to Emilia Clarke's conquering queen Daenerys Targaryen, whom he desperately wanted to believe in—gave Dinklage so much to work with during the many heart-wrenching scenes the Hand of the Queen had to have this season.
Clarke's impassioned performance as the Mother of Dragons, meanwhile, showed us how Daenerys inched ever closer to crossing the line in her quest for power, while still managing to surprise us with her ultimate decisions. You could see the bonds straining and breaking as she tensely tried to explain, argue, and command those around her, including Sophie Turner's Sansa Stark and Kit Harington's Jon Snow.
And when Jon, Sansa, Maisie Williams' Arya, and Isaac Hempstead Wright's Bran are reunited at Winterfell, it's one of the show's most powerful moments. Each actor is brilliant at highlighting the many ways these young Starks have changed, but even as they disagree, they do a wonderful job making you feel that there is a deep, unbreakable familial connection between them. Alfie Allen as Theon Greyjoy also shines in some of the show's most emotional moments with his adopted family as he attempts to redeem himself.
READ: 'The Crown,' 'Game of Thrones' + 'Star Wars' CD Nina Gold Shares What She Looks for in Auditions
Of course, if you just look at the prominent houses of Westeros, you miss other actors that are just as essential to the ensemble, like Rory McCann, Liam Cunningham, John Bradley, Carice van Houten, Jerome Flynn, Conleth Hill, Kristofer Hivju, Jacob Anderson, Nathalie Emmanuel, and even the astonishingly rendered dragons. A special standout was Gwendoline Christie as the strong yet vulnerable Brienne of Tarth. She's still the capable loyal knight we've grown to know, but in this final season, we see her owning her role as a trusted advisor to Sansa and allowing herself to be emotional in powerful scenes between her and Jaime.
It's that kind of unfading chemistry between these actors and the many others in the sprawling cast that made the show worth watching. While the television industry desperately tries to find the next "Game of Thrones," the fact is there may never be a way to replicate the magic of these actors.
This story originally appeared in the Nov. 13 issue of Backstage Magazine. Subscribe here.
Want more? Stay in the loop with everything you need to know this awards season right here!